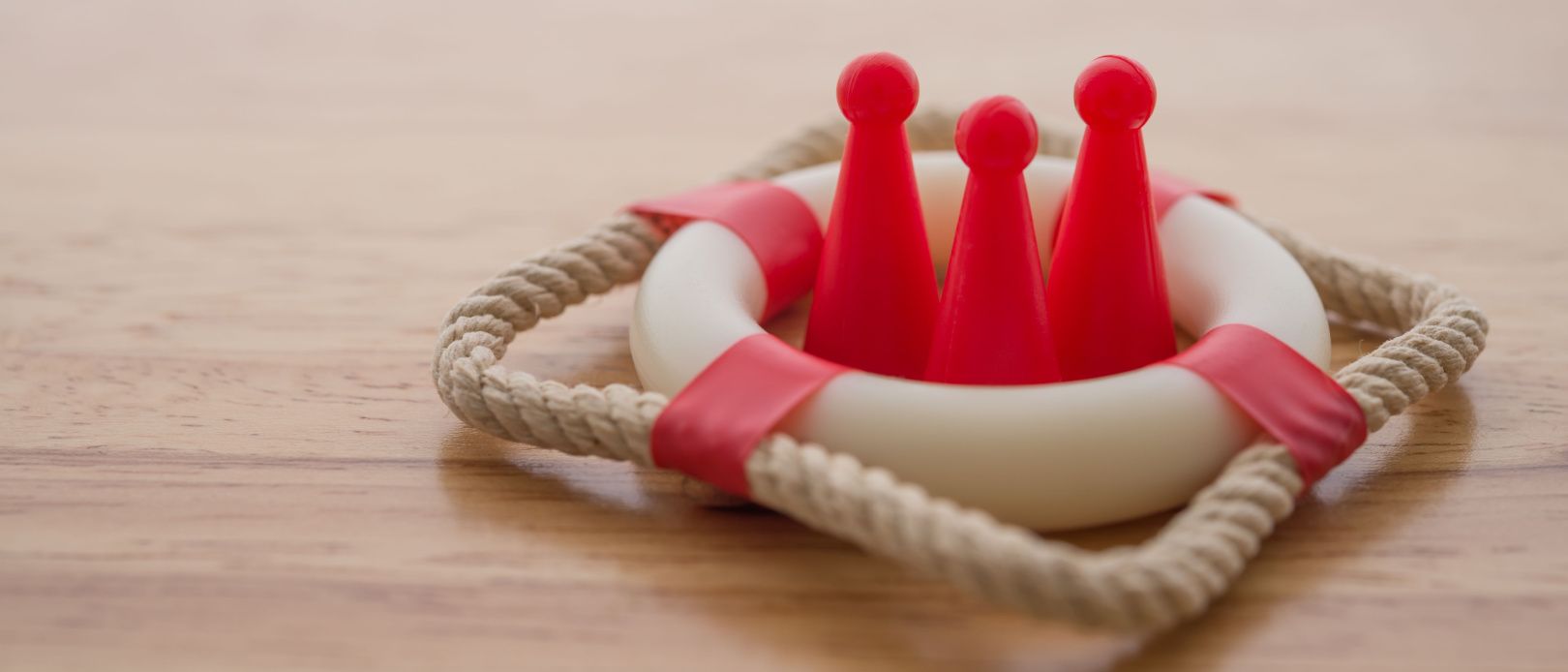 We adhere to strict standards of editorial integrity to help you make decisions with confidence. Please be aware that some (or all) products and services linked in this article are from our sponsors.
We adhere to strict standards of editorial integrity to help you make decisions with confidence. Please be aware this post may contain links to products from our partners. We may receive a commission for products or services you sign up for through partner links.
PolicyMe is an online-only insurance company where Canadians can buy term life and critical illness insurance in minutes at an incredibly affordable price.
PolicyMe offers a streamlined approach with no unnecessary bells and whistles so applicants can get a fully-underwritten policy that's fast, easy and affordable. The company's mission is to provide insurance that is transparent, customized, and convenient.
If you're in need of life or critical illness insurance, PolicyMe has a lot of great features to offer when making your decisions.
Key features
Get a personalized insurance quote in less than 5 minutes
Interactive and user-friendly website with an easy-to-understand application
Some of the most competitive pricing in Canada. On average, PolicyMe rates can be roughly 10% to 20% lower than other insurers in the country
The only Canadian company to offer $10,000 of free Child Coverage for each of your kids
After filling out an application, you can get an instant decision, instead of waiting weeks as you would with many other companies
Most applicants don't require a medical exam
Though PolicyMe has a 100% online application process, potential applicants who may want to speak with an advisor can schedule a Zoom meeting or a phone call with an expert.
What is PolicyMe?
Founded in 2018 and based in Toronto, PolicyMe started as a digital life insurance advisor that let users compare life insurance quotes from a variety of reputable insurance companies in Canada. As of March 2021, PolicyMe has gone from being an insurance broker to offering its own life and critical illness insurance product directly to consumers.
To sell life insurance directly to Canadians, PolicyMe has partnered with Canadian Premier Life Insurance Company (CPL). As a third-party administrator, PolicyMe offers policies issued by Canadian Premier Life Insurance Company, which has an A (Excellent) rating* from A.M. Best. This company is one of the most respected and highly-rated insurance carriers in Canada, and they have paid out billions of dollars in insurance claims.
PolicyMe made the decision to become an insurance provider because the company says it found numerous cost and time inefficiencies in the life insurance application process when it functioned as a broker platform. Furthermore, it was selling other insurer's products, so it couldn't control the customer experience or the price. To overcome these issues, PolicyMe worked on optimizing efficiencies in their own product, so they are now able to offer a significantly improved customer experience and a lower cost for its clients by selling only its own product.
The company is 100% online, meaning there's no in-person paperwork to complete (though if you want to speak to an advisor, they're available to hop on a call). To apply, customers can fill out a quick questionnaire and get a quote in just a few minutes. The entire process is designed to be hassle-free, transparent, and affordable.
Underwriting and operational costs
PolicyMe offers some of the best rates in the country not only because it's entirely online, but also because it has significantly reduced underwriting costs through the use of data-driven (not human-driven) underwriting. This saves PolicyMe money on expenses like third-party medical exams, interviews, and attending physician statements. Those savings translate to a more affordable policy, but with the same high-quality, dependable coverage as more expensive competitors.
PolicyMe is available in all provinces except for Quebec, New Brunswick, and Newfoundland (though there are plans in the works to open PolicyMe services to those provinces in the future).
What does PolicyMe offer?
PolicyMe offers term life and critical illness insurance. The company offers term life policies for Canadians aged 18 to 75 with coverage amounts ranging from $100,000 to $5,000,000. There are 10, 15, 20, 25, and 30-year policy terms available.
A user's eligibility, coverage limits, costs and requirements all depend on their unique profile and the information they provide during the application.
Get term life insurance with PolicyMe
Get critical illness insurance with PolicyMe
How does PolicyMe compare?
If you go the traditional route of getting life insurance, it takes an average of 10 weeks to get insured – which is a long time. Plus, getting advice on your life insurance often requires face-to-face meetings with a broker, who is often motivated to sell more expensive coverage and/or products in order to earn a buck.
PolicyMe is a game-changer in the industry. Using sophisticated algorithms and answers to your questionnaire, you can get a quote sitting at your home computer or surfing on your mobile device. There's no need to deal with a third party if you are buying insurance directly from PolicyMe.
But how does it compare with other online insurance providers? A few key differences:
PolicyMe is limited to life and critical illness insurance, whereas PolicyAdvisor Life Insurance and InsuranceHotline.com offer a broader selection of insurance products.
PolicyMe does not cover all of Canada, whereas InsuranceHotline.com is available across the country.
Quotes are available on your screen instantly. With other online insurance platforms, you may have to wait for an email to hit your inbox or speak with a representative for a detailed breakdown of a quote.
PolicyMe is the only online insurance platform that allows you to get approved instantly, often with no medical exam required. With other platforms, you may have to schedule a follow-up call to answer more questions or even do a medical exam.
| Category | PolicyMe | PolicyAdvisor | InsuranceHotline.com |
| --- | --- | --- | --- |
| Types of insurance | Life insurance, critical illness | Life, critical illness, mortgage protection, disability insurance | Life, car, home, motorcycle, commercial, travel, and more |
| Provinces/Territories available | Ontario, BC, Alberta, Manitoba, Saskatchewan, PEI, Nova Scotia, All Territories | Excludes Quebec, New Brunswick, and Newfoundland & Labrador | All |
| Stand-out feature | Lowest rates and Instant decision (no medical exams required for most applicants) | No medical exam or doctor's statement required for certain insurers. | Compare quotes from 30+ insurance companies in a single search |
| Apply online directly? | ✅ | ❌ | ❌ |
| More info | Apply | Apply | Learn more |
How to get a quote
Step 1: Get an instant life insurance quote (5 minutes)
Head to the PolicyMe website and fill out a form by entering your age, income, and smoking status. You'll then get life insurance quotes based on your selected coverage amount and term length.
If you're wondering how much coverage you need, you just need to answer a few additional questions about your personal and financial situation to receive a personalized coverage recommendation from PolicyMe's recommendation calculator.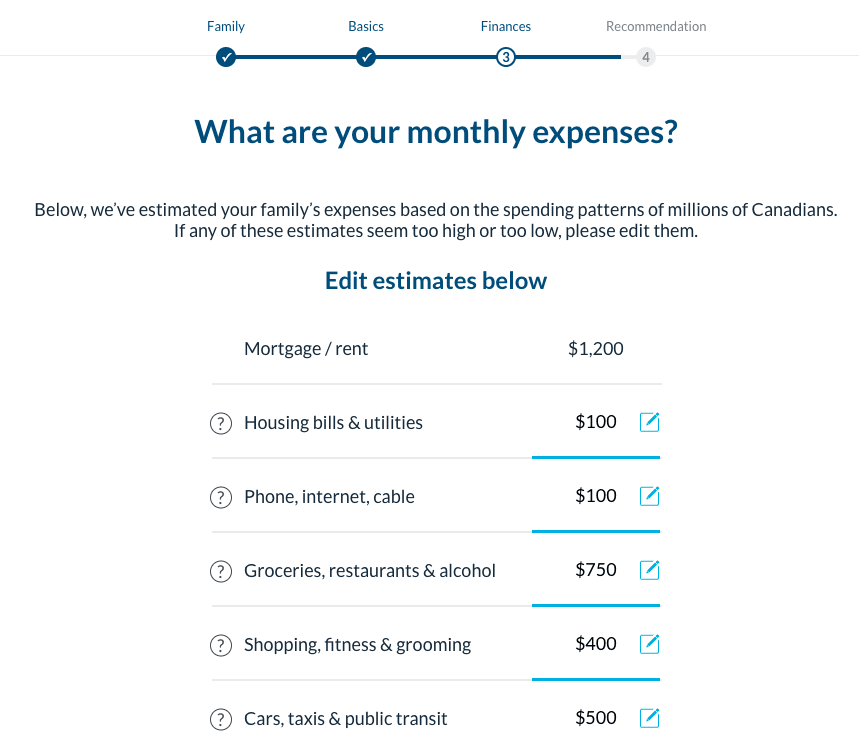 Unlike with many other insurance providers, you don't need to schedule a phone call or meeting before getting a life insurance quote. PolicyMe provides a no-obligation quote, instantly.
Additionally, PolicyMe only recommends the exact amount of coverage you need — you don't have to worry about any upselling tactics. If you don't need any coverage, PolicyMe will tell you that, too. In fact, when I applied the website told me that because I didn't have any young dependents, I didn't need life insurance right away. How refreshingly honest!
Step 2: Complete your life insurance application (15 minutes)
Once you've received your quote, you then submit a more detailed, free, no-obligation life insurance application through the website. The application contains questions about your personal situation, your finances, your medical history, and any existing life insurance coverage you may already have.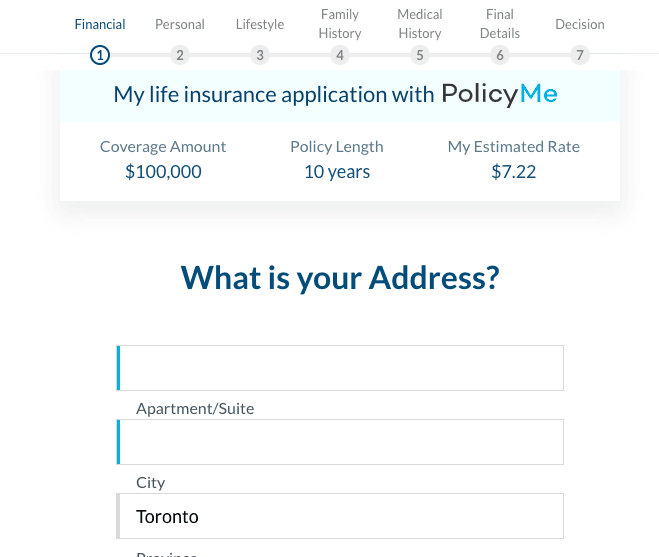 The application takes about 15 minutes but it may take longer if you have medical or lifestyle factors that may affect your life insurance premium. At this stage, many other insurance providers would require potential customers to schedule a 30-40 minute medical interview. However, PolicyMe has condensed the application and the medical interview into a seamless 15-minute online process. Better yet, there's no confusing insurance jargon and the majority of applicants will not have any additional medical interviews after completing the application.
Step 3: Receive your decision instantly
After assessing your information, PolicyMe will let you know instantly whether or not you've been approved or if it needs additional information from you. If you're approved instantly, all you need to do is sign off on your application, verify your identity, add your payment details, and your coverage will begin.
If additional information is needed, you might be asked to complete a medical exam or submit additional driving or medical records.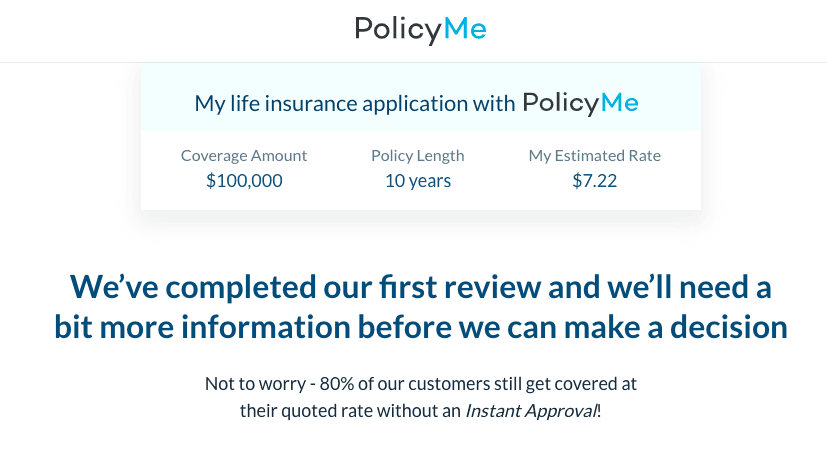 After those requirements are completed, you'll find out whether or not you're approved. PolicyMe notes that most healthy individuals will qualify for instant approval, with no need for an in-person medical exam. That's because the company's data-driven underwriting process uses new technology and predictive modeling to provide instant decisions, with no medical exams needed for most people.
Customer service
Because PolicyMe is an online, digital-only platform, you can't meet with a representative in person. However, the company prioritizes customer service and even offers users the opportunity to schedule a call or a Zoom meeting with a licensed insurance advisor who will answer any questions you might have. Additionally, expert help is also available during business hours via phone and live chat. PolicyMe's experts are non-commissioned, so they'll never pressure you to buy what you don't need.
Another great service PolicyMe offers is its money-back guarantee. If in the first 30 days you're not happy with your policy for any reason, the company will refund your payment in full. After that, you can cancel your policy at any time with no penalty.
PolicyMe pros and cons
Pros
Affordable — Can save 10% - 20% on average over the leading term life insurance providers
44 critical illness conditions covered, the most in Canada
Easy and quick— Online application takes 15 minutes and get an instant decision
No medical exam usually required
Access to licensed advisors
Satisfaction guarantee
Cons
Limited products
Not available everywhere in Canada
Bottom line
PolicyMe is an engaging, easy-to-use platform that provides competitive quotes for life insurance policies. If you're looking for a life or critical illness insurance policy, it's certainly worth your while (and the 15 minutes it would take you) just to see what they can offer you.
Get term life insurance with PolicyMe
Related Articles: