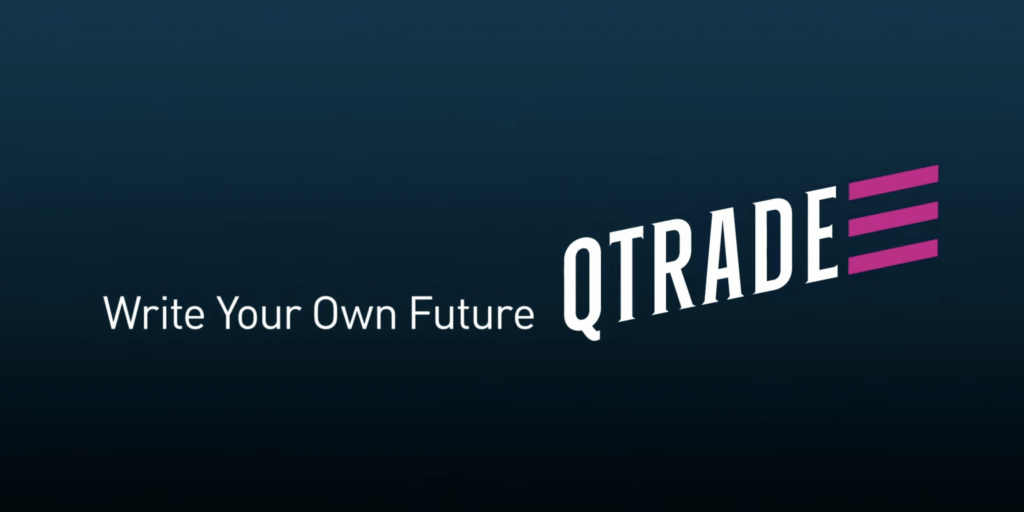 Qtrade / Qtrade
🗓️
Updated: March 17, 2023
We adhere to strict standards of editorial integrity to help you make decisions with confidence. Please be aware that some (or all) products and services linked in this article are from our sponsors.
We adhere to strict standards of editorial integrity to help you make decisions with confidence. Please be aware this post may contain links to products from our partners. We may receive a commission for products or services you sign up for through partner links.
Qtrade Direct Investing™ is a Canadian investment platform from Aviso Wealth. It offers commission-free ETFs as well as stocks, options, mutual funds, options, and more.
Qtrade provides strong educational resources for beginners and attractive bonuses for sign-up and active accounts. Its award-winning customer care makes it a favourite among everyday Canadian investors.
What do I look for in a trading platform? Well, it's nice to have a wide range of financial instruments to work with. Low fees are always welcome, and I'm all for solid educational resources for beginner traders.
Accessibility is a plus! For more experienced investors, a great suite of analytic tools is essential.
Oh, and it should be well-regulated. The allure of trading's Wild West is limited in these tough economic times.
So I'm wondering – should I open a Qtrade account?
This Qtrade review covers everything you need to know about what Qtrade Direct Investing offers. I'll outline its features and benefits, show you how to get started, and see how it stacks up against other Canadian investment platforms.
And I'll let you in on the best offers and bonuses for new and existing users.
Let's get to it.
What is Qtrade Direct Investing?
Qtrade Direct Investing is the online brokerage division of Credential Qtrade Securities Inc, a Canadian brokerage. Account holders can invest in Canadian and US markets, benefiting from relatively low trading fees and commissions.The trading platform offers numerous financial instruments and trading options, including:
Stocks
ETFs
Mutual funds
Options
Securities
Commodities (ETFs and mutual funds)
Its online brokerage services are available to Canadian investors. The platform balances the affordable trading fees and educational resources favoured by beginner traders with a broad range of investment options and research tools for seasoned investors.
The company was formed in 2001, but its current form is the result of a merger between Credential Financial, Qtrade Financial Group, and NEI Investments. This merger created Aviso Wealth, the parent company of Qtrade Direct Investing.
Aviso Wealth is a major financial services company in Canada, offering investment opportunities in the Canadian and US markets.
How does Qtrade direct investing work?
I'll open this Qtrade Direct Investing review by outlining how to set up a Qtrade account and start investing.
The first thing to know is that you'll need to have a valid Canadian address. While the platform offers mutual funds and stock trading options from the Canadian and US markets, investors must be a resident of Canada.
I'll walk you through this process with screenshots – note that I was setting the account up using my laptop. You can also open an account using the Qtrade mobile app.
Creating an account
Opening a Qtrade account is nice and easy. You'll need some identity documents, as is standard with these platforms. Details of your income, assets, etc. will also be requested.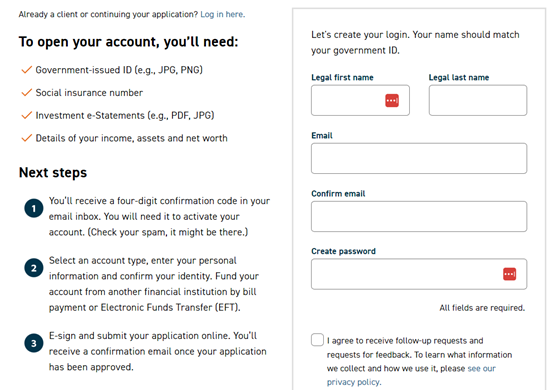 The sign-up process begins with just a name, email, and password. You'll be sent a confirmation code and you're ready to go!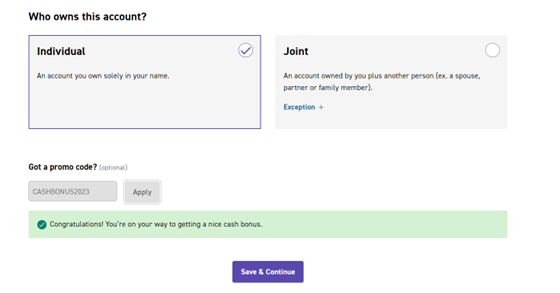 The next step is to choose whether you're opening an individual or joint account. This page also gives you the opportunity to enter any promotional codes. I'd be a fool not to, so there you go.
You can find further details of this promo code further down the page.

Next, it's time to decide what kind of account you want to open – the platform can help you with this if you're unsure. This is a nice feature for beginner investors.
For the sake of curiosity (and because you can go back to make changes if you choose), I took a look at what I'd be offered if I asked for help.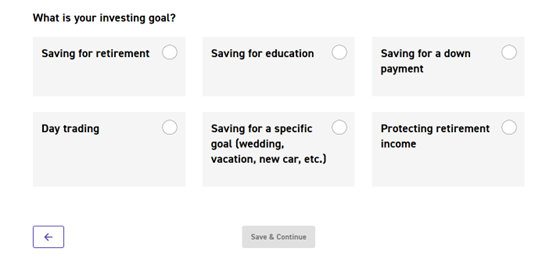 It starts with the simple question of goals. This makes sense – your long-term savings goals affect which account types would be best for you.
I like that it also lets you expand the menu if you can't see what you're looking for. This produces a wider range of results and account types.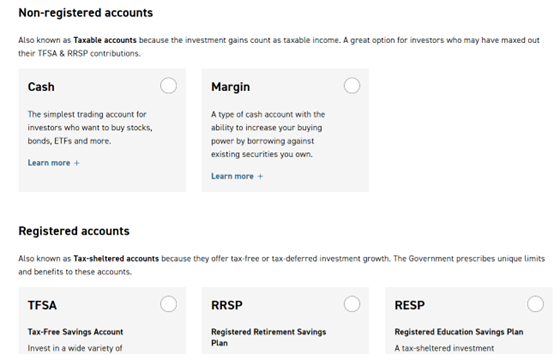 The Qtrade platform lets you choose between a cash account, margin accounts, and registered accounts. It provides a brief overview of each type – you'll also have these options if you select "choose my own account."
The sign-up process is helpful because it's not a black-and-white choice between "let Qtrade Direct Investing choose my accounts for me" and "throw me in at the deep end." At every stage, there's as much help available as you want.

The rest of the sign-up process is all about your personal details, so I'm not screenshotting that for you. It doesn't take long, but it's worth having your ID documents and financial information on hand before you start.
This process is also available in French – just click the button at the top-right of the screen.
Apply now
Making a deposit
You can fund your account directly from your bank account.
As the trading platform lets you trade in Canadian and US markets, you can fund the account either with Canadian dollars, US dollars, or both.
If you wish to purchase US stocks, it may be a better idea to fund your account with USD, as Qtrade charges a quarterly account fee of $15 for USD RRSP (Registered Retirement Savings Plan) and USD TFSA (Tax-Free Savings Account) investments. There is no account fee for Cash, Margin, CAD TFSA or CAD RRSP accounts.
If you're using one of the offers outlined in this Qtrade Direct Investing review, you may wish to adjust your initial deposit accordingly. However, it's ultimately about making a deposit you feel comfortable with.
Using educational materials
Qtrade Direct Investing provides numerous educational videos and other materials for beginner investors. I highly recommend that you check these out, even if you're confident in your knowledge and skills.
Educational resources include a portfolio simulator tool, which is extremely useful if this is your first time working with ETFs and mutual funds. These instruments are a major part of Qtrade's offering, so play around with them and test investment strategies before investing with real money.
It's also worth checking out the analytical/portfolio management tools on Qtrade's platform before going live. This means you'll be able to track your investments from the moment you start trading.
Choosing an investment type
Qtrade Direct Investing offers:
Stocks
ETFs
Mutual funds
Options
Securities
Commodities (ETFs and mutual funds)
Corporate bonds
ETFs are its most talked-about feature, but I've found that stock trading on Qtrade is also a great experience.
Qtrade stocks come with great educational resources and research. You can also access Qtrade's robo-advisor Qtrade Guided Portfolio.
Qtrade Guided Portfolios is a division of Credential Qtrade Securities Inc. Between Qtrade Direct Investing and Qtrade Guided Portfolios, investors can make moves on:
The Toronto Stock Exchange
The Canadian Securities Exchange
The TSX Venture Exchange
The New York Stock Exchange
Other markets (e.g. NASDAQ)
Self-directed investors typically prefer more control, but Qtrade Guided Portfolios is an attractive tool for newcomers.
Making trades
Once you're signed up, and you've funded your account, it's time to start trading! There's no minimum balance for using Qtrade – this makes the platform very attractive for newcomers.
Note that if you choose a Qtrade Guided Portfolios account for automated investing, investments will begin automatically once you've provided $2,000 in funds.
I'll talk through my user experience later in this Qtrade Direct Investing review, but for now – we're happy. That was so easy.
Limited-time cash back offer
An attractive sign-up offer can tip the scales when I'm choosing an investment platform. Did this one make the difference?
Well, check out the details and guess whether I decided to sign up.
Get a $50 bonus for each new Qtrade account you open and fund. This allows you to earn up to $150 (the more you fund the more you'll get). You'll need to use our exclusive link and promotional code 'BONUS150' in order to take advantage. Terms and conditions apply.
Open a new Qtrade account
Transfer in at least $1,000 and make at least 1 qualifying trade within 60 days of account opening date to receive $50 bonus
Get $50 Bonus for EACH New Funded Account, meaning $50 for 1, $100 for 2, and $150 (the max) for 3+
Receive your cash bonus within 60 days
Qtrade direct investing features
A trading platform lives and dies by its features; these are what make it unique. Here's what Qtrade offers in terms of bonuses, management tools, customer support, and all that good stuff.
Low-Cost Trading
Let's start with everybody's favorite feature: trade fees. And the news is in – I'm pleased to report that Qtrade Direct Investing has extremely low commissions. This includes:
$8.75 per trade or $7.75 for young investors
A reduced $6.95 rate for active traders.
Some commission-free options for ETFs (see below)
An active trader is defined as someone who either makes 150+ trades each quarter, or someone with $500,000+ invested in Qtrade. This also provides access to other benefits in the Investor Plus program (see below).
Even the $8.75 rate is excellent, especially for newer traders. Part of what keeps the cost down is that ECN (Electronic Communication Network) fees aren't charged along with commission.
Young investors are devined as clients aged 18 to 30 who set up a monthly pre-authorized contribution of at least $50.
Rewarding active traders is always something I can get behind, so the reduced costs for high-use Qtrade accounts are especially welcome.
Large ETF & mutual fund markets
Qtrade Direct Investing offers well over 100 free ETFs.
That sounds good. It is good. But first, an obligatory word of caution.Newer traders should be extremely careful when investing in ETFs. These are complicated financial instruments, and entering live trading without conducting significant research is not advised. Above all, you should never borrow money or invest beyond your means in the hope of making a good return!
Hey – I'm just looking out for you. Now back to the good part.
Qtrade's ETF selection is among the best you'll find on any trading platform. Top-quality funds include:
Vanguard
State Street Global Advisors SPDR
Horizons
iShares
Desjardins Global Asset Management
It also provides access to thousands of mutual funds. This includes a great selection of low-MER (Management Expense Ratio) funds – combined with the platform's affordable trading fees, it's a very attractive selection.
Commission-free ETFs
Besides its impressive range, the other thing I love about the ETFs Qtrade offers is that so many of them are commission-free.
This makes ETF trades much more accessible and means rookie investors are spending less of their own money when dipping their toes in trading exchange-traded funds.
Qtrade prides itself on its ETF portfolio offering, and with good reason. The absence of fees combined with solid educational resources makes it a top choice for beginner and advanced ETF traders alike.
Young investor offer
Back to the bonuses! This time, we're looking at the platform's Young Investor offer.
Younger investors may not have the resources or experience to make the 150+ quarterly trades necessary for reduced trading fees, so here's a more accessible alternative.
This is available to traders aged 18-30. All you need to do is set up a recurring $50+ monthly deposit.
The benefits?
$7.75 trading commissions across the board (down from $8.75)
No minimum balance for your account
Zero quarterly account fees
Something I've noticed across my Qtrade review is that the platform is striving to make it easy for young investors to get started. This bonus is another great example of that, and it's another excellent reason for younger traders to sign up and find out what Qtrade offers.
Account fee waiver
Old dogs like me will be delighted to learn that account fee waivers aren't just for young pups. There are several achievable ways to get the quarterly fee removed entirely.
These include:
Holding $25,000+ in funds
Meeting the minimum trades requirement (this is just two commission-generating trades in equity or options markets or eight commission-generating equity or option trades during the immediately preceding 12 months)
Implementing a recurring monthly deposit of $100+
The last of these is pretty easy to maintain. The account administration fee is only $25 per quarter, which isn't too bad, but automatically depositing $100 per month is a simple workaround.
Why pay more?
Mobile trading platform
Qtrade's mobile app is available for both Android and iOS devices. It's free and easy to download.
The mobile trading platform has all most of the features available on the browser version and has been nicely optimized. You'll have access to all the portfolio management tools you need, as well as customer support.
While most platforms carry a mobile app these days, the quality can really make or break its useability. Nobody wants to be stuck waiting to make a move until they get home to their PC, right?
Investor Plus program
Qtrade's Investor Plus program is what grants users the reduced $6.95 commission fee. To qualify, users must either maintain $500,000+ of funds or make 150+ trades each quarter.
Investor Plus program members also get some extra benefits. USD registered (USD TFSA, USD RRSP) accounts won't incur fees, which is great news for anyone looking to invest in both Canadian and US markets.
You'll also have access to a dedicated hotline with quicker, more personalized service. Who doesn't love the VIP treatment?
Morningstar research for ETFs and mutual funds
Morningstar is a world-renowned financial research and analysis company. It's partnered with Qtrade to give investors access to professional analysis of mutual funds and ETFs.
Given that mutual fund and ETF trades are a central part of what Qtrade offers, this is a superb touch. Morningstar is one of the best in the business, and no matter how experienced you are, there's no sane investor who would pass up the opportunity to look over a report from their analysts.
I'm here for it – a Qtrade review highlight.
Portfolio management tools
Qtrade offers a range of innovative portfolio management tools available through both its web browse and its mobile app. These include:
Portfolio score. This tool helps you measure risk and grades your portfolio's likely performance. Lower scores indicate that you're risk-prone. The metrics it uses are downside protection, diversification, income, fees, ESG score, and overall performance.
Portfolio simulator. This is an essential tool for newcomers, but experienced investors can also benefit from simulating a portfolio's performance before moving to live trading. A/B testing is one of the best risk management tools in your kit – Qtrade makes it easy.
Portfolio creator. This is used for developing a risk-resistant ETF portfolio. It uses three risk assessment ratios – Sharpe, SFRatio, and Sortino. It's fun to play around with and should be essential viewing for novice traders.
Investor education materials
We've talked about Qtrade's commitment to younger and less experienced investors. Its educational materials are permanently available at the base of the homepage and include everything from a trial account to its weekly Market Pulse newsletter.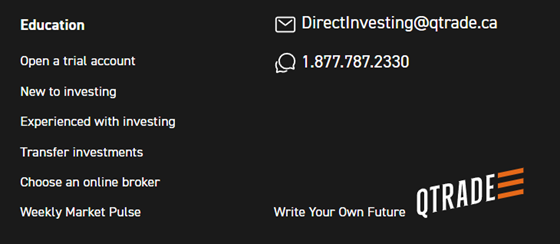 Qtrade Direct Investing takes user education seriously. For me, that's one of the best recommendations for a platform.
Customer support
You can contact Qtrade Direct Investing via:
Secure site messaging
Live chat
Email
Phone
Qtrade's customer support team has won numerous awards, including a first-place spot in Survisor's Best Customer Service award several times over the past few years. The platform is also a frequent recipient of The Globe and Mail's Best Online Brokerage Services award.
Qtrade pricing
While writing this Qtrade Direct Investing review, I've touched a few times on the platform's low trading fees and administration fee waivers, but we've not covered withdrawal and transfer costs.
Now seems a good time – let's talk pricing.
Qtrade fees for accounts include:
Admin: $25/quarter (waivable; see above)
Formal trust accounts: $100 for setup + $50/year thereafter
Account closure: $100 if within first year
Account transfer out: $150
USD registered accounts incur additional fees, and paper copies of documents also incur a small charge (electronic copies are free).
There's no cost to transfer funds between your bank and the platform. If you wish to withdraw money, it may take up to two days after you close positions.
Withdrawal must be executed using a bank account. There are no transfer fees for withdrawals, although if you wish to move funds to another brokerage or close your account, transfer fees will apply.
The platform also charges a $25/quarter inactivity fee. We all know the solution to this.
Overall, Qtrade's fees are pretty reasonable. Its impressive trading fees offset middling account maintenance fees, and remaining active ensures you won't have to pay fees just for holding an account.
Qtrade direct investing regulation
Qtrade Direct Investing is a very well-regulated brokerage. Here's an overview of its regulatory bodies.
Investment Industry Regulatory Organization of Canada
Qtrade is regulated by IIROC, which is no less than I'd expect from any top-tier trading platform. IIROC is a highly respected body and protects investors from dubious platforms.
Canadian Investor Protection Fund
Customers' Qtrade accounts are protected by the Canadian Investor Protection Fund (CIPF). This fund protects customers against brokerages becoming insolvent or collapsing.
So is Qtrade safe? I'd certainly say so.
It's regulated by Canada's leading bodies, it uses 256-bit data encryption (you can't use it if your browser doesn't support this), and it has a host of digital security measures to keep investors safe.
Solid regulation helps prevent unauthorized online brokerage activity from affecting customers and (mostly) guarantees you're working with a trustworthy platform.
Is Qtrade good or bad? My experience researching Qtrade
The main thing I've gained from writing this Qtrade Direct Investing review is a Qtrade account with a top-tier promotion. I'm pretty happy.
Seriously, though – I've been deeply impressed with the platform's features, bonuses, and educational materials. The average Canadian is looking for an investment app that helps them make informed decisions at a price they can afford. That's just what Qtrade provides.
Since downloading the mobile app, I've also been pleased with its layout and accessibility. You can make decisions on the move and use all the portfolio management tools just as easily as on a PC.
Colour me impressed, and count me in!
Who is Qtrade Direct Investing best for?
I'd recommend Qtrade Direct Investing to… pretty much anyone. It's especially well-designed for younger traders and novice investors.
An impressive range of educational materials and research tools are supported by Qtrade. It's got all the support measures in place you'd want as a rookie investor and plenty for more experienced clients, too.
Its commission-free ETFs and reduced trading commissions for Investor Plus members make it an attractive choice for everyday investors with larger portfolios.
Overall, Qtrade Direct Investing is a platform designed for the average Canadian investor. The team has thought of everything you'll need to get started and provides plenty of incentives for building a portfolio.
Who is Qtrade Direct Investing not good for?
While the Investor Plus program is very nice, there are certainly platforms offering a more extensive VIP treatment. If you're a super-high roller, you may wish to get a bit more bang for your considerable buck.
US residents may also be disappointed that the platform is Canadian-only, despite the fact that it includes US markets. Qtrade Direct Investing may expand to a wider audience in future, but for now, you'll need a valid Canadian address to use its services.
Pros and cons
Let's wrap up this Qtrade review with a quickfire round.
Pros
Large, commission-free ETF offering – this is great for experienced traders building advanced ETF portfolios.
Low commission fees – even before the Investor Plus discount, commission on Qtrade is low.
Great educational resources – learn all you need to know with the portfolio manager.
Easy to use – signing up and getting started is super-easy.
Numerous bonuses and rewards – the platform offers excellent incentives for sign-up and continued activity.
Award-winning customer support – including an upgrade for Investor Plus users.
Cons
Limited VIP program – the Investor Plus program is a great bonus for average traders, but other platforms may offer more VIP rewards.
Canada only – US residents can't use Qtrade.
Qtrade Direct Investing vs. Competitors
How does Qtrade perform against other Canadian investment services? Let's put it to the test.
Is Qtrade better than Questrade?
Questrade is another leading Canadian investment platform notable for its low fees. It's aimed at beginner investors, although it doesn't offer a free trial.
Questrade's customer service isn't on a par with Qtrade's award-winning customer care. It also only allows free ETF purchases, whereas both buying and selling are free on many ETF options at Qtrade.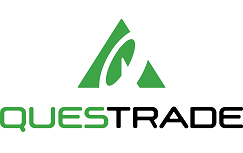 Qtrade Direct Investing also offers significantly better sign-up bonuses and promotions. I'd take Qtrade over Questrade.
Is Qtrade better than Wealthsimple Trade?
Wealthsimple Trade is another low-fee trading platform in Canada. It's a free app designed for convenience and affordable trading.
Wealthsimple Trade vs Qtrade Direct Investing boils down to how investors are supported. Lower fees are great, but the account types on offer at Wealthsimple limit your options compared to Qtrade. Customer support is also somewhat lacking on Wealthsimple's app, whereas the Qtrade app is comprehensive and gives you amazing support options.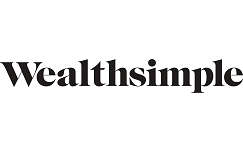 In a cost/benefit analysis, Wealthsimple Trade has a lower cost, but Qtrade has all the benefits. It's an easy winner.
The bottom line
The upshot of this Qtrade review is that there's a clear top choice for everyday Canadian traders. I'd recommend Qtrade to beginner and seasoned investors alike – be sure to check out their sign-up bonuses and get your account off to a flying start.
Online brokerage services are offered through Qtrade Direct Investing, a division of Credential Qtrade Securities Inc. Qtrade, Qtrade Direct Investing, and Write Your Own Future are trade names and/or trademarks of Aviso Wealth.