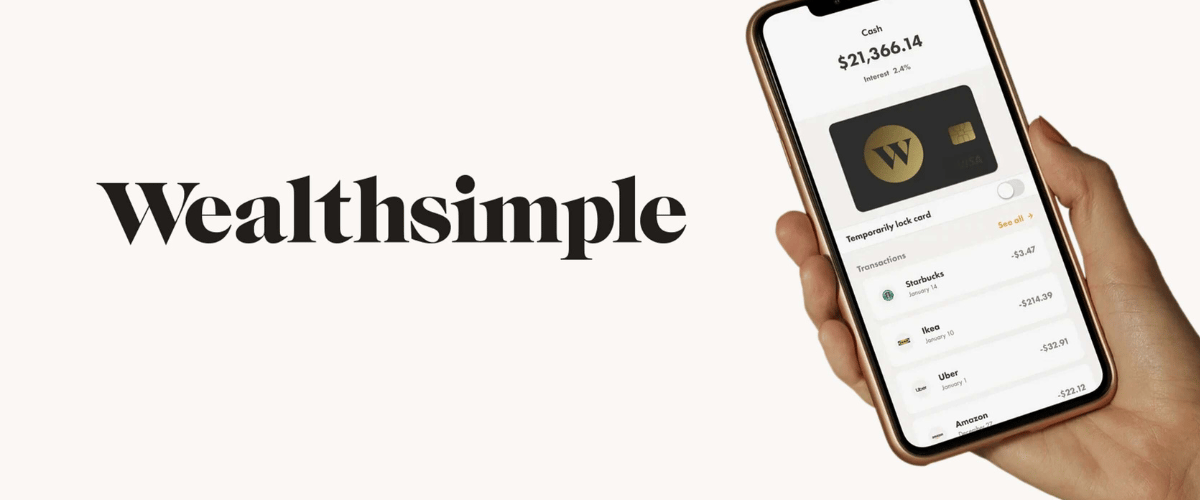 fizkes / Shutterstock
We adhere to strict standards of editorial integrity to help you make decisions with confidence. Please be aware that some (or all) products and services linked in this article are from our sponsors.
We adhere to strict standards of editorial integrity to help you make decisions with confidence. Please be aware this post may contain links to products from our partners. We may receive a commission for products or services you sign up for through partner links.
Access to human advisors
Sleek, user-friendly platform
The ETF MERs are nearly the lowest in the industry
Automatic tax-loss harvesting for Black & Generation clients
Broad investment selection, including Halal and SRI funds
Tons of industry experience
Promo Offer: Get $25 bonus when you open and fund your first Wealthsimple Invest account with at least a $500 initial deposit. Trade and Cash accounts are not eligible. Sign up now to take advantage of this exclusive offer!
Wealthsimple robo-advisor
Wealthsimple is one of the world's leading robo-advisors, with offices in Canada, the USA, and Europe. The company was founded by CEO Michael Katchen in 2014, whose goal was to "bring smarter financial services to everybody, regardless of age or net worth." Before starting Wealthsimple, Katchen worked at a Silicon Valley start-up and dispensed DIY investing advice to his colleagues.
With headquarters in Toronto, Wealthsimple is well-equipped to manage your money. They employ a team of world-class financial experts and the best technology talent. Their software engineers, designers, and data scientists have previously worked at esteemed companies such as Amazon, Google, and Apple. Today, Wealthsimple has 235 employees and more than $8.4 billion in assets under management and 1.5 million people using Wealthsimple world-wide, making them the largest robo-advisor in Canada. In short: they know what they're doing with your money and they have a legal fiduciary duty to their clients.
Wealthsimple features
There are many excellent reasons why Wealthsimple stands out as the best robo-advisor in Canada. All it takes is a scan of the exceptional features and services provided to their clients:
Socially Responsible Investing
$0 (for the Basic Account)
RRSP, TFSA, RESP, RRIF, LIRA, Personal, Joint, Corporate, Cash Savings, and Joint Savings
Yes - automatic for Black & Generation clients
Mostly automated, with phone and email advice provided on-demand by licensed portfolio managers
Reimbursement for investment transfers $5,000+ after completing a short survey
Bonus Offer: Get a $25 cash bonus when you open your first Wealthsimple Invest account with min. $500!
Portfolio review service: Wealthsimple offers its customers a free portfolio review which encompasses an evaluation of your non-Wealthsimple financial accounts. They will analyze the fees, the tax efficiency of your account and the portfolio allocation of any third-party accounts you hold.
Free tax-loss harvesting: This feature only concerns investors with taxable accounts but can be a useful tool if you are investing money outside of your RRSP or TFSA. Tax-loss harvesting lowers your taxes on investment gains by offsetting them with investment losses. Most robo-advisors and financial advisors offer this service to high-value customers, but all Wealthsimple clients have the option of using tax loss harvesting and it's done automatically for Wealthsimple Black and Generation clients.
Access to financial advisors: Most robo-advisors are fairly hands-off when it comes to financial planning. This is one of the ways they manage to keep their fees so low. But if you're a Wealthsimple Black client, you have access to goal-based financial planning with an experienced portfolio manager. Likewise, Wealthsimple Generation clients have access to in-depth financial planning and a team of experts that will even design a personalized financial report customized to your goals. But regardless of tier, every Wealthsimple client has unlimited access to human experts providing financial advice.
Investment in fractional shares: Like most robo-advisors, Wealthsimple builds your portfolio out of ETFs, and chooses an asset allocation based on your risk tolerance. By investing in fractional shares, every dollar you contribute (even if it's a small deposit) is invested immediately, so you can start earning interest right away without having to wait until you have enough cash to purchase a full share. Basically, this means that a $10 portfolio can have the same diversification as a $1 million portfolio.
Socially responsible investment options (SRIs): Their socially responsible investing option lets you build portfolios using proprietary low-free SRI ETFs that include the most socially responsible companies in North America and developed global markets, and eliminates the top 25% carbon-emitters in each industry. Every company in their funds has 25% or at least 3 women on their board of directors. A big bonus: Wealthsimple charges the same management fees for SRI portfolios as non-SRI portfolios.
Pays your transfer fees: Transfer your account to Wealthsimple and they will reimburse an outgoing administrative transfer fee of up to $150 on investment account transfers valued at more than $5,000.
Other innovative products: Unlike traditional robo-advisors, Wealthsimple also has a slew of other offerings. For instance, there's Wealthsimple Trade – an online brokerage that allows you to buy and sell stocks and ETFs with no trading commissions. Wealthsimple Crypto is also available through the Wealthsimple Trade app. Additionally, supersavers will love Wealthsimple Save – a high-interest savings account that has no introductory rate and offers an interest rate of 0.5%. Wealthsimple also offers Halal Investing – a new investment portfolio designed to comply with Islamic law and that's guided by experts in both religion and finance.
Tools to help you save money: Wealthsimple has all sorts of technological tricks to help you maximize your savings and investments. For example, you can use "Overflow" – a feature that lets you siphon money from your chequing account into your Wealthsimple Invest or Cash accounts. There's also "Roundup" – another cash-siphoning tool that rounds up your debit and credit card purchases and uses that money to bolster your investments.
Wealthsimple fees
When it comes to fees, this is where Wealthsimple really shines. They have straightforward pricing over three tiers:
Fees
Basic (First $99,999): 0.5%
Black (Above $100,000):0.4%
Generation (Above $500,000): 0.4%
ETF MERs:
Approximately 0.1 to 0.2% annually
For SRIs: 0.25% to 0.4%
What's also great: Wealthsimple's ETF MERs are nearly the lowest in the industry: ranging between 0.10% to 0.20 %, for a total cost of 0.50% to 0.70% (when you factor in MERs with account management fees – depending on the funds you choose). SRI MERs are 0.25-0.40%, so clients pay 0.65% to 0.90% all-in. You'll also find excellent savings account options and features like tax-loss harvesting and financial goal planning.
The lower fees of 0.4% for Wealthsimple Black and Generation clients are also incredibly reasonable for the VIP services that you get. The lower fees, access to financial planning, tax-efficient features, and complimentary airline lounge pass make this worthwhile. Also, the tax-loss harvesting alone could save you money if you are investing outside of a TFSA or RRSP. Plus, who doesn't love feeling like a VIP?
Pros and cons
When deciding if Wealthsimple is right for you, consider these pros and cons:
Pros
Tons of industry experience, with access to human advisors
ETF MERs: 0.1%- 0.2% (nearly lowest in the industry)
Reasonable fees (0.40% to 0.50%)
Broad investment selection, including Halal and Socially Responsible Funds
Automatic tax-loss harvesting for Wealthsimple Black & Generation clients
Cons
Limited portfolio options
Different program tiers
As mentioned, Wealthsimple has three pricing tiers:
Basic (deposit up to $100,000) – 0.5% fee
Black (deposits of $100,000 to $500,000) – 0.4% fee
Generation ($500,000+ in deposits) – 0.4% fee with a bunch of additional perks
Wealthsimple Basic
Wealthsimple Basic is where most investors will start. If your account balance is less than $100,000, you'll be using Wealthsimple Basic. With Wealthsimple Basic, you get access to the important features that have made Wealthsimple popular, including:
Management fee of 0.50%
The ability to set up a wide array of account types like RRSPs, TFSAs, RESPs, and more
Socially responsible investing options
Halal investing options
High-interest savings accounts
Unique tools to help turbo-charge your savings like Roundup and Overflow
Three different ETF-based portfolios to suit your situation: Standard, SRI, or Halal portfolios in risk levels 1 to 10
Auto-rebalancing, auto deposits, dividend reinvesting, and expert financial advice
Wealthsimple Black program
If you're looking to invest $100,000 or more with Wealthsimple, you'll qualify for Wealthsimple Black. Note: your $100,000+ can be spread out across all of your Wealthsimple accounts and still qualify for Wealthsimple Black. The Wealthsimple Black program gives you access to premium services reserved for Wealthsimple's high-value clients. Here's what you'll get when you're a member of Wealthsimple Black:
Lower management fee of 0.40% (versus 0.50% for smaller accounts)
Tax-loss harvesting
Tax-efficient funds
A financial planning session with one of Wealthsimple's expert advisors
Wealthsimple Generation
If your combined family account size is larger than $500,000, you'll qualify for Wealthsimple Generation. This tier takes your finances to the next level, giving you access to the perks of Wealthsimple Basic & Wealthsimple Black:
In-depth financial planning
Portfolios that are tailor-made for you
A personalized financial report that includes income planning in retirement
A team of dedicated advisors
50% off a comprehensive health plan from Medcan.
Wealthsimple investing model
Wealthsimple uses the Nobel Prize-winning Modern Portfolio Theory to design their portfolios. This theory gained fame in the 1950s when Harry Markowitz figured out that it was the best way to manage your money over the long term. The Modern Portfolio Theory determined that a passive investing approach to the market (that is, assembling a portfolio that minimizes volatility by diversifying) is a proven and reliable way to grow your money over a long period of time.
Wealthsimple puts this theory to work by designing portfolios that use low-cost ETFs to track the market as a whole. This strategy minimizes the risk to your money by eliminating the volatility of individual stocks and taking advantage of winners by investing in a lot of stocks at once – optimizing your investment returns.
Wealthsimple Crypto Review
Portfolio options
Wealthsimple has three primary portfolio options:
Conservative: This portfolio is heavily weighted toward low-volatility bonds, with 62.5% of its holdings in government bonds, high-yield bonds, and short-term bonds. Designed for investors who prefer stability and a modest return. The conservative portfolio has a five-year annualized return of 5.34%.
Balanced: This portfolio has a 50/50 ratio between bonds and equities. Suitable for investors with low-to-medium risk tolerance. The balanced portfolio has a five-year annualized return of 6.10%.
Growth: This portfolio is strongly weighted towards stocks, with up to 80% of its holdings in emerging markets, foreign stocks, Canadian stocks, US stocks, International stocks, and Emerging Market stocks. Designed for an investor with medium-to-high risk tolerance. The growth portfolio has a five-year annualized return of 8.18%.
During sign-up, you'll be asked to complete a questionnaire designed to match you with one of their three portfolios. These portfolios each have an asset allocation designed to suit your risk tolerance and time horizon and are built with ETFs. This lets Wealthsimple build a very diverse portfolio without the costs of constantly buying, selling, and re-balancing.
Asset classes
Each of the Wealthsimple portfolios includes nine ETFs, with each ETF representing a unique asset class. Here are the ETFs that Wealthsimple uses to construct your portfolio:
iShares Core S&P/TSX Capped Composite Index ETF
Conservative, Balanced, Growth
Vanguard Total Stock Market ETF
Conservative, Balanced, Growth
Vanguard US Total Market Index ETF
Conservative, Balanced, Growth
iShares Edge MSCI Min Vol Global ETF
Conservative, Balanced, Growth
iShares Core MSCI IEFA ETF
Conservative, Balanced, Growth
Emerging Market Min-Vol stocks
iShares Core MSCI Emerging Markets ETF
Conservative, Balanced, Growth
Canadian Long-Term Government Bonds
BMO Long Federal Bond Index ETF
Conservative, Balanced, Growth
Canadian Short-Term Corporate Debt
iShares Core Canadian Short Term Corporate Bond Index ETF
Conservative, Balanced, Growth
SPDR Gold MiniShares Trust
Conservative, Balanced, Growth
How does Wealthsimple compare to other advisors?
If you really want to get into the nitty-gritty, check out our review of the best robo-advisors in Canada. But here's the short story: taking fees and features into consideration, Wealthsimple wins out above the competition, offering clients:
Easy sign-up process: no visits to bank branches or endless document signing and scanning
No account minimums: some robo-advisors require anywhere between $1,000, $5,000, or more for a minimum investment. Wealthsimple has no minimum investment requirements.
Easy, automatic contributions: "set it and forget it"
No account inactivity fees: some robo-advisors will charge $25 per quarter for unfunded accounts
Three portfolio options: three options may not be enough to suit every financial situation, but some investors appreciate the simplicity.
A mobile app that's one of the best in the business.
Innovative features to maximize your investments that are unique to the industry, including Wealthsimple Trade, high-interest savings accounts, investing spare change (Overflow) and more.
Competitive fees: Considering the services offered by Wealthsimple, their fees are highly competitive when compared to other leading robo-advisors in the industry.
0.4 - 0.5%/year+ average 0.20% MER
0.4 - 0.7%/year+ average 0.24% MER
0.20 – 0.25%/year+ average 0.19% MER
0.4 - 0.5%/year+ average 0.25% MER
0.35 - 0.5%/year + average 0.25% MER
User experience: A peek inside Wealthsimple
Wealthsimple has a sleek, user-friendly platform that provides all the details needed to make an informed decision about your investments. While some robo-advisors provide reams of financial information, Wealthsimple keeps the info overload to a minimum. There are only four options to choose from on the main menu, and only two of those deliver information about their products and services. Once you click on the "get started" option, you're funnelled through the classic robo-advisor questionnaire designed to assess your needs, your time horizon and your risk tolerance. It's that simple.
Wealthsimple claims to have the easiest and fastest sign-up process of all Canadian robo-advisors, clocking in at just five minutes. We went through the sign-up process and tested the portfolio-matching process.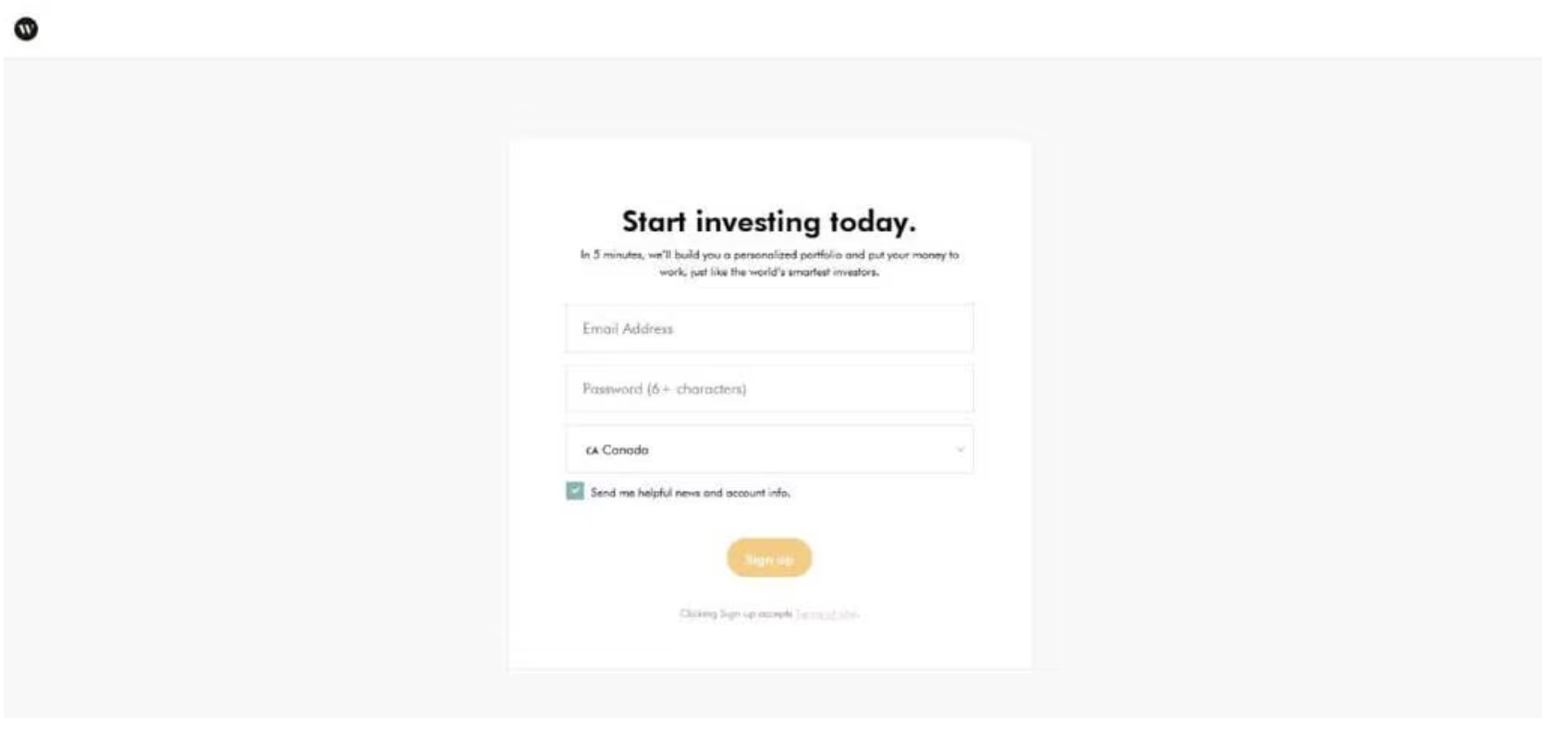 Right off the bat, you need to create an account with a username and password. Then you'll need to provide standard information like your employment details, address and social insurance number. This part takes about three minutes.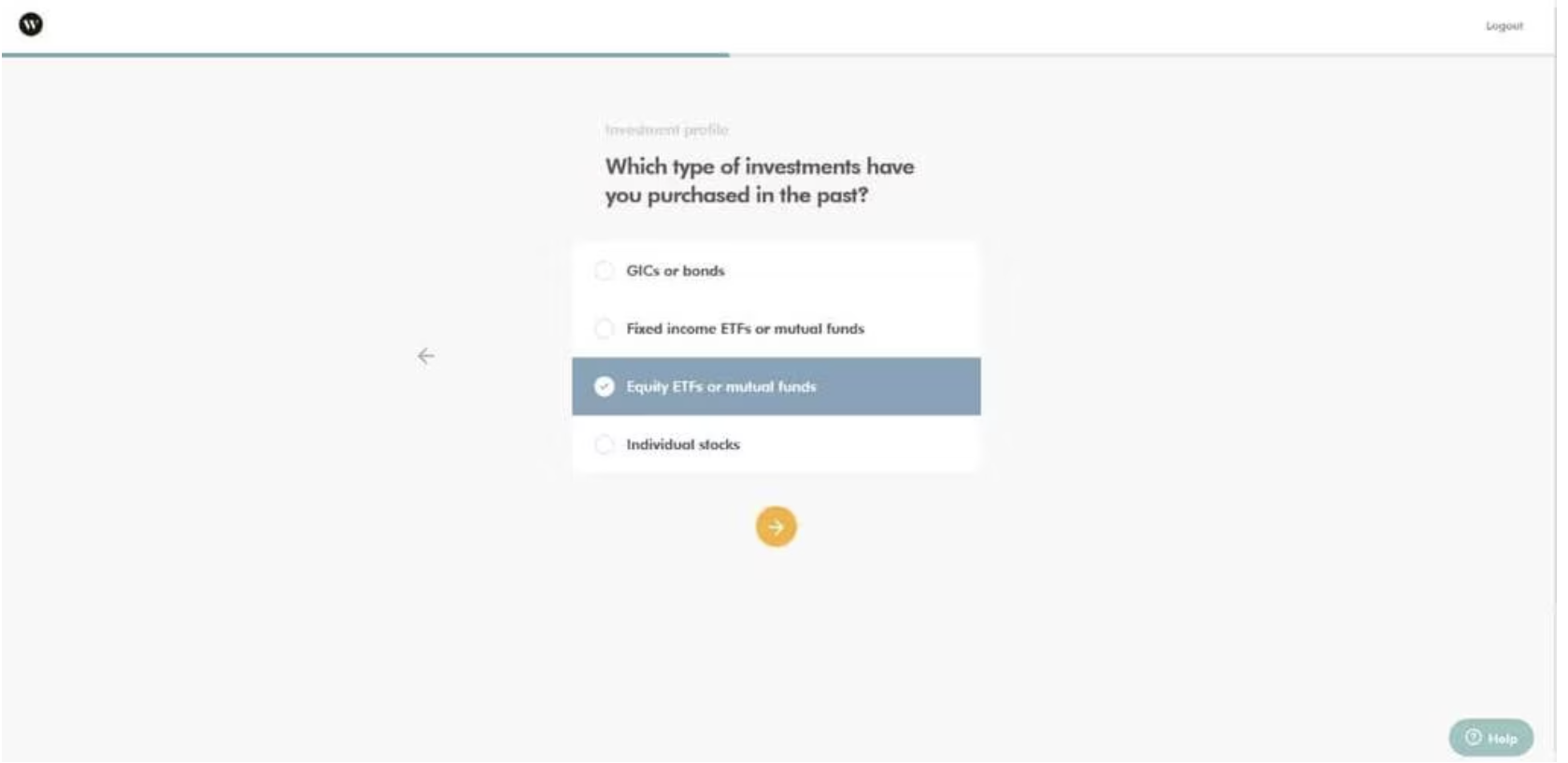 Once the basic information is covered, it's time to go through the process of choosing your investments. Wealthsimple asks you the basic questions we expect of every robo-advisor, including questions about what investments you've purchased in the past.
Completing the questionnaire, Wealthsimple did show us which portfolio works: their "Growth" portfolio.
At this point, you can choose to make your portfolio socially responsible if you didn't select that option in the questionnaire. We love that this screen shows projected Wealthsimple performance over time, but if you click on the "our assumptions" link they clearly state that past performance does not guarantee future results – essentially the opposite of the sales pitch you'd receive in a financial advisor's office.
Next, we wanted to see where they were planning to invest the funds before pulling the trigger to sign up. Fortunately, that information was available farther down on the screen.

Next, opening an account: we were prompted to select which accounts we wanted to open. We had the option to open all of the standard accounts expected including savings accounts, TFSAs, and RRSPs.
This stage of the account opening process is where some robo-advisors get a little dicey and confusing because sometimes linking bank accounts is an annoying process that requires submitting paperwork. With Wealthsimple, linking a bank account was surprisingly easy.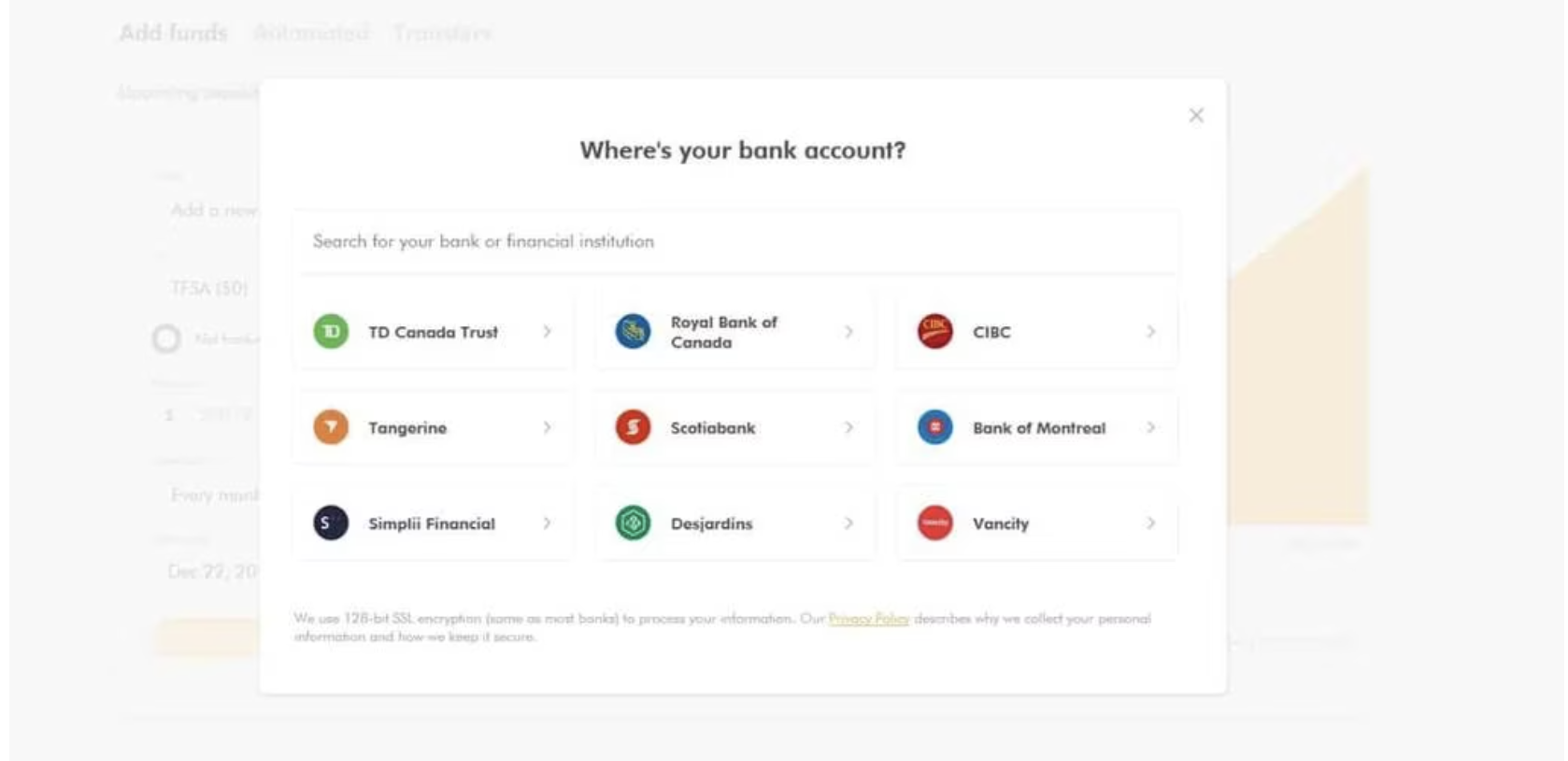 From there, it's just a matter of setting up your automatic deposits, and you're off to the races.
Sign up process
From our testing, it took less than 15 minutes to open a Wealthsimple account – much faster than lengthy meetings with a financial advisor. Plus, we found that the process of linking your Wealthsimple account to an external bank account was surprisingly easy. Here's what's needed to sign up:
Your name, date of birth, and social insurance number
Your email address
Your phone number and address
The login information for your online banking
The process of signing up is simple:
Fill out an online application.
Verify and connect a bank account by securely authenticating your online banking.
You're done! Your account should be set up in less than 5 business days.
The bottom line
Based on their competitive fees and excellent services, Wealthsimple is our top choice for the best robo-advisor in Canada. The basic portfolios are built from cost-effective ETF portfolios that minimize costs and volatility. In terms of usability, the platform is easy to use and accessible on mobile, and more information is available if you want to dig down. Above all, Wealthsimple excels by offering competitive fees for small accounts, great value on large accounts through Wealthsimple Black and Generation, and some of the lowest ETF MERs in the industry.
The bottom line? Wealthsimple is ideal for the average Canadian investor and stands out as an extremely reputable robo-advisor that you can trust. It's definitely a winner.
Editor's note: This article was originally published in 2017 and is updated to represent the current changes. Please see Wealthsimple via our Apply Now button for latest details.