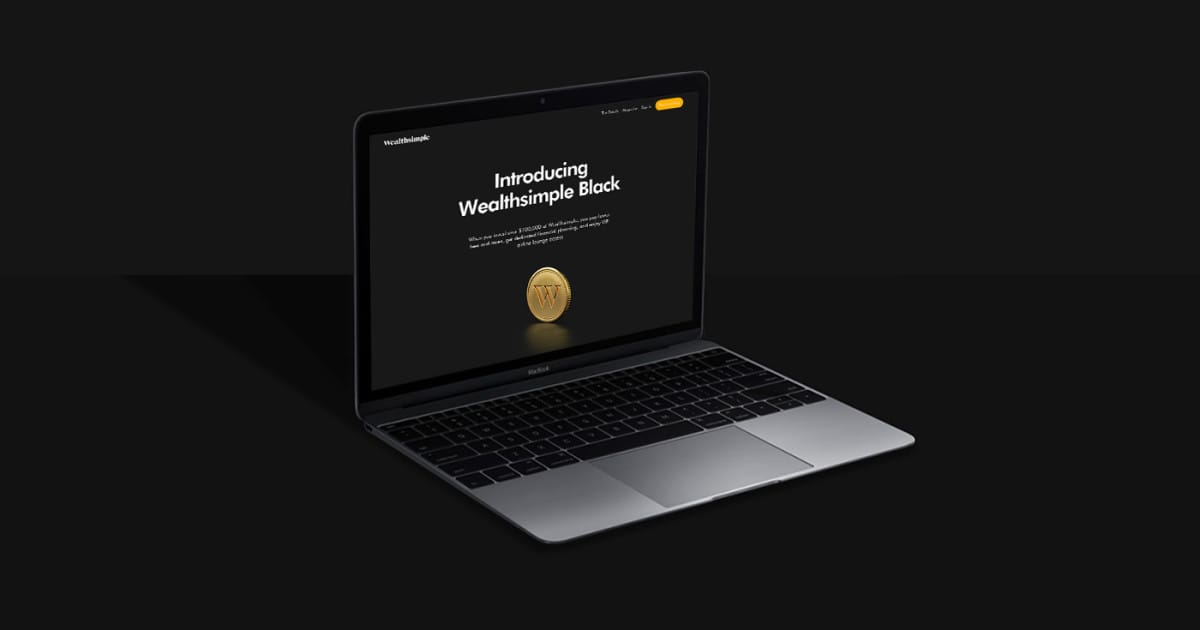 Wealthsimple Black review
Wealthsimple / Wealthsimple
We adhere to strict standards of editorial integrity to help you make decisions with confidence. Please be aware that some (or all) products and services linked in this article are from our sponsors.
We adhere to strict standards of editorial integrity to help you make decisions with confidence. Please be aware this post may contain links to products from our partners. We may receive a commission for products or services you sign up for through partner links.
Best for:
Discounted management fee of 0.40%
VIP perks
Free financial planning services
Socially responsible (SRI) portfolios
Automatic tax-loss harvesting
Broad investment selection
When Wealthsimple launched in 2014, its goal was to change the client experience through product innovation and exceptional service – to truly become a "difference-maker" in the eyes of its clients.
Wealthsimple Black is arguably one of those experiential services that help set Wealthsimple apart, not only from the big banks but also from other robo advisors in Canada. This review will look at Wealthsimple Black, what this premium service offers investors, and how it stands out from other products and services aimed at high-end investors.
What is Wealthsimple Black?
Most people are familiar with airline "status" for frequent fliers. It's the same concept: think of Wealthsimple Black as the top-tier "status" for investors and savers. Wealthsimple Black was launched as a premium service for clients who have net deposits of $100,000 or more in their Wealthsimple accounts; but, instead of bonus miles and airline perks, Wealthsimple Black clients get a reduction in management fees, access to tax-efficient investing, and goal-based financial planning with a Portfolio Manager.
Wealthsimple Black perks
Here are some of the benefits that come with Wealthsimple Black status:
Lower Fees: Once you net $100,000+ across your Wealthsimple accounts, your Wealthsimple Invest management fee drops to only 0.40%.
Tax-Efficient Investing: Maximize your tax return with access to tax-efficient features like tax-loss harvesting and tax-efficient funds. For instance, a portfolio manager may look for potential capital loss deductions on investments in your taxable (non-registered account). You'll also have access to more tax-efficient funds not available to regular Wealthsimple clients.
Free Financial Planning: As a Wealthsimple Black customer, you can book a financial planning session with one of Wealthsimple's experienced portfolio managers to help you meet your financial goals.
What are the Wealthsimple black fees?
Clients with a basic Wealthsimple account can expect to pay a management fee of 0.50%, plus the cost (MER) of the ETFs used to build their portfolio (typically around 0.18%). That means a client with a portfolio valued at $50,000 can expect to pay a total of $340 in investment fees in a year ($250 in management fees + $90 in ETF fees).
But here's the good news: once you have $100,000 invested, you'll reach Wealthsimple Black status and pay a discounted management fee of 0.40% on the total value of your portfolio. That means a client with a portfolio valued at $100,000 can expect to pay a total of $580 in investment fees in a year ($400 in management fees + $180 in ETF fees), which works out to $100 in savings.
Wealthsimple Black discounted fee: 0.40%
How do I become a Wealthsimple Black client?
There are two ways to become a Wealthsimple Black client:
New Wealthsimple clients achieve Wealthsimple Black status after signing up and funding an account with $100,000 or more. Fund your account directly with a deposit from your linked bank account, or transfer funds from another institution.
Existing Wealthsimple clients automatically receive Wealthsimple Black status once their net deposits reach $100,000. Your fees will be adjusted to the lower 0.40% rate. You should also get an email within a week of crossing the $100,000 mark with more details about Wealthsimple Black perks.
Pros and cons
Wealthsimple Black is a premium service designed to build loyalty among its clientele. The $100,000 threshold is something for new investors to strive for, and the perks and lower fees are an incentive to draw more affluent investors to invest with Wealthsimple. But before you pull the trigger, consider these pros and cons of Wealthsimple Black:
Pros
Discounted management fee
Free financial planning
Automatic tax-loss harvesting for investors with taxable accounts
Cons
Lower cost options available for affluent investors (e.g. Nest Wealth)
Many robo advisors offer access to a portfolio manager and financial planning services
How does Wealthsimple Black compare?
If you're interested in comparing Wealthsimple vs. Wealthsimple Black, check out our comprehensive Wealthsimple review to see the full list of features and client experience. This section will focus on how Wealthsimple Black compares to other investment services.
Wealthsimple vs. Other robo advisors
Nest Wealth
Nest Wealth has a unique monthly subscription pricing model that is capped at $80 per month, or $960 per year. With Wealthsimple Black you'll continue to pay a management fee of 0.40% on every dollar invested.
We think the cost advantage tilts towards Nest Wealth at the $250,000 mark, but affluent investors with even more money to invest can really reap the benefits of Nest Wealth's capped monthly fees. For a more detailed comparison, read our Comparing Wealthsimple vs. Questrade vs. Nest Wealth.
Winner: Depends on your situation
Wealthsimple Black vs. Generation
Clients of Wealthsimple have another tier to aspire to beyond Wealthsimple Black. When you or your household deposit reaches $500,000 across your Wealthsimple accounts, you'll qualify for Generation status.
Generation status gives Wealthsimple clients everything that comes with a basic account and a Black account, plus more advice, planning, expertise, and above all, perks. It includes:
Access to a team of experienced advisors who specialize in working with high-net-worth clients.
A personalized financial report and financial action plan
A personalized portfolio that takes into account all your assets, whether they're in Wealthsimple accounts or not
50% off a Comprehensive Health Plan from Medcan
Generation takes all of the benefits of Wealthsimple Black to a new level of on-demand service that is designed to help clients manage their investments, plan for retirement, build their wealth, and protect their legacy.
What happens if my portfolio falls below $100,000?

+

Wealthsimple clients must have $100,000 in net deposits to qualify for Wealthsimple Black. If you withdraw an amount that puts you below $100,000, then you'll lose your status. Conversely, a market drop could also put your portfolio balance below $100,000. But, in this case, as long as your net deposits are over $100,000, you'll retain your Wealthsimple Black status, regardless of what the markets do.

My spouse and I have $100,000 combined. Do we both qualify for Wealthsimple Black?

+

No. Both you and the other account holder need to each have net deposits of $100,000 or more across your accounts - including joint accounts – to qualify for Wealthsimple Black status
Bottom line
Wealthsimple has done an amazing job rolling out new products and services aimed at providing its clients with a truly unique investing experience. Wealthsimple Black fits that bill as a status tier to which millennial clients can aspire. Clients feel special when they achieve status, whether through an airline, hotel, or an investment company. Wealthsimple Black taps into that experiential feeling by providing exclusive discounts, access to experienced advisors, and unique perks not typically seen in the investment industry.
Not just for Millennials, Wealthsimple Black (and Generation) is well suited for all types of investors, including retirees. Indeed, older and more affluent clients are discovering how much money they can save by switching to a robo advisor like Wealthsimple and getting access to an experienced portfolio manager who can assist with tax-loss harvesting and retirement income planning.
If you have $100,000+ in your investment portfolio(s), then you should consider switching to Wealthsimple to take advantage of everything Wealthsimple Black has to offer. Read our Wealthsimple review to learn more.