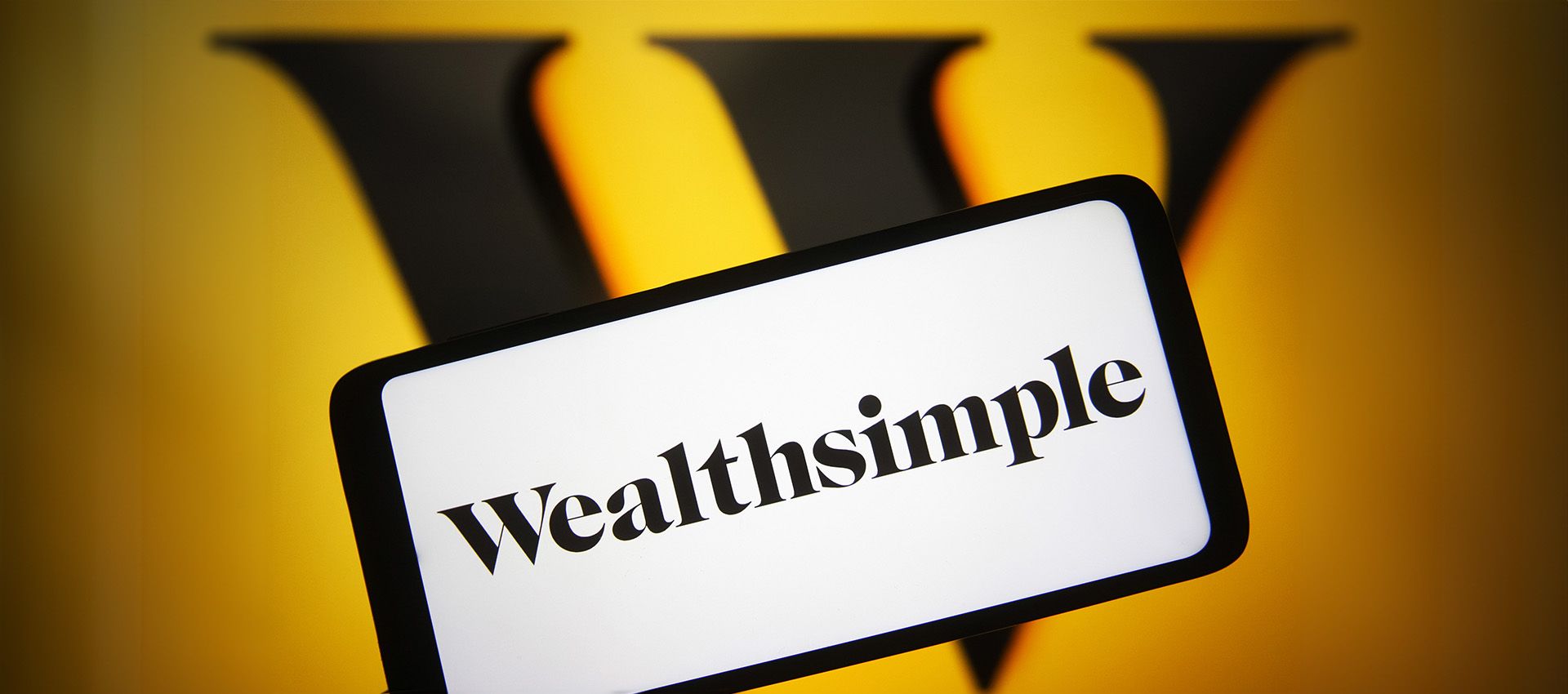 🗓️
Updated: February 07, 2023
We adhere to strict standards of editorial integrity to help you make decisions with confidence. Please be aware that some (or all) products and services linked in this article are from our sponsors.
We adhere to strict standards of editorial integrity to help you make decisions with confidence. Please be aware this post may contain links to products from our partners. We may receive a commission for products or services you sign up for through partner links.
Note: Wealthsimple Cash is now Wealthsimple Save.
Wealthsimple released an updated and very different version of Wealthsimple Cash. Now Wealthsimple Cash is Canada's first peer-to-peer payment app—and it's free! Read on to learn about the changes to Wealthsimple Cash and see if it's right for your money management needs.
What is Wealthsimple Cash?
In January 2020, Wealthsimple launched a new high-interest savings account called Wealthsimple Cash. The account featured higher than normal interest rates and no fees. When it was released, Wealthsimple Cash was also supposed to soon launch a Tungsten prepaid card that functioned like a debit card and could make free ATM withdrawals.
Now, Wealthsimple has just released what they're calling the latest version (or reinvention) of Wealthsimple Cash. It's an app that functions as a peer-to-peer payment platform that allows you to send money to friends and family (anyone on your contact list) for free.
How does it work?
To use Wealthsimple Cash, all you have to do is download the app and set up an account (or use the Wealthsimple account you already have and just connect it to the Wealthsimple Cash app). You then add money to your Wealthsimple Cash account, choose a unique dollar sign handle, and link your contact list – which you can just import from your phone.
You can send and receive money instantly from anyone on your contact list (provided they also have Wealthsimple Cash). Use Wealthsimple Cash to split a restaurant bill, vacation expenses, or pay your dog walker. You can pretty much use the Wealthsimple Cash app the same way you would a bank e-transfer. The only difference is that there's no secret question and answer needed to receive and withdraw the funds, and the money arrives instantly instead of within hours. Best of all, Wealthsimple Cash is free.
Note that Wealthsimple Cash still has plans to come out with a card in the future that will work like a prepaid card or debit card (or some combination of the two). The card will allow free ATM withdrawals, and there will be no foreign transaction fees — a savings of 2.5% per foreign transaction. The card will also be compatible with electronic wallets like Apple Pay and Google Pay. As the card is still unavailable and there's no estimate as to when it will be launched, we will review it in greater depth once more information is available.
Wealthsimple Cash features
Here are some of the main features of Wealthsimple Cash:
Send Money Instantly – E-transfers can take as long as three hours to receive; with the Wealthsimple Cash app, you can send or receive money in mere seconds.
Free – Some financial institutions charge for e-transfers. Wealthsimple Cash is free, and you can send as many transfers as you want. There are also no account fees or minimum balances required.
Private – Because you use only your dollar sign handle to send money, you can remain anonymous.
Secure – Account balances up to $100,000 are insured by the CDIC, and Wealthsimple Cash protects your account with biometrics and fingerprint ID.
Send More Cash – Most banks in Canada cap transfers at $3,000 per day. Wealthsimple Cash lets you send up to $5,000 daily and up to $20,000 monthly.
Easy to Use – The app is easy to navigate, and setup is simple and quick.
Referral Bonus – If you refer friends to sign up with Wealthsimple Cash, you and your referred friend can each receive $5.
Earn Interest – Funds held in Wealthsimple Cash earn interest. The rate is currently 0.75%.
How to apply
Wealthsimple Cash makes it incredibly easy to set up an account. Just follow the below steps:
Head to the website, and under products, select "Wealthsimple Cash."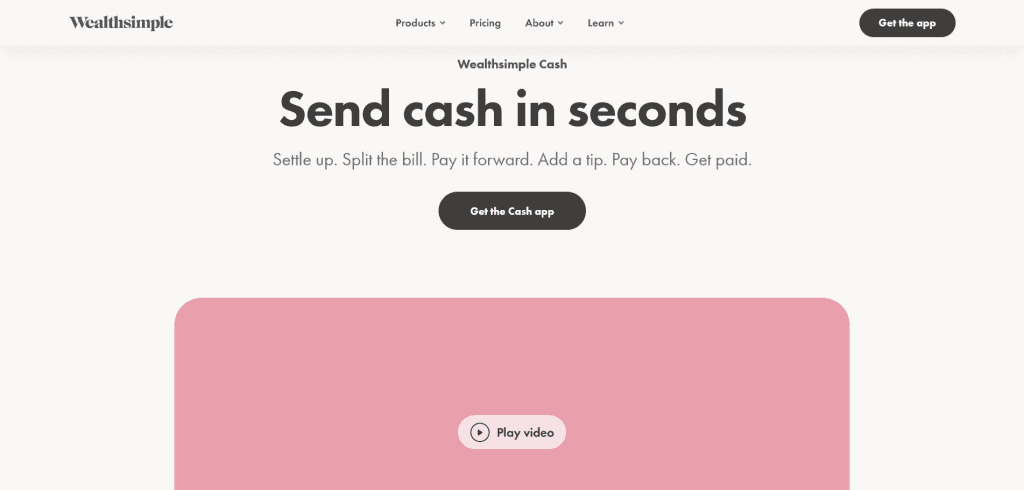 Click 'Get the Cash app' to download the app, which is available for iOS and Android.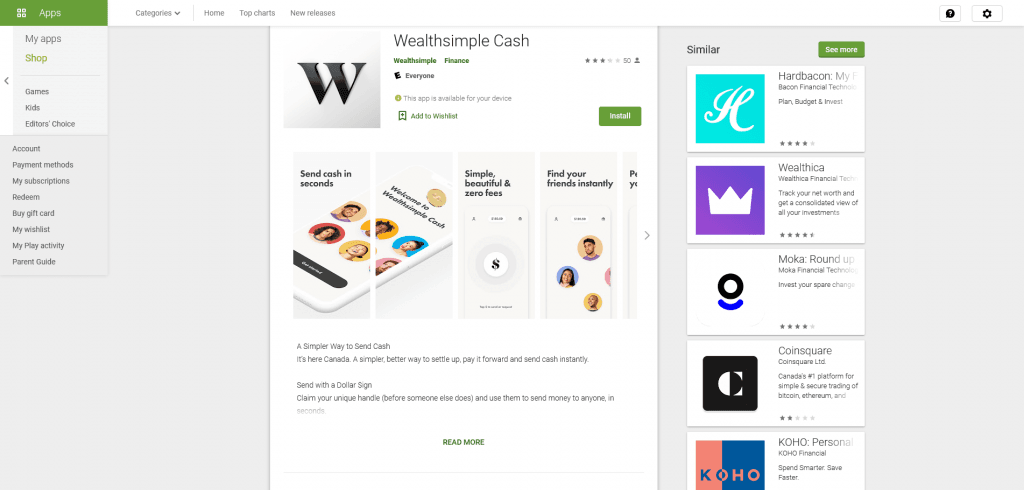 Create a new account, or if you're already a Wealthsimple client using one of their other products (like Wealthsimple Trade or Wealthsimple Invest), you can sign in using the same login information.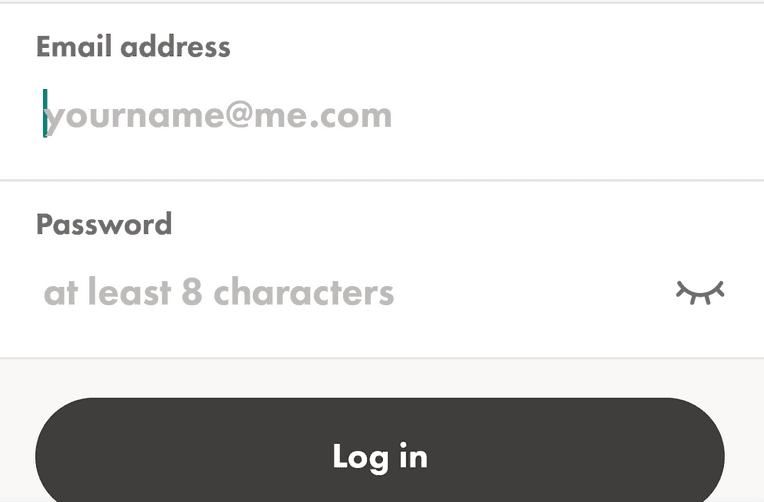 For extra security, Wealthsimple will send a code to your email address for two-step identification. You'll be given the option to use biometrics to log in in the future.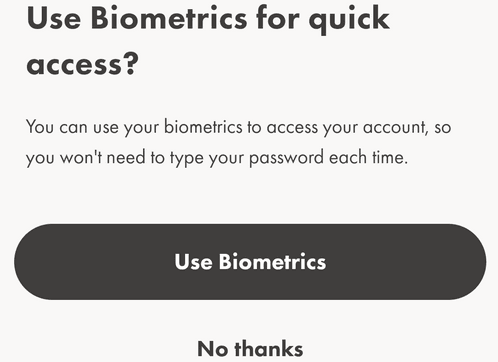 Next, you pick your unique "Dollar $ign" symbol. Your sign will become your unique handle and will be needed to send money. This handle is very important and essentially replaces the need to set up a question and answer to receive money like you do when you send e-transfers. With Wealthsimple Cash, all you have to do is provide your unique dollar sign handle to send or accept a payment.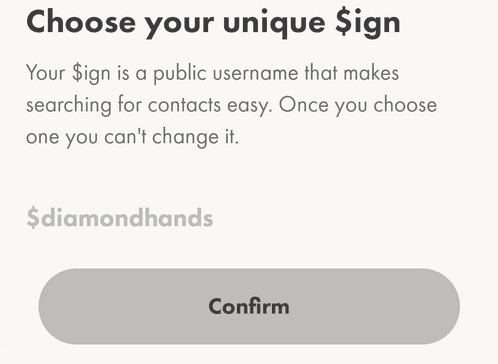 Link the Wealthsimple Cash app to your Wealthsimple Cash account.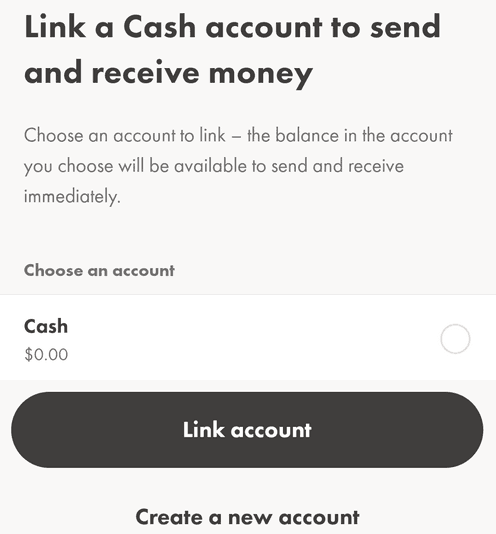 Sign a client account agreement.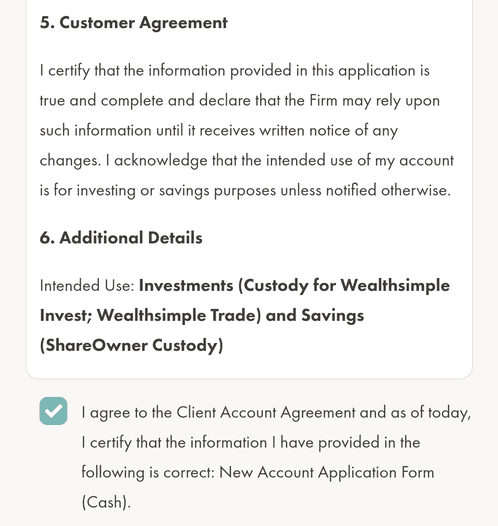 Add funds to your account (via bank transfer as you would with any other Wealthsimple account) to be able to send money.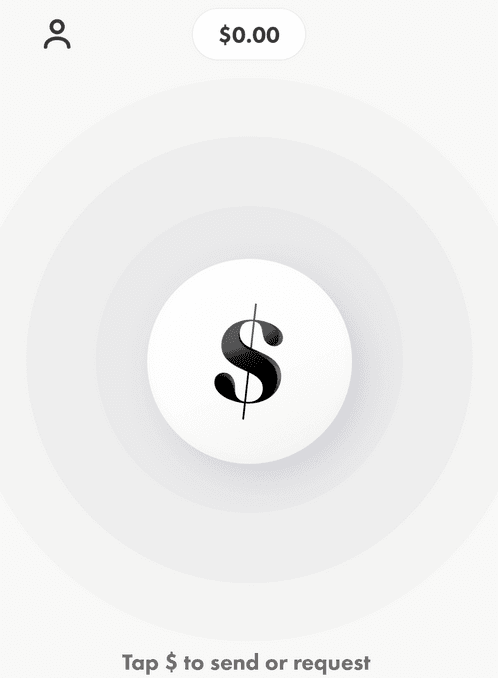 Sync your contacts and you're ready to go! Voila, you can now send money using Wealthsimple Cash.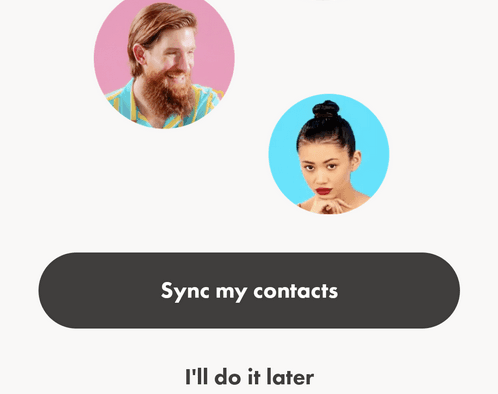 How does Wealthsimple Cash make money?
To our knowledge Wealthsimple has not officially published details on how it plans to monetize from Wealthsimple Cash; Wealthsimple merely emphasizes that the product is free, stating:
"With Wealthsimple Cash there are no monthly account fees, no exchange fees on foreign transactions and no low balance fees. That's because we believe your money should stay in your pocket."
A Wealthsimple representative did confirm to us that Wealthsimple is not currently monetizing from Wealthsimple Cash. The company instead hopes that broad exposure to Wealthsimple Cash will encourage more Canadian consumers to try other Wealthsimple products, like Wealthsimple Invest.
Pros
Easy-to-use app
Cash is transferred instantly without the need for a security question and answer.
Get money in seconds rather than in up to 3 hours, which is what it can take with e-transfers.
No minimum deposit needed, and no account or transaction fees of any kind.
Unlimited and free fund transfers between banks.
Funds held in the account typically earn interest at a higher rate than traditional banks' savings accounts.
Cons
Many chequing account-like features are not yet available, there's no definite date when the features will be implemented, and Wealthsimple has taken far longer than expected to release them.
Funds in the account typically earn interest at a lower rate than virtual banks' savings accounts (like EQ Bank, for example).
Should you use Wealthsimple Cash?
You should use the Wealthsimple Cash app if you often find yourself in situations where you need to send money quickly to friends and acquaintances. For example, if you share household expenses with a roommate, go out to eat a lot, or frequently share cab rides with friends, Wealthsimple Cash might be a convenient way to even up money owed. The fact that it's so simple to send money to anyone on your contact list also makes the app convenient and easier to use than setting up a specific security question and answer with someone, as you do with e-transfers.
The Wealthsimple Cash app, however, is not a good fit for those who aren't yet comfortable using a mobile phone to execute financial transactions. And the slow rollout process of its hybrid bank account features, like a payment card and bill pay functionality, might make it unsuitable for those seeking an immediate combination of chequing account and mobile payment features.
My take
I think the Wealthsimple Cash app is easy to use and safe. I do also think it's good that Wealthsimple Cash has higher daily send limits (up to $5,000) than traditional banks. However, I don't find the app very revolutionary or exciting at this time, because many Canadians (especially those with discount online banks) can already send people money for free. Plus, I personally don't think it's a big deal that someone may have to wait a few hours to receive the money I send them via e-transfer.
I'm also kind of feeling let down by Wealthsimple. They originally promised so much more than what is currently offered with this account, including using a card to withdraw from ATMs, no foreign transaction fees, the ability to make bill payments, direct deposits, etc. Before I begin using this account regularly, I'll probably wait until more features are added and it becomes the bonafide hybrid bank account it was initially supposed to be.
FAQs
Is Wealthsimple Cash safe?

+

Yes, Wealthsimple Cash is safe. Access to a Wealthsimple Cash account is secured via biometric and fingerprint identification; up to $100,000 in funds held within the account are eligible for protection by the Canada Deposit Insurance Corporation.

Does Wealthsimple Cash still earn interest?

+

Yes, funds held in Wealthsimple Cash still earn interest.

Is Wealthsimple a bank?

+

Wealthsimple can be classified as an alternative financial institution, but it is not technically a bank.
More on Wealthsimple: