Backgroundy / Shutterstock
🗓️
Updated: August 08, 2023
We adhere to strict standards of editorial integrity to help you make decisions with confidence. Please be aware that some (or all) products and services linked in this article are from our sponsors.
We adhere to strict standards of editorial integrity to help you make decisions with confidence. Please be aware this post may contain links to products from our partners. We may receive a commission for products or services you sign up for through partner links.
Wealthsimple Save is a high-interest savings account with a decent everyday rate of 0.5% interest on deposits. It's offered to clients of Wealthsimple – the FinTech company that's revolutionized how Canadians invest with its robo advisor, Wealthsimple Invest, and Wealthsimple Trade – Canada's first and only zero-commission trading platform for stocks and ETFs.
Wealthsimple Save is an excellent place to deposit your short-term savings. There are no monthly account fees, no low-balance fees, and no introductory offers that expire after a few months. Plus, any deposits you make into a Wealthsimple Save account will count toward your overall Wealthsimple balance, bringing you closer to the extra Wealthsimple Black perks offered to users with account balances over $100,000.
Note: Wealthsimple Save is not a new financial product offered by Wealthsimple – but it does have a new name. Wealthsimple Save used to be called Wealthsimple Cash. Although the name is different, the product itself is essentially the same and operates like a savings account.
How Wealthsimple Save works
After signing up, you'll link your bank accounts, which lets you transfer funds to your Wealthsimple Save account. If you already have account links set up (for example, if you already use Wealthsimple Trade or Wealthsimple Invest), you won't need to relink them.
Once your money arrives in your Wealthsimple Save account, you'll start earning interest immediately. Interest is calculated based on the daily closing balance and credited to your account on the 5th of each month. You can transfer money out of your Wealthsimple Save account at any time, but the process usually takes 1-3 business days. You can transfer money to any of your linked accounts.
Wealthsimple Save key features
Apple and Google pay compatible
*Feature launching soon
Here are the standout features of Wealthsimple Save:
High-interest rate: Earn 0.5% interest on deposits into your account. This is the everyday rate, not a promo rate that expires!
No banking fees: Pay no monthly fees, maintenance fees, or account minimums.
Fast and free withdrawals: It can take as little as one business day to withdraw funds. Make as many withdrawals as you like without paying any fees.
Awesome app: This sleek app is Apple Pay and Google Pay compatible and ranks as one of the best personal finance apps in Canada.
Secure: Wealthsimple Save uses state-of-the-art data encryption and two-factor authentication
Joint accounts: Save with your spouse by opening a joint account.
Free Interac e-Transfers®: Send money instantly to anyone with just a few taps on your app.
Pros and cons
Pros
Competitive interest rates
No account fees
Free Interac e-transfers
Innovative app that's Apple and Google Pay compatible
Cons
No rewards
No RRSP, TFSA, or RESP accounts
How does Wealthsimple Save compare?
Wealthsimple Save isn't the only place to deposit your cash and earn interest. There are many different options available in Canada. Here's how Wealthsimple Save stacks up against some of the highest interest-rate accounts at other organizations.
Wealthsimple Save
KOHO Earn Interest
EQ Bank's Savings Plus Account
Monthly fee
$0 - annual $84 (or $9/month)
Account minimums
Earn interest on all balance (no minimum deposit requirement)
Deposit interest rate
Earn saving interests on your entire KOHO account balance, up to 2.00%
Cash back earnings
Varies for KOHO's free or paid versions
KOHO Earn Interest vs. Wealthsimple Save
Wealthsimple Save is an investment savings account, and it's not the only place where you can earn interest on your cash in Canada. A major competitor to Wealthsimple Save is KOHO – a free pre-paid, reloadable card and integrated app that gives insights into your daily spending. KOHO Earn Interest also works as a hybrid chequing and savings account, but with the benefits of a credit card, such as earning instant cash back on all your purchases.
In some respects, Wealthsimple Save does not offer as many features or the same level of rewards as KOHO Earn Interest. For example, Wealthsimple Save is primarily a savings account, whereas KOHO Earn Interest offers a good interest rate on deposits, plus a plethora of other features.
When debating Wealthsimple Save vs. KOHO Earn Interest, the main difference is you'll get 0.5% interest on all deposits to your Wealthsimple Save account, but you won't earn any rewards for your spending. In contrast, KOHO Earn Interest lets you earn savings interest on your entire KOHO account balance (up to 2.00%), plus earn up to 5% extra cash back at partnered merchants with the free version, KOHO Easy. The cash back rate depends on whether you sign up for KOHO Essential or KOHO Extra, the latter of which costs $84 (or $9/month) annually. Earn up to 6% extra cash back when shop with partnered merchants. Earn 2% cash back on the transportation, groceries and eating & drinking; 0.5% on everything else. Other than that key difference, Wealthsimple Save has a competitive product offering when compared to KOHO Earn Interest and other similar types of products.
EQ Bank vs. Wealthsimple Save
Although Wealthsimple Save offers a competitive interest rate, Wealthsimple does not offer a broader range of services or products that are available from a traditional bank. If you are looking for a high-interest savings account that allows you to do banking, the online-only EQ Bank might be a good choice. The Savings Plus Account from EQ Bank functions like a chequing account and can be used to pay bills and also transfer money instantly.
The other significant difference is the interest rate. While Wealthsimple Save allows you to earn 0.5% interest on your deposits, the Savings Plus Account with EQ Bank comes with an outstanding 2.50%* everyday interest rate. The TFSA Savings Account and RSP Savings Account pay 3.00%* and 3.00%* interest respectively, making EQ Bank one of the best places to move your money if you want to maximize your interest rates.
In other respects, the two are mostly equal. There are no account minimums or monthly fees, and you can link your bank accounts to make transfers to and from your savings accounts.
* Interest is calculated daily on the total closing balance and paid monthly. Rates are per annum and subject to change without notice.
Signing up for Wealthsimple Save
Like all Wealthsimple products, signing up for Wealthsimple Save is extremely easy. You can do so either through the main Wealthsimple app (called Wealthsimple Invest and Save in the App Store), or online via their website. You'll need the following information at hand during the signup process:
Your name, date of birth, and social insurance number
Your email address
Your home address and phone number
Your online banking sign-on information
If you aren't an existing Wealthsimple Save member, the process of signing up is simple and boils down to three steps: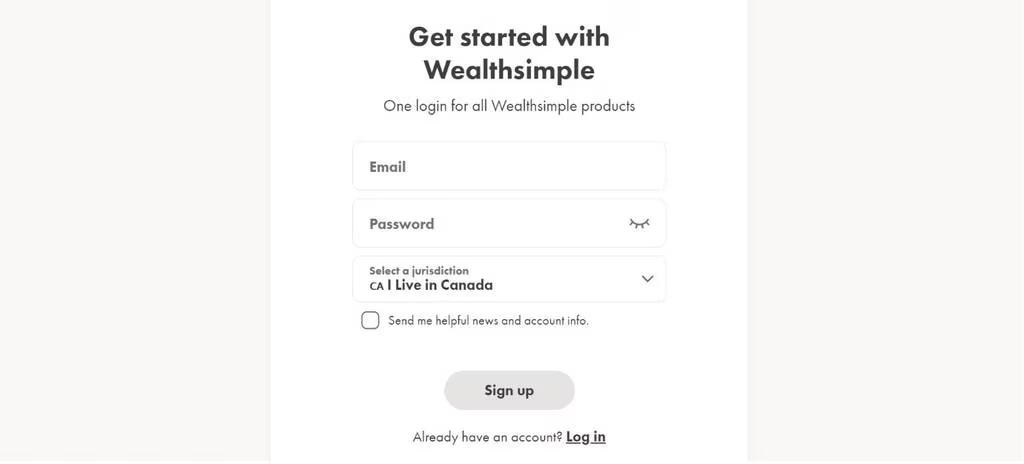 First, answer questions about your identity and provide your name, birth date, country of citizenship, email address, phone number, home address, and employment information. You'll need to enter your social insurance number at this stage too.
Next, link your bank accounts to Wealthsimple's interface, which will make transferring funds to your cash account a cinch.
Finally, it's time to open your cash account. At this point, Wealthsimple will ask whether you want to open a personal or joint account.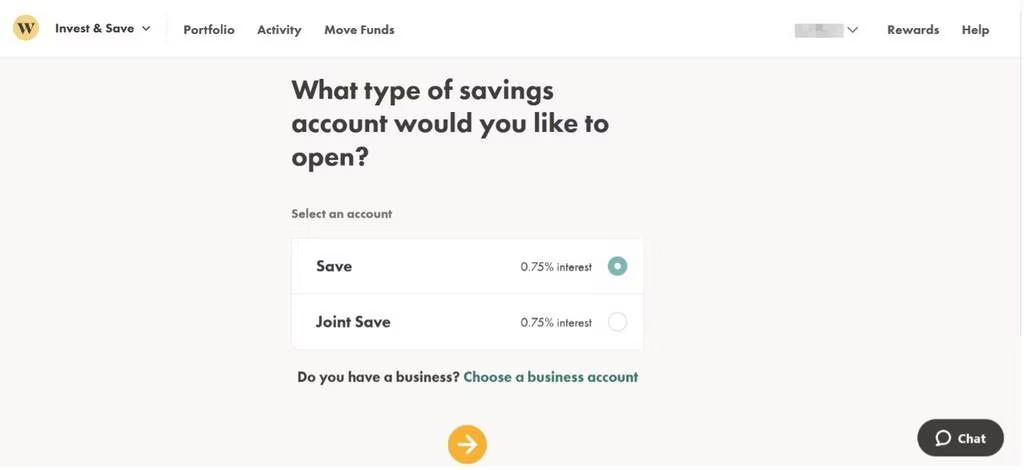 On the next screen, you'll be asked to name your account.
Once you've named your account, you'll agree to their terms of service, and then you're done! Your account is ready to receive funding from one of your linked bank accounts.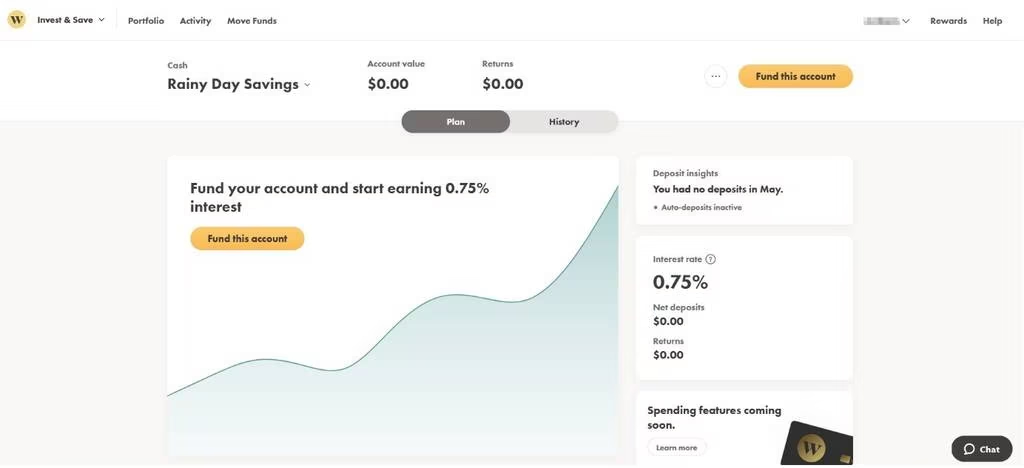 The entire process of completing the online questionnaire, connecting your bank accounts, and opening the Wealthsimple Save account takes about 15 minutes. It's a little more intensive than KOHO or other prepaid debit cards because your account also gives you access to Wealthsimple Invest (the robo advisor).
The bottom line: Is Wealthsimple Save worth it?
The Wealthsimple Save account is an excellent place to deposit cash if you already have a Wealthsimple Invest account and don't want the hassle of signing up for yet another financial product. The process of opening an account is a breeze, and the 0.5% interest rate is solid compared to the rates offered by some banks. That said, Wealthsimple's product offerings are constantly evolving, and we are confident that more features will be added to the Wealthsimple Save account in the future
For now, if you're looking for a place to park your cash that has a decent rate of return and absolutely zero fees, Wealthsimple Save is a good place to start. All the benefits considered, Wealthsimple Save wins a spot on our list as one of the best high-interest savings accounts in Canada.