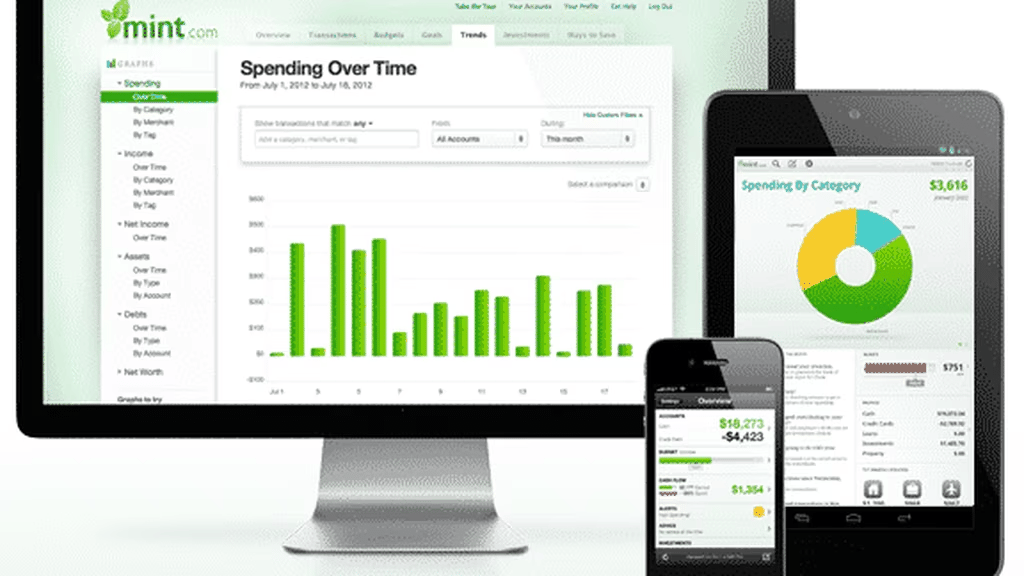 We adhere to strict standards of editorial integrity to help you make decisions with confidence. Please be aware that some (or all) products and services linked in this article are from our sponsors.
We adhere to strict standards of editorial integrity to help you make decisions with confidence. Please be aware this post may contain links to products from our partners. We may receive a commission for products or services you sign up for through partner links.
Why I cancelled my account with Mint.com, and what I did instead.
This year, I broke up with my budgeting software. We had a good run while it lasted. At first, Mint.com gave me everything I needed: a free and simple budget tool that I could use on my computer or phone.
I managed my money from one dashboard, linking my bank accounts, mortgage, credit cards, PayPal and savings accounts to the app.
It helped me make a budget (displayed in a colourful pie chart), track my cash flow, and monitor my credit score and savings. The app even sent reminders to pay my bills on time! But eventually, it wasn't enough.
I just outgrew Mint.com
For one, I found the app rather time-consuming: I'd spend an hour a day scrutinizing every financial transaction. Sometimes Mint.com got things wrong too, by misclassifying or duplicating transactions. So I'd have to correct mistakes and be extra diligent about reviewing the numbers. It was exhausting, and for us, it wasn't making a difference in our spending.
But the biggest reason for quitting Mint.com? My financial circumstances didn't fit with this budgeting app.
As a freelancer, my monthly earnings fluctuate from month to month and trying to stick to a set-in-stone budget just isn't doable. One month, I might be making five figures, whereas another might bring $1000. I needed a more flexible tool to fit my family's finances.
I also just outgrew Mint.com. After establishing my career and paying off my student loans, I didn't need to live as frugally. I moved beyond budgeting to looking at other financial factors too, such as how to start investing, whether to contribute to a TFSA or RRSP and buying a house.
I also read some articles about some concerns about Mint.com (and other apps and tools that access your information), so I decided to shut it down.
Don't get me wrong – a budgeting app can be an amazing tool that can help you achieve financial freedom. According to YNAB (You Need A Budget), new YNAB users save on average $600 by month two and more than $6,000 their first year (!). So whether you're looking to get out of debt, track your cash flow, or save for a specific financial dream (like a house or vacation), a budgeting app like Mint, YNAB, or PocketSmith can help you get to where you want to be.
But it didn't work for me, so I took a long, hard look at my financial strategy and tweaked it. Based on my experience, here are a few alternatives to budgeting with Mint.com:
Make a financial plan
Research shows that 50% of Canadians don't have a financial plan, which is shocking.
Everyone needs to make a financial plan – regardless of their age, income, or employment status. This isn't the same thing as a budget.
In general, a budget serves to track cash flow and prevent overspending, whereas a financial plan is a written report that outlines your short and long-term financial objectives and priorities and sets out a path to achieve them. Budgets and financial plans work best together, but each serves a different purpose. I also took care of other important business, such as making a will and getting adequate insurance.
Surprisingly, you don't have to hire a pro to make a financial plan. I created my own! The first part of the process involved thinking about what mattered most to me. Did I want to pay off my mortgage early or invest the extra cash? What made more fiscal sense: a TFSA or RRSP? Should I prioritize saving for my son's education or my retirement? After getting my act together, I then scrutinized my assets and liabilities and calculated how much I'd need to reach my short- and long-term goals.
Through this process, I learn that if I wanted to retire before 65 years of age, I needed to make investing my top priority. It was a very valuable exercise and my financial plan informs my budget.
These days there are even apps to help you plan for your financial future, like PocketSmith, an app that lets you use your financial history to forecast up to 30 years into your financial future. You can use PocketSmith to plan for major goals like homeownership, debt freedom, or early retirement.
Visit PocketSmith
Follow the 50/30/20 budget rule
Mint.com didn't work for me, but the 50/30/20 budget rule did.
If you haven't heard of it, the concept is simple: allocate 50% of your net income for needs, 30% for wants, and 20% for savings. As a freelancer, this rule worked amazingly well because it didn't require me to stick to the same rigid budget every month.
It accounted for my erratic earnings and allowed me to "pay as I go" into my savings account. I chose to bank with EQ Bank because I can have several accounts (including a joint account!) without paying any fees. Plus, EQ Bank's Savings Plus Account offers an everyday interest rate of 2.50%*, making it one of the best high-interest savings accounts in Canada. I've been using the 50/30/20 budget for the past year, and I can attest that it's worked well for me. All my bills are paid, and I have money in the bank for emergencies, retirement, and even a family vacation.
The lesson here: start a 50/30/20 budget and watch your money pot grow!
Visit EQ Bank
* Interest is calculated daily on the total closing balance and paid monthly. Rates are per annum and subject to change without notice.
Switch to a robo-advisor
Once I nailed down my financial plan and budget, I took a long look at my investments.
The first thing I did was open an investing account with a robo-advisor. Robo-advisors use automated technology and intuitive questionnaires to design a portfolio that matches your risk tolerances and is optimized for your investment horizon. Most robo advisors in Canada use low-cost ETFs to build your portfolio, and they rebalance automatically on your behalf.
Robo advisors are also a heck of a lot cheaper than using a financial advisor, putting more money back into your piggy bank. All you need to do is sign up and start making contributions.
There are many excellent robo-advisors in Canada that will provide you with a preset investment portfolio based on your financial needs. Some robo-advisors even offer additional financial planning services and will pay your transfer fees if you are moving your money.
Plus, you can take advantage of our exclusive promo offer: open and fund your first Wealthsimple Invest account (min. $500 initial deposit), and get a $25 cash bonus deposited into your account.
Visit Wealthsimple
Automate your savings and investments
Budgeting apps are great for monitoring your cash flow, but do you know what worked better for me? Automating my finances by setting up Overflow by Wealthsimple. A free feature offered to clients, Overflow automatically invests extra money from my bank account into my Wealthsimple Invest or Save account. All I have to do is set an amount of cash I want to keep in my chequing account. Once a month, any money on top of that amount will be automatically deposited into my Wealthsimple investing or high-interest savings account.
After the initial setup, I don't have to do anything except watch my savings grow.
Find the right financial app
There are oodles of apps out there, and you may just need to find the right one for you.
There are financial apps geared to help reduce debt, increase your investment contributions, or supercharge your savings.
Case in point: although Mint.com didn't jive with my life, an automatic savings app like Moka (formerly Mylo) made more sense since investing is my top priority. Every time I make a purchase, the app rounds up to the nearest dollar and invests the change.
There are even apps that allow you to earn money! Yes, this is a thing. Ampli is a cash back app that gives you money every time you make a purchase at a participating retail, travel or restaurant partner. How it works: you just download Ampli, link your credit and debit cards and then make qualifying purchases at eligible retailers. Every time you spend money online or in-store at one of Ampli's partners, you'll automatically get cash back. The app tracks what you've earned and adds your cash back to your Ampli account.
KOHO
Sign up and get a $20 instant cash bonus (once you load your account and make your no minimum first purchase within 30 days) right to your KOHO account with our link or YOUNGANDTHRIFTY referral code.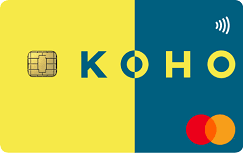 KOHO is also getting rave reviews. It's pretty ingenious: it's a free pre-paid, reloadable card and integrated app that gives real-time insights into your daily spending with budgeting and spending insight features. It functions like a chequing account but with the benefits of a credit card, even giving you up to 5% extra cash back at partnered merchants and allowing you to earn saving interest on your entire KOHO account balance. However, unlike a credit card, you're not using credit. So you'll likely be more careful with your spending and save more money. And, if you upgrade to KOHO Extra, you can get as much as 2% cash back on eligible category purchases.
Visit KOHO
KOHO's tools are an excellent way to avoid high-interest loans and earn cash back, the average KOHO user saves roughly 7% of whatever money they load into their account. Best of all, this financial app is free!
The bottom line: do your homework and find a financial app that works for you. Check out our round-up of the best budgeting apps and budgeting tools.
Get a rewards credit card
Do you know what put money instantly back into my pocket? Getting a rewards credit card. I finally clued in that all my everyday credit card spending could be put to good use.
Now I've got a range of plastic in my wallet to serve every purpose: from credit cards for groceries to travel rewards credit cards to cash back credit cards to low-interest credit cards (because as a freelancer, I sometimes need to carry a balance during a slow month). Since I travel a lot for my job, I also added one of the best Aeroplan credit cards to my collection. Now, I earn Aeroplan Miles for every $1 that I spend, which I can cash in for flights, travel (hotels!), merchandise, tickets, and other stuff. All of this saves me money, which I can funnel back into my savings and investing accounts later.
Last word: Is Mint safe?
Another big question: Is Mint.com safe?
It's true that Mint (and other financial apps) need access to your banking and personal info to function. There was a lot of fuss about privacy and security issues when Mint and other apps hit the market, but the hype has quieted down quite a bit. After all, Mint.com is owned by Intuit, the same company that produces financial software essentials Quickbooks and TurboTax.
Things have changed since the early 2000s, and these companies have invested a lot in security and ensuring that your privacy is protected. That being said, most of Canada's banks don't approve of financial apps that access your banking info, so bear that in mind. It's a personal choice, and you'll have to decide how comfortable you are with a third-party app accessing all your sensitive info.
Nonetheless, financial apps like Mint.com can be a godsend – so long as they suit your circumstances. But you shouldn't rely on one thing to make your dreams come true. The best thing is to diversify your strategy, and use a multitude of tools. Creating a realistic and actionable financial plan and budget that work together is the first step. Then look at adding technology and tools to help you achieve your goals. If you can do that, you'll be well on your way to success.