From bad to worse The Bank of Canada had warned of an "uneven" recovery in September, noting that many industries had snapped back while low-wage service workers were far more likely to remain unemployed.
Those conclusions are echoed in a new report from accounting firm BDO Canada, which suggests those struggling before the pandemic are doing even worse now.
Two-in-five Canadians say they're worse off today, with part-time workers, low-wage workers and the self-employed more likely to fall in that group. Nearly half of those worse off say their debt load has become overwhelming.
A second report, this one from MNP, details just how dire the situation is. Nearly half of households in the $40,000 to $60,000 income bracket say they're $200 or less away from full-on insolvency.
Unexpected vet bills don't have to break the bank
Life with pets is unpredictable, but there are ways to prepare for the unexpected.
Fetch Insurance offers coverage for treatment of accidents, illnesses, prescriptions drugs, emergency care and more.
Plus, their optional wellness plan covers things like routine vet trips, grooming and training costs, if you want to give your pet the all-star treatment while you protect your bank account.
Get A Quote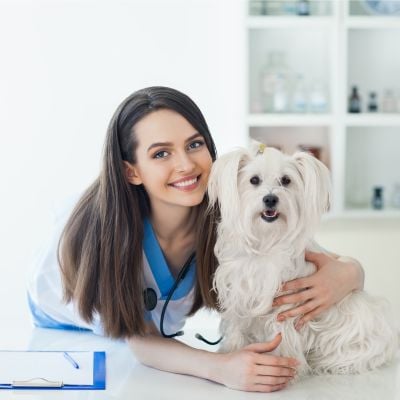 Saving trumps spending As many Canadians lose ground against their debt, one-in-five tell BDO their personal finances have improved during the pandemic.
Government incentives, mixed with a healthy dose of fear, have encouraged even wealthy people to pay off as much debt as possible. The average debt in Canada is actually down — way down.
Between April and June, the average household owed $1.58 for every dollar of disposable income it had. That's the lowest number in a decade, and down from $1.78 during the first three months of the year.
With people losing their jobs left and right, and limited options for their fun money, Canadians have suddenly become much more conservative. Families started stashing away 28% of their disposable income, compared to less than 8% before the pandemic broke out.
And Canadians rich and poor were able to defer their mortgages and student loan payments while taking advantage of record-low interest rates.
Pay off your own debt sooner Government aid and low interest rates won't last forever, so if you're still carrying a lot of debt, it's time to take what actions you can to improve your situation.
Here are five strategies that can help you reduce your monthly payments and become debt free faster.
1. Refinance your mortgage
Mortgage rates are shockingly low and aren't likely to rise anytime soon.
That's great news for homeowners, because it means there's never been a better time to refinance your mortgage.
While the upfront penalties to break your current mortgage can be sizable, refinancing into a much lower rate can save you thousands of dollars in interest. That's a big bite out of your debt.
To save yourself the trouble of hunting for quotes, you can ask a broker to take the case for you. Homewise is an online brokerage that will negotiate on your behalf with more than 30 banks and other lenders.
The service is entirely free of charge, and you can sign up in about five minutes.
2. Get a debt consolidation loan
When you owe money to different companies at high interest rates, a debt consolidation loan can offer some major relief.
When you consolidate, you take out a new low-interest loan and use it to pay off your high-interest debt. In addition to saving some money on interest, it will keep you more organized with just one bill to worry about.
You can use a comparison platform like Loans Canada to get matched with lenders and find the best rates.
3. Use a balance transfer card
It's hard to make a dent in your credit card debt while you're making minimum payments and battling high interest rates.
Try moving that debt to another credit card with a lower rate. If you have solid credit and shop around, you can even find a card with an introductory rate of 0% for a limited time.
When you can focus on paying just the principal and not the interest, you can eliminate your debt much quicker. Just make sure the balance transfer fees — usually around 3% — don't outweigh the amount you'll be saving.
4. Consider downsizing
Sometimes you need creative situations to address your debt.
If you find yourself struggling to make your mortgage payments and you're unable to refinance, it could be time to think about selling and buying something more affordable.
5. Pick up a few extra bucks
When you're servicing debt, every little bit counts.
With Swagbucks, you can pick up some extra cash just by watching videos and answering surveys online. It's free to join and there are a ton of ways to earn rewards — and the amount of time you spend is up to you.
Alternatively, if you have some in-demand skills, you could pick up a side hustle to pad your pocketbook. An online marketplace like Fiverr can put you in touch with someone eager to pay for your time and talents.
Sponsored
Trade Smarter, Today
With a wide variety of investment chocies, CIBC Edge makes it easy for you to trade how you want, when you want.