Changing habits
Longo has noticed customers changing their habits due to inflation. Over the past year, more Longo's customers have gravitated toward the grocer's in-house products, instead of national brands. Maybe you've done the same in an effort to lower your grocery bills.
"As shopping patterns shift, it cannot be business as usual for retailers and brands," Longo said. "We must adapt and evolve to meet our guests' needs."
Shoppers seem to be making changes across the board, with 54% of Canadian consumers surveyed by Canadian Grocer saying they shop at discount grocery stores once or more a week in 2022, which is an increase of 14 points from the previous year.
Moorehouse, finds that to take advantage of the best food prices, she needs to go to several stores - or else accept that she's going to pay higher prices at the major chains. For instance, she finds that a block of Canadian chedder cheese costs almost double at the local grocery store when compared to the price at a wholesale retailer.
Unexpected vet bills don't have to break the bank
Life with pets is unpredictable, but there are ways to prepare for the unexpected.
Fetch Insurance offers coverage for treatment of accidents, illnesses, prescriptions drugs, emergency care and more.
Plus, their optional wellness plan covers things like routine vet trips, grooming and training costs, if you want to give your pet the all-star treatment while you protect your bank account.
Get A Quote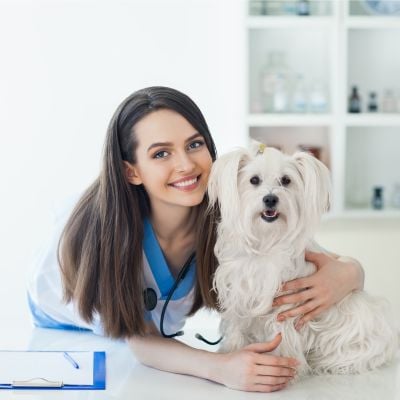 Supply (chain) and demand
Longo recognizes the difficulty in meeting both consumer needs and satisfying the supply chain when it comes to pricing groceries.
He acknowledges the constant pressure on the economy caused by inflation, and how these factors affect the final product price. To that end, Longo's works closely with suppliers to keep supply chain costs as low as possible — but also fair to the suppliers.
"We've seen other retailers take similar steps," Longo said, "such as adjusting their procurement and supply chain strategies to keep costs down, and offering promotions and discounts to help customers save."
Lowering your grocery bills
Despite the efforts of grocery stores, and consumers, prices don't seem to be going down any time soon. If you're looking to cut down on your next grocery bill, here are some tips that can help you save money.
Plan your meals
"If you don't eat prepared meals, you're just saving a lot of money already," observes Moorhouse, "and you're getting better nutrition." Ordering takeout or buying frozen meals may save you time, but it can hit your wallet hard.
Longo also notes that there has been a trend for increased meal planning and preparation, based on consumers' purchases.
When meal planning, take time to check out grocers' flyers and promotional material. These often feature specials and recipes that can inspire menus for you and your family.
Shop local and in-season
Longo observes that there are a lot of savings to be had by purchasing in-season fruits and vegetables. Not only do these products taste great, but they also support local farmers and suppliers. You can also look into local vendors or independent grocery stories, which may offer cheaper goods than a grocery store. Moorhouse now typically gets her fruits at a local fruit store and finds the price difference "outrageous."
Buy in bulk
If you live in a food desert — that is, an area with poor access to grocery stores — you may not have a lot of affordable food options. One way to find value when you have limited choices is by buying some products in bulk. You can benefit from the savings over time, and it is often cheaper per unit than smaller packages.
For instance, on the Provigo (Loblaw) shopping app, a three-litre can of olive oil costs around $42, while a one-litre bottle normally costs about $16. When comparing the prices per 100 millilitres, the three-litre leads to savings of $2 per litre.
Moorhouse also takes advantage of friends' wholesale store memberships. She'll go with them and stock up on items she knows are offered at a better value.
Dairy is where she's noticed "the steepest increases." The average cost of dairy products has increased by 12% since 2017, and a further increase of 2.2% on the price of milk went into effect in February.
Moorhouse will typically stock up on cheese when going to wholesale stores such as Costco.
Try communal cooking
Getting involved in communal cooking is a great way to help out others and prevent leftovers from going to waste.
Thanks to word of mouth, Moorhouse discovered a neighbour who regularly prepares home-cooked meals for a group of neighbours. The meals are more affordable than buying pre-made meals at the store.
An alternative that you can explore is joining with your neighbours and pooling money for groceries. This setup can also save time when it comes to meal planning and prep. The saved time also decreases the temptation to order takeout.**
If you live in a condo or apartment, consider posting a notice on a community board offering to start the service. If you own a house, consider knocking on some neighbour's doors to see if they'd be interested in participating.
The meals you create don't need to be complicated — you can cook what you normally would for you and your family.
Buy discounted groceries
"One thing is painfully simple: prices are hitting everyday shoppers where it hurts, the wallet," said Longo.
In order to help consumers offset the prices, some grocery stores offer rewards programs that provide discounted prices on select products. Longo's Thank You Rewards program also gives users the opportunity to earn free groceries.
Aside from discounts offered by chains, there are companies that allow consumers to get discounted food delivered to their home. In southwestern Ontario, Food Fund will deliver a variety of fruits and veggies to your home for as little as $25 per week. The products are sourced from grocery stores, but may also come from local farmers or greenhouses. In Montreal, Second Life offers a similar service.
If you can't access such services, you can head to a grocery store and consider purchasing items that are near their expiration date. Many stores offer these products at a discounted rate.
Shop around for deals
You might not have time to visit multiple grocery stores during the week, but by checking out store flyers and looking for deals online, you can often find a store within your region that offers discounted prices on the items you need.
Some stores offer price matching as an added incentive, so by informing yourself of what deals are available you might be able to save more money. And if a product happens to be out of stock, be sure to ask for a rain cheque — there's no reason to let a good deal pass you by.
Sponsored
Trade Smarter, Today
With a wide variety of investment chocies, CIBC Edge makes it easy for you to trade how you want, when you want.