Victoria Realtor.ca
Half a million doesn't take you nearly as far as it used to in Victoria. Once an affordable alternative to the sky-high prices in Vancouver, the Garden City doesn't have many bargains left.
If you're lucky, your $500,000 budget will land you two bedrooms and two bathrooms, like you'll find in this 909-square-foot condo located in Victoria's Hillside area.
You won't have a ton of room to maneuver, but you're minutes from downtown in a killer neighbourhood known for its green space, shopping and restaurants. When you decide to live in a box, that outside stuff is pretty important.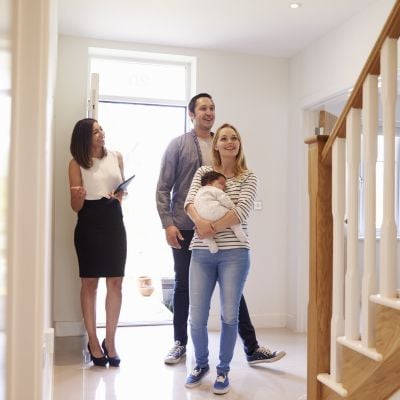 Whether you're hunting for a new home or looking to refinance your mortgage, knowing how much your new loan might cost you is critical. Use our handy mortgage calculator to help you understand what your payments could look like.
Get Started
Vancouver Realtor.ca
When even townhouses are averaging around $840,000 in Vancouver, you know anything selling for $499,000 is going to be pretty small.
At 411 square feet, this Robson Street studio offers one bathroom and zero bedrooms. (Kudos to whoever suggested the hide-a-bed.) Aside from the kitchen, what you see in the photo above is pretty much it. A storage locker is included, so you can always entertain guests down there.
That said, if an affordable place with a killer "walk score" is what you're looking for, you may have found it. Few places are as walkable and vibrant as downtown Vancouver.
Kelowna Realtor.ca
Once Vancouver's market caught fire around 2015 and homebuyers began exploring less expensive pastures, Kelowna was the first of B.C.'s interior markets to really see its prices take off.
You'll be able to find a townhouse or condo for half a million, but if you're looking for something a little more distinctive, this three-bedroom, two-bathroom cottage just north of the city can be yours for the same price.
The outside's a little prefab, but the interior — 1,076 square feet absolutely flooded with natural light — walks a nice balance between pretty and cozy. You'll also be steps from Okanagan Lake, which, on a hot summer day, will be worth the price of admission alone.
Calgary Realtor.ca
This one's a head-scratcher, at least at first. Half a million typically gets you a whole lot of house in Cow Town, but in this case, it gets you just over 1,100 square feet, two bedrooms and a bathroom.
The listing for this home in Calgary's Mount Pleasant neighbourhood calls it "dated but functional," which seems generous.
The real draw is the lot the house sits on: up to 7,250 square feet for you to fill up with your actual dream home. You'll just have to knock this one down first. It shouldn't take long.
Edmonton Realtor.ca
You'll find a lot of cool homes for under $500,000 in Edmonton. Not all of them are quite as nice, or quite as pink, as this four-bedroom, four-bathroom winner in the city's northwest.
Its 1,969 square feet of floor space include some truly enormous bedrooms, multiple walk-in closets, a fully finished basement with space for an office or gym and an ensuite bathroom off the master bedroom that few would expect to see in a house selling for only $489,000.
This home's suburban location comes with a couple of added benefits: namely, quick access to some of the city's best golfing and two of its most convenient highways.
Regina Realtor.ca
Thanks to more than five years of sluggish sales that preceded the pandemic, the Queen City is still home to some seriously tasty bargains. Scaling up to the $500,000 range means you'll be taking a crack at some very nice homes.
It's hard to find a single room in this 1,500-square-foot bi-level behemoth that couldn't be described as "cavernous." The four-bed, three-bath home also boasts a variety of eye-catching, high-quality flooring choices, a gas fireplace in the living room and a professionally developed basement with its own full bath and rec room, all for $499,900.
Throw in parking for four vehicles, and you've got yourself a cozy little fortress on the city's rapidly developing east side.
Saskatoon Realtor.ca
Once you've built up a $500,000 budget in Saskatoon, you can expect to secure an impressive chunk of space. This four-bedroom, four-bathroom property in Forest Grove fits the bill and then some.
If you're a fan of darker wood tones, the home's floors and kitchen are bound to get you drooling.
The rest of the house, spread out over 2,002 square feet, is somehow both understated and swanky. The built-in sauna, numerous floor-to-ceiling windows and completely finished basement add a wow factor to what is otherwise an eminently practical home.
Not bad for $499,900.
Winnipeg Realtor.ca
Winnipeg is known for being one of the country's most stable, affordable real estate markets. Finding something beautiful for under half a million isn't too challenging.
Coming in at $489,900, this 1,708-square foot, two-story home has a lot to offer. In addition to four bedrooms, four bathrooms and a list of updates that probably gave the listing agent carpal tunnel syndrome, the backyard is beautifully landscaped around a kidney-shaped pool and a fire pit.
The lot also backs directly on to the lake in Winnipeg's coveted Kildonan Meadows neighbourhood, bringing a distinctly cottage-y feel to the city's western 'burbs.
Toronto Realtor.ca
You thought it was going to be a condo, didn't you?
For only $449,000, you can actually nab yourself a three-bedroom, two-bathroom townhouse in West Humber. That's not bad, considering townhomes in the Greater Toronto Area currently average north of $850,000, according to the Toronto Real Estate Board.
Admittedly, this may not be the townhouse of your dreams. Its 850 square feet seems like they haven't been updated in a decade or four. From certain angles, it might even remind you of a prison. It's also not far from Toronto's notorious Jane and Finch neighbourhood, which could be a deal-breaker for some shoppers.
On the bright side, the area offers a decent number of schools, parks and places to shop — plus easy access to the freeway. Not a bad place to be if you need to hit the road in the morning.
Mississauga Realtor.ca
We chose this townhouse in Mississauga for a couple of reasons.
First, it proves you can find a decent three-bedroom, two-bathroom property in the city that won't cost you an arm and a leg — at least, it won't sever those limbs right away. In this case, $479,900 gets you 1,100 square feet spread over two levels and a few nice touches like a breakfast area and a large patio.
The second reason we chose this one is to remind you that, just because a property comes with a lower price tag, it doesn't mean it's going to be more affordable in the long run. This unit will suck up $746 every month in maintenance fees — an extra $8,952 a year that you'll feel like you're setting on fire.
Ottawa Realtor.ca
Real estate in the nation's capital has been on fire for the last three years. A lot of the action has been on the city's west side, where one of the country's biggest tech hubs continues its rapid expansion, but there are some great finds to the east.
Check out this $430,000 slice of loveliness just outside the city in Rockland. Only a year old, this three-bedroom, two-bathroom townhouse is immaculate and surprisingly spacious. The hardwood and tile floors amplify the property's natural brightness, making it feel even more airy than its 1,100 square feet already are.
The downside is that Rockland is not Ottawa's hottest suburb. It ranks poorly for shopping, restaurants and bike-friendliness, so if you're moving there, maybe invest some of the money you're saving in a comfy pair of driving gloves.
Kitchener Realtor.ca
At time of writing, 31 properties were up for sale on Realtor.ca in the $475,000 to $500,000 price range — and most were condos or semis. That's what happens when your market's on the doorstep of Waterloo, Canada's answer to Silicon Valley.
If you want a detached home for less than $500,000 in Kitchener, you'll have to be satisfied with something on the smaller end of the spectrum, like this three-bedroom, two-bathroom cutie listed for $499,000.
Its 1,050 square feet are bright and cozy, and it's clear that the recent owners showed it a lot of love over the years. The interior has been beautifully updated and the backyard has been sculpted into a lovely little oasis.
Montreal Realtor.ca
Montreal's real estate market was fairly cool until around 2017, when investors spooked by new taxes in Vancouver and Toronto began sniffing around the city. It's a different world in 2021, with intense bidding wars now the norm. There's still some great value to be found, though.
This brand new three-bedroom, two-bathroom number, listed for $489,000, is just across the St. Lawrence River from Montreal proper in the rapidly growing suburb of Longueuil. With 1,597 square feet spread over the ground floor and the basement, it's the kind of gleaming and stylish design that gives new construction a good name.
For that price, you're getting into a solid neighbourhood, too. Longueuil is loaded with schools, small parks and places to shop, and downtown Montreal is minutes away.
Quebec City Realtor.ca
Quebec City was largely a locals-only market until 2019, when rising prices in Montreal triggered sudden interest in the provincial capital among real estate investors.
Despite the increased demand you'll find that prices are still very much approachable.
Put your sunglasses on before walking into this eye-popper. An abundance of natural light, white tile and hardwood combine to make this home's more than 2,100 square feet positively glow. Even the black tile in the bathroom shines.
For just $489,000, you get five bedrooms, two bathrooms, an office and space for a second office, fully equipping you for the new work-from-home reality.
Saint John Realtor.ca
Where to begin with this masterpiece?
Built around 1850, this gorgeous goliath provides an almost unreasonable 6,500 square feet of living space in Saint John's beautiful Mount Pleasant neighbourhood. It's a true mix of classic architecture and modern style.
Half a million allows you to purchase six bedrooms, six bathrooms, nine fireplaces and a marble grand hall. A property of this size and age in Toronto, sitting on a similarly massive 28,000 square foot lot, would probably run you 10 times that.
Moncton Realtor.ca
Half a million is not a price that's commonly paid in Moncton, but homebuyers who go that high typically get a lot to show for it.
This executive home in Rosemont Park is dripping with both curb appeal and interior charm. At 3,971 square feet, there is no shortage of space: five bedrooms, three bathrooms, a sprawling kitchen that's been recently updated and an additional room for an office.
The backyard is enormous, too. Maybe not as well tended-to as the house itself, but there's a lot of room to play with.
Fredericton Realtor.ca
At time of writing, this custom-built 2008 gem is actually one of the most expensive homes for sale in Fredericton — at only $499,900.
For the price of a small condo in Toronto, you get over 1,600 square feet of floor space that includes three bedrooms, two bathrooms, cathedral ceilings and no shortage of glowing hardwood.
The concrete veranda and stone entrance add an undeniable dose of curb appeal to the exterior. So does the lush, manicured lawn, which enraptured house-hunters will no doubt imagine tickling the soles of their feet.
Halifax Realtor.ca
It's not much to look at — and the less said about the backyard, the better — but for $499,900, this over-under duplex is actually a great little investment property.
Located in the heart of downtown Halifax in the lively Quinpool neighbourhood, this home's 1,600 square feet are split between a three-bedroom, 1.5-bathroom main floor and a one-bedroom, one-bathroom basement suite that comes with its own laundry.
It's close to Halifax's nightlife, its hospitals and its universities. You'll have no problem finding renters to help pay down your mortgage.
Charlottetown Realtor.ca
Trying to spend half a million on a home isn't easy in Charlottetown, where the average price is hovering around $330,000. Only four properties were up for sale in that price range when we went looking, and two of them weren't even built yet.
The exterior of this three-bedroom, three-bathroom home may not appeal — yellow accents can be very hit-or-miss — but its 3,400-square-foot interior will be impossible to resist, especially at $499,000.
The home's extras also provide inarguable "wow." The log-lined, pavilion-style sunroom, which looks out to a sprawling backyard, approximates the feel of a Swiss Alps resort, while the honeyed tone of the hardwood floors could bring you to your knees (it's easier to appreciate them from up close).
St. John's Realtor.ca
You may think $429,900 is a little steep for the property pictured here — it's certainly well above the city's average sale price of $285,000 — but St. John's' colourful, iconic row houses are in high demand. Once you get inside this three-bedroom, three-bathroom stunner, you'll see why.
More than 1,900 square feet spread over three stories. Harbour views. Exquisite modern bathrooms. Sky lights. Hardwood as far as the eye can see.
It's a bit of a heart-stopper. And since most of the cosmetic updates were done in the last 12 months, they'll keep their sparkle for years to come.
Sponsored
You're 5 minutes away from the best mortgage
Searching for your perfect mortgage shouldn't be hard. Homewise is an online brokerage that will negotiate on your behalf with more than 30 big banks and other lenders, completely free, and it only takes five minutes to apply.
If you're in the market for a new mortgage, or if you're looking to refinance before interest rates rise again, go to Homewise now and answer a few simple questions to get started.