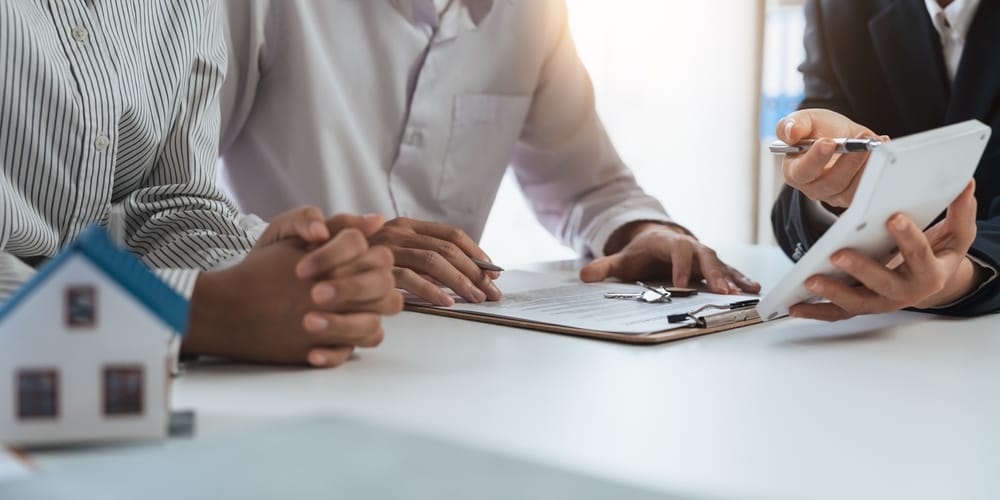 Natee Meepian / Shutterstock
We adhere to strict standards of editorial integrity to help you make decisions with confidence. Please be aware that some (or all) products and services linked in this article are from our sponsors.
We adhere to strict standards of editorial integrity to help you make decisions with confidence. Please be aware this post may contain links to products from our partners. We may receive a commission for products or services you sign up for through partner links.
There's a lot of confusion in personal finance circles about what constitutes a second mortgage in Canada. Some suggest that any mortgage or home equity loan that's taken out on top of an existing mortgage is a second mortgage. But that's not actually the case.
While a home equity loan or line of credit (HELOC) may be a "second charge" on a property's title, this simply means that if the borrower defaults on payments and faces foreclosure, the lender that issued the primary mortgage will get repaid first.
A second mortgage, however, is a term used for a specific product that differs from other types of secured loans or mortgages that sit in the second position to a first mortgage.
Here's everything you need to know about second mortgages, including why you might want one and how to find the best second mortgage rates.
What is a second mortgage?
Homeowners in Canada who already have a mortgage can borrow additional funds against the equity they have accumulated in their property. If they have good credit and more than 20% equity in their home, they may qualify for a secured loan or HELOC from a bank, credit union or other "A" lender.
When a borrower has less-than-ideal credit and/or only 10% to 20% equity accumulated in the property, however, a second mortgage from a private lender or trust company is an option.
Because there is a greater risk to the lender, interest rates on a second mortgage are much higher than on a first mortgage or HELOC. Even with today's rock-bottom interest rates, for example, a lender is likely to charge double-digit interest of 10% or more on a second mortgage, as compared to 0.5% above prime on a HELOC.
Borrowers must make payments on both their first and second mortgages concurrently, which means two separate monthly bills. If they default on either of these mortgage payments, they could lose their home.
While second mortgages typically come with the highest interest rates of any mortgage product, these rates can still be much lower than what you'd pay on outstanding credit card debt or payday loans. As such, it can make financial sense to take out a second mortgage to pay off such higher-interest debt, which will lower your total monthly payment or allow you to become debt-free sooner.
In this way, borrowers often use a second mortgage as a method to improve their credit score, with the hopes of later refinancing their primary mortgage at more favourable interest rates. The caveat, though, and it's a big one, is that your home is on the line. If you can't make your payments, you could face foreclosure.
How to get a second mortgage
A lender will look at the following factors to determine your eligibility for a second mortgage:
Home equity. As mentioned above, you must have at least 10% equity in your home to qualify for a second mortgage. The more equity you have, the more likely you'll be approved, and the greater the amount you can borrow. For example, if your home is worth $750,000, and your mortgage balance is $600,000, your equity is $150,000 (or 20%). In that case, you may be able to borrow up to $75,000 as a second mortgage, which would still leave you with $75,000 — the required 10% stake in the home.
Home appraisal. The only way the lender can accurately calculate your home equity is by assessing its market value through an appraisal.
Household income. You'll have to show you can afford the payments on your second mortgage, just as you did when you took out your first mortgage. That means providing pay stubs or tax records that verify your income for the past two years.
Credit score. Lenders use your credit score to determine what kind of borrower you are. The better your score, the lower the interest rate you will be offered. Even if your credit isn't good enough to qualify for a HELOC or secured loan, you might still qualify for a second mortgage.
Get a competitive mortgage interest rate!
Tangerine

Apply Now ►
Quick Facts
Get a competitive interest rate up front. Tangerine is all about keeping things simple, including Mortgages. So don't stress over the numbers and calculations – they'll walk you through it all. Whether you're buying a new home or refinancing, they're here to work with you and can get you to Mortgage freedom faster.
BMO

Apply Now ►
Quick Facts
Limited Time Offer: Get up to $4,200 cash back* when you switch your mortgage to a new qualifying BMO Fixed or Variable Rate Closed Term Mortgage or a Homeowner ReadiLine® with a term of 3 years or longer from March 13 to June 30, 2023. *Terms and conditions apply.
Please refer to Tangerine and BMO for additional and current mortgage rates.
Pros and cons of a second mortgage
As with all financial products, second mortgages have their pluses and minuses. Here are the main advantages and disadvantages of taking out a second mortgage in Canada.
Pros
Easier to qualify for than a mortgage refinance or HELOC
No penalty fee for breaking existing mortgage, since you keep your primary mortgage as is and have a second mortgage on top of it
Second mortgage rates may be low enough to consolidate other forms of high-interest debt — such as outstanding credit card balances or payday loans — allowing you to pay off your debts faster
You can borrow up to 90% of your first home's value, as compared to 80% with a refinance/HELOC
Cons
Higher interest rates, as compared to other types of mortgages/HELOC
You must service two mortgages, which means separate payments to different lenders
If you are late or miss payments, you risk losing your home in foreclosure
You may be out of pocket for home appraisal, legal fees, title insurance, etc.
Related: What's the penalty for breaking a mortgage and when to consider it?
How to find the best second mortgage rates
If you're looking for a second mortgage, you probably don't have stellar credit. (If you did, you'd likely want to pursue a mortgage refinance or home equity loan/HELOC instead, because they come with lower interest rates.)
This puts you in a precarious situation, because you'll obviously want to shop around with several lenders to get the best interest rate you can, but each time a lender checks your credit to determine your eligibility it can negatively impact your credit score.
One solution is to use an online mortgage broker, such as Breezeful, which allows you to view second mortgage rates from a variety of private lenders in a single application, with only one credit check. A Breezeful mortgage expert will then help you decide what's best for your situation and will negotiate with the lender on your behalf.
Another excellent option is Homewise: a single online application offers access to competitive rates from more than 30 banks and lenders, and specialists are available to help you along the way.
Either way, both online mortgage platforms work with all sorts of lenders — including big banks and credit unions, not just private lenders — so you can easily find out if you may qualify for a lower interest rate HELOC or mortgage refinance, instead of a second mortgage.
READ MORE: Finding the Best Online Mortgage Lenders
Second mortgage vs. HELOC
Here are the main differences between a HELOC and a second mortgage in Canada, at a glance.
Product
Provider
Minimum Equity
Interest Rate
Repayment
Private lender or trust company
10% and up, fixed and variable options
Must be repaid or renewed at end of term
Prime +/- a given factor (often +0.5%), variable only
Rolling credit (indefinite)
Second mortgage FAQs
Can I take out a second mortgage on my home?

+

Yes. If you have more than 10% equity in your home and a credit score of 550 or above, you may qualify for a second mortgage. The lender will also want to check that you have enough income to make your payments and will want an appraisal of your home to assess its market value.

Is it better to get a second mortgage or refinance?

+

For a variable-rate mortgage, refinancing is almost always the better option because the penalty fee to break your existing mortgage is low, and you'll get a better interest rate than on a second mortgage. If you have a fixed-rate mortgage, however, ask your lender what the penalty would be to refinance. If the fee is too steep, first see if you can get a secured loan or HELOC, as these products usually come with better interest rates than second mortgage rates.

Is a home equity loan considered a mortgage?

+

No. Although a home equity loan can be the "second charge" on your property's title — meaning that in the case of a foreclosure it would only get repaid after your first mortgage is discharged — it's different from a second mortgage. Second mortgages come with lower home equity requirements, higher interest rates, and are only offered by private lenders and trust companies.
The bottom line
Although some people refer to all mortgages that are in the second position on title —including home equity loans and HELOCs — as a second mortgage, lenders and mortgage brokers use this term exclusively to describe a specific product.
A true second mortgage, which is offered only by private lenders or trust companies, is easier to qualify for than other loans that sit on top of your primary mortgage, but it also comes with higher interest rates.
That means second mortgages can be a good option for those who are looking to consolidate higher-interest debt, but who don't qualify for a mortgage refinance, secured loan or HELOC from the financial institution that handles their primary mortgage or other "A" lender.
A mortgage broker or similar online service can help you find the lowest second mortgage rates and will negotiate with lenders on your behalf.
Of course, no mortgage should be taken on lightly. If you can't make your payments and your loan goes into default, your home will be sold off to pay your creditors.