While a conventional mortgage requires you to make payments that build equity in your home, a reverse mortgage lets you borrow from that home's value and make payments, or not, throughout the life of the loan.
Recent numbers show demand for reverse mortgages has jumped. HomeEquity Bank, one of the two regulated providers of reverse mortgage products in Canada, recently disclosed the value of its CHIP (formerly the Canadian Home Income Plan) reverse mortgage portfolio surpassed $5 billion for the first time.
What is a reverse mortgage? A typical reverse mortgage allows homeowners to access up to 55% of the current value of a primary residence in the form of a new loan. Some arrangements allow them to withdraw a bit more.
"A 55 year-old might be eligible for 15% loan-to-value. An 80-year-old, on the other hand, would be eligible for 55% to 59% loan-to-value," says Paul von Martels, executive vice president at Equitable Bank in Toronto, Canada's other regulated reverse mortgage lender.
To be eligible, under Canadian financial regulations, you and everyone listed on the home's title must be 55 or older. Once approved, you can take out money as a single lump-sum payment or tap into some of your equity upfront and take more over time.
You can choose to make interest-only payments, payments covering both interest and some principal, or opt to repay the entire loan in full when you sell, move or die.
In that last case, your estate will have to repay what you owe.
Reverse mortgages provided by regulated lenders also come with a federally mandated "no negative equity guarantee."
"As long as you meet your mortgage obligations, you are guaranteed that you or your estate will never owe more than the fair market value of your property," says Deborah Wyman of Verico Fair Mortgage Solutions in Toronto.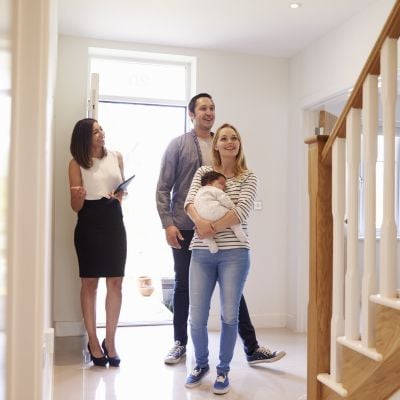 Whether you're hunting for a new home or looking to refinance your mortgage, knowing how much your new loan might cost you is critical. Use our handy mortgage calculator to help you understand what your payments could look like.
Get Started
Selling vs. taking out a reverse mortgage: the positives Accessing home equity is a major decision, so weigh the risks and rewards.
Reasons to sell
Average home prices in Canada continue to break, or remain near, records, according to the Canadian Real Estate Association.
If your real estate agent, mortgage broker or financial planner believe you can make a killing selling your home, there is plenty of recent pricing evidence to back up their claims.
No one will fault you for selling now.
Reasons to consider a reverse mortgage
A reverse mortgage lets you hang on to a valuable, appreciating asset.
"Many people don't necessarily want to sell their home, as there could be sentimental value, they are happy with the neighborhood or they've spent many years and lots of money getting it to how it is today," says John Vo of Spicer Vo Mortgages in Dartmouth, N.S.
A reverse mortgage may also be easier to obtain than a refinance or line of credit. Banks won't rush to extend credit to an 80-year old homeowner who's barely surviving on their retirement income.
That's not an uncommon scenario. Wyman recently secured a reverse mortgage for a pair of elderly clients. Their home was worth more than $700,000 but they couldn't afford to feed themselves.
"Many seniors are living house-rich and cash-poor, with some going to the food bank on a regular basis," she says.
Selling vs. a reverse mortgage: the negatives Both selling and taking out a reverse mortgage can have drawbacks.
Pitfalls of selling
For many sellers, real estate experts say, a home sale isn't the jackpot they were hoping for.
"The big problem with selling is, where do you go next?" Vo says. "Maybe you make a lot of money on the sale of the home but now you have to spend a lot of money to get another home or pay rent, which has also increased."
Plus, you may have to pay off your current mortgage from the proceeds of your home sale. If that happens before the end of your mortgage term, you could face a profit-devouring prepayment penalty.
"Prepayment charges on a refinance or a traditional mortgage … can be humongous — $30,000, $50,000, $60,000," says von Martels, adding the prepayment penalties for reverse mortgages are typically lower than traditional mortgage-prepayment charges.
A sale is also final and means no more appreciation and no property to leave your heirs.
Risks of a reverse mortgage
For many homeowners, experts say, the major reverse mortgage worry is that when their home is finally sold, a portion of the proceeds will be lost.
Say you took out a $500,000 reverse mortgage at 4.5% interest and made no payments. Your loan balance after 10 years would be around $780,000. Your home's appreciation over that period could absorb much of the sting, but that's still almost $800,000 that'll disappear the moment you sell.
Costs associated with reverse mortgages can also be off-putting. In addition to the loans' interest rates, which may be double the mortgage rates consumers are seeing advertised, you'll have to pay fees. Equitable charges a $995 set-up fee. HomeEquity Bank's closing fee is $1,795.
Von Martels says the key reason for the higher costs is the no negative equity guarantee. "That's worth something," he adds.
Either way, it's not an easy decision, so seek professional advice before making the final call.
Sponsored
You're 5 minutes away from the best mortgage
Searching for your perfect mortgage shouldn't be hard. Homewise is an online brokerage that will negotiate on your behalf with more than 30 big banks and other lenders, completely free, and it only takes five minutes to apply.
If you're in the market for a new mortgage, or if you're looking to refinance before interest rates rise again, go to Homewise now and answer a few simple questions to get started.