More room for less cash Before the lockdown began in mid-March, over 80% of Canadian employees worked primarily from an external workplace. As of July, almost 60% are working remotely.
The ability to forgo a grueling daily commute has opened up a world of possibilities for people looking to escape the downtown core. Homes in the suburbs don't just offer more room to breathe; they also cost hundreds of thousands of dollars less.
According to Re/Max, the average price of a single detached home in downtown Toronto was $1,541,000 in July. In Durham, which is about two hours outside of Toronto by car, the average cost of a single detached home was $779,430 — about half the price.
On the West Coast, the disparity between downtown and small-town living is even more striking.
In July, a single detached home in Vancouver cost an average of $2.33 million, while two hours away in Nanaimo, the same sized home cost $688,300. That's $1.64 million less.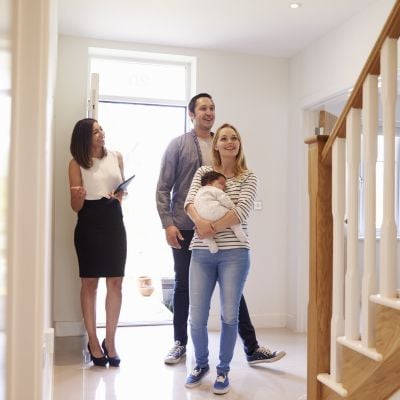 Leverage the price difference If you're considering an escape from the concrete jungle, the first step is figuring out how much you can get for your current place in the city. A variety of free home valuation websites can estimate what your home is worth in just a few minutes.
If you live in Calgary or Ottawa or have a condo in downtown Toronto, a company called Properly can provide a home valuation, plus send you a detailed market report for your area, outlining how many other homes are for sale and how much above or below listing they usually go for. Properly can also help with the stress of buying a new home before you sell your current home.
Once you know what you'll have available to spend on a suburban home, you can start checking out listings and thinking about how much mortgage you can afford.
You'll have a lot more purchasing power outside the city. It's up to you whether you want to use it to save money or trade up to a bigger and better place.
Look your best as a borrower Mortgage rates are ultra-low right now — under 2% in some cases — but to lock one in you'll need a solid credit score.
Most lenders expect you to have a score of at least 640 to qualify for a mortgage, but to get the best rates, you should aim for 700 or higher. If your score is less than ideal, it's worth your time to use a free monitoring service that can help you boost it fast.
Once your score is up to snuff, it's time to shop around and compare quotes from multiple mortgage lenders. A slightly better loan can make a huge difference with a purchase this large.
To save yourself some time, you can ask a broker to do the work for you. Homewise is an online brokerage that will negotiate on your behalf with more than 30 banks and other lenders at no cost to you. You can sign up in about five minutes below.
Sponsored
You're 5 minutes away from the best mortgage
Searching for your perfect mortgage shouldn't be hard. Homewise is an online brokerage that will negotiate on your behalf with more than 30 big banks and other lenders, completely free, and it only takes five minutes to apply.
If you're in the market for a new mortgage, or if you're looking to refinance before interest rates rise again, go to Homewise now and answer a few simple questions to get started.