Sweetening an offer with words The Johns, whose offer was accepted, bid about $100,000 less than the $1.25 million asking price. The seller had similarly priced offers from investors and builders, but they were the only ones who wrote a letter.
"I think that's what set us apart, because [the seller] realized we were looking for a home for our family and we would continue to love his house like his family would," Trevor John says.
Gus Papaioannou, an agent with Realosophy Realty in Toronto, has encouraged buyers to include personal notes with offers. For those who don't, Papaioannou will often write a few paragraphs himself, explaining who the buyers are and why they like the home.
When he tours properties with clients, he takes note of what they find attractive — perhaps it's the home's high ceilings or wood-planked floors — and he'll mention that with the offer.
And, while a personalized letter might not make a difference when the competition includes a dozen other buyers, it can be the deciding factor if you're one of just a few, says Tom Storey, an agent with Royal LePage in Toronto who represented the Johns.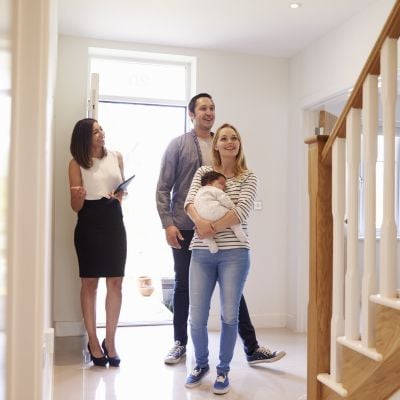 Whether you're hunting for a new home or looking to refinance your mortgage, knowing how much your new loan might cost you is critical. Use our handy mortgage calculator to help you understand what your payments could look like.
Get Started
Write an effective letter to a seller Storey says letters should always be personally addressed to the seller and he recommends buyers express their intentions with the house.
They could be competing with a builder who wants to tear it down, and some sellers will favor a purchaser who plans to preserve and live in their home, and perhaps raise a family there.
Melissa Alexander Kee of Re/Max Professionals in Toronto, encourages her clients to write letters emphasizing how much they love the neighbourhood and how they can picture themselves living in the home they're bidding on.
"It always tugs on the seller's heartstrings," Kee says. But in her experience, that emotional tug is typically where it ends.
"They like it," she says, "but at the end of the day, it usually comes down to the amount of money."
Is it business or personal? Some sellers view the sale of their home as a business transaction and aren't interested in reading letters.
Buyers' agents are expected to show their clients any and all offers, but sellers who don't want to be swayed by emotions will draw a hard line.
"There are some selling agents who in the past have said to me, 'Don't worry about the letter. They're going to be basing the decision on price,'" says Papaioannou.
Still, he has seen cases when a personal note helped buyers win a home.
About a year ago, Papaioannou had clients who were bidding on a Toronto townhouse priced in the $700,000-to-$800,000 range. Their bid was about $10,000 lower than the highest offer, but they won the house.
The sellers said they were "moved by the letter," Papaioannou says.
Sellers also sometimes base their decisions on factors beyond price, like the closing date or the amount of the deposit, agents say.
Why stop at a letter? These days, some buyers are applying a higher-tech approach to the traditional love letter.
"Video is the next thing that's slowly taking over," Storey says. "If there's five-to-10 offers on a property, and they get one that has a video, they're probably going to want to watch it."
The videos Storey's seen tend to be less than a minute long and are usually made on smartphones. Prospective bidders will talk about their families and why they love the house and neighbourhood.
No matter how heartfelt, videos and letters aren't likely to trump an overly generous offer. But agents say it may mean the buyer gets a second chance to make an offer if the seller asks for another round of bidding.
Jennifer John said she decided to write a letter because she'd read an article a few years earlier about a couple with a newborn who submitted a letter and ended up getting the house for less than what others had offered.
But she and her husband weren't on the same page initially. She remembers him saying: "'It's going to be about the bottom line, the numbers.' And I thought, what's the harm in trying?"
Sponsored
You're 5 minutes away from the best mortgage
Searching for your perfect mortgage shouldn't be hard. Homewise is an online brokerage that will negotiate on your behalf with more than 30 big banks and other lenders, completely free, and it only takes five minutes to apply.
If you're in the market for a new mortgage, or if you're looking to refinance before interest rates rise again, go to Homewise now and answer a few simple questions to get started.