Soft inquiry vs. hard inquiry
There are two types of credit inquiries: soft inquiries and hard inquiries.
A soft inquiry, otherwise known as a "soft hit," is a credit check that shows up on your credit report, but only for you to see. No one else can see it. Because of this, soft inquiries do not affect your credit score.
Common examples of soft inquiries include asking for a copy of your credit report, and companies requesting your credit report to bring their records up to date for an account you have with them.
On the other hand, a hard inquiry, also known as a "hard hit," is a credit check made by a lender. A hard inquiry shows on your credit report for anyone who requests a copy.. Not surprisingly, it may lower your credit score.
Common examples of hard inquiries include applying for a credit card or loan, and applying for a job or to rent an apartment.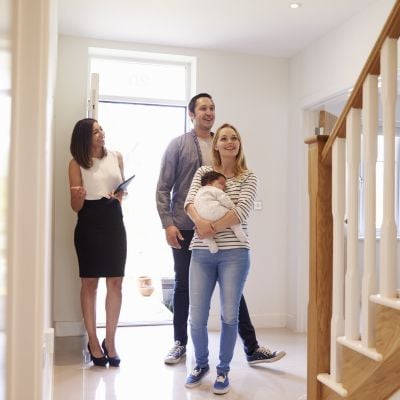 Applying for a mortgage
Applying for a mortgage is considered a hard inquiry, as a mortgage is a type of loan. When applying for a credit card or personal loan, each individual credit inquiry counts. With mortgage credit inquiries, several inquiries are usually grouped together and only count as one credit inquiry, when performed within a short period of time of each other.
Lenders look at several things when reviewing your mortgage application. They look at your income, down payment, assets, debt load and credit.
Lenders go to your credit report to review your debt load and credit. This is a hard inquiry, which is why it impacts your credit score. Lenders verify your income, down payment and assets through other means, so it doesn't impact your credit score.
Interestingly enough, once you start making mortgage payments, the inquiry will show, but the payments might not. That's because not all of the mortgage lenders report to the credit bureaus.
If you're with one of the big banks, the mortgage payments will likely appear on your credit report. However, if you're with a non-bank lender, the payments may not appear, so they won't impact your credit score at all.
More: What is a good credit score to buy a house
Three ways to bring your credit score back up
Make your payments on time
Making your payments on time is the single most important factor in improving your credit score after securing a mortgage. Once you secure your mortgage, you want to do everything in your power to make sure you make your mortgage payments and other debt obligations on time. It's a good idea to prepare for a rainy day.
Ideally, you want to have emergency savings if you ever run into cash flow issues. This can be in the form of a savings account or line of credit. Something you can tap into as needed.
Watch your credit utilization
With any revolving credit accounts, you want to be careful about your credit utilization; the amount of your available credit that you're currently using. The most common examples of revolving credit accounts include credit cards and lines of credit.
You want to try to use less than 35% of your available credit at any one time. If you have a $10,000 limit, try not to go over $3,500.
Being a homeowner can be expensive. You could find your credit card is close to being maxed out from many trips to big box home renovation stores. Be careful with how much you're spending. If you're constantly exceeding 35% of your credit limit, try to spend less or ask for a credit increase.
More: Get your free credit score and credit monitoring with Borrowell
Limit the number of hard inquiries
Lastly, limit the number of hard inquiries. Only apply for credit that you truly need. Be especially careful with credit card offers. We're often bombarded by those. Only sign up for a credit card you intend to use. If you're just signing up to save money on a one-time purchase and you don't plan to use it after, it's probably not worth the ding to your credit score.
Sponsored
You're 5 minutes away from the best mortgage
Searching for your perfect mortgage shouldn't be hard. Homewise is an online brokerage that will negotiate on your behalf with more than 30 big banks and other lenders, completely free, and it only takes five minutes to apply.
If you're in the market for a new mortgage, or if you're looking to refinance before interest rates rise again, go to Homewise now and answer a few simple questions to get started.