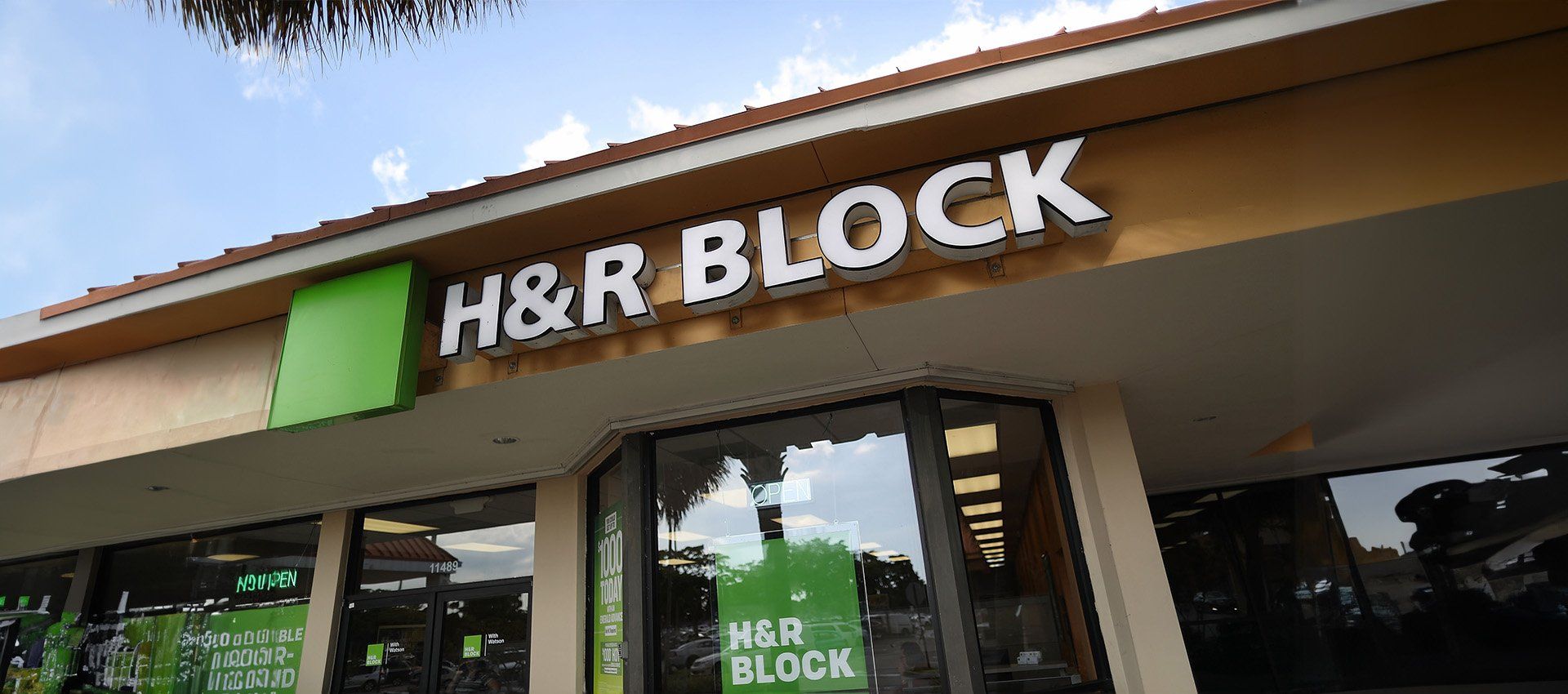 🗓️
Updated: July 21, 2023
We adhere to strict standards of editorial integrity to help you make decisions with confidence. Please be aware that some (or all) products and services linked in this article are from our sponsors.
We adhere to strict standards of editorial integrity to help you make decisions with confidence. Please be aware this post may contain links to products from our partners. We may receive a commission for products or services you sign up for through partner links.
It's become easier and more common to file taxes online, but sometimes it's good to have an expert go over your refund forms. If you choose to file your taxes with H&R Block, you'll get the option for both.
Read on to see if H&R Block is the right tax filing solution for you.
Company overview
H&R Block has been preparing taxes for Canadians for over 50 years. While originally founded in America, the company now operates over 1,000 brick-and-mortar locations across Canada.
Many people know H&R Block for being a place where Canadians can physically bring in their tax forms to meet with a tax advisor. However, the company also offers online tax software that lets you file from your home. There are three plans available.
Plans and pricing
Quick summary
For simple tax returns only
Maximize tax deductions and credits
If you are self-employed, an investor, a business owner or gig-worker
While the Free Plan would probably work for most people, it's worth considering the upgrade to the Deluxe plan since you can transfer your previous tax return, which could lead to finding more tax credits.
If you've filed online before, you'll likely be okay on the Free Plan without any direct support. But if you're not used to doing your taxes on your own and you want the extra peace-of-mind, then go with one of the paid plans.
Free
Automatic tax return optimizations and overrides
Claim employment income on T slips, and RL slips
Claim tuition, scholarships, grants, and other student credits
Claim RRSP contributions
Claim COVID-19 benefits and repayments
Deluxe
All Free Features
Claim donations, and medical expenses
Personalized tax saving suggestions
Claim employment expenses
Claim dependent transfers and credits
Premier
All Free Features
All Deluxe Features
Claim rental property income expenses
Claim capital gains and losses
Claim foreign income
Self-Employed Tax Toolkit
Save 15% on H&R Block's tax software
Special features
On top of all the basic features, there are a few other great ones that H&R Block offers:
Maximum refund guarantee
The Maximum Refund Guarantee will ensure that if another software gives you a bigger refund or lower tax bill due, H&R Block will refund the price you paid for the competition's software. Note some conditions apply here and that this excludes add-ons and the refund is on the basis on the minimum purchase price you are allowed to file with said competitor.
Audit protection
You also can purchase Audit Protection on other plans by selecting it as an add-on after filling out your return before it's submitted. If you get audited, H&R Block will help you with further explanations, providing personalized assistance from an online Tax Expert. Support is valid for seven years after initial purchase on any audits or reviews with assistance on Correspondence management and Document preparation.
Multiple refund options
You have control over how to receive your refund. You can have the total amount transferred to your bank account, you can deduct the cost of the software from your return, or you can put it onto a reloadable prepaid Mastercard.
How it works
Filing taxes with H&R Block is simple. To begin, the software will ask you a few questions starting with how you filed last year. If you used different tax software, you can import your previous return PDF in this step. If you didn't file online in the previous year, then you can continue by entering your personal and family information, including your SIN.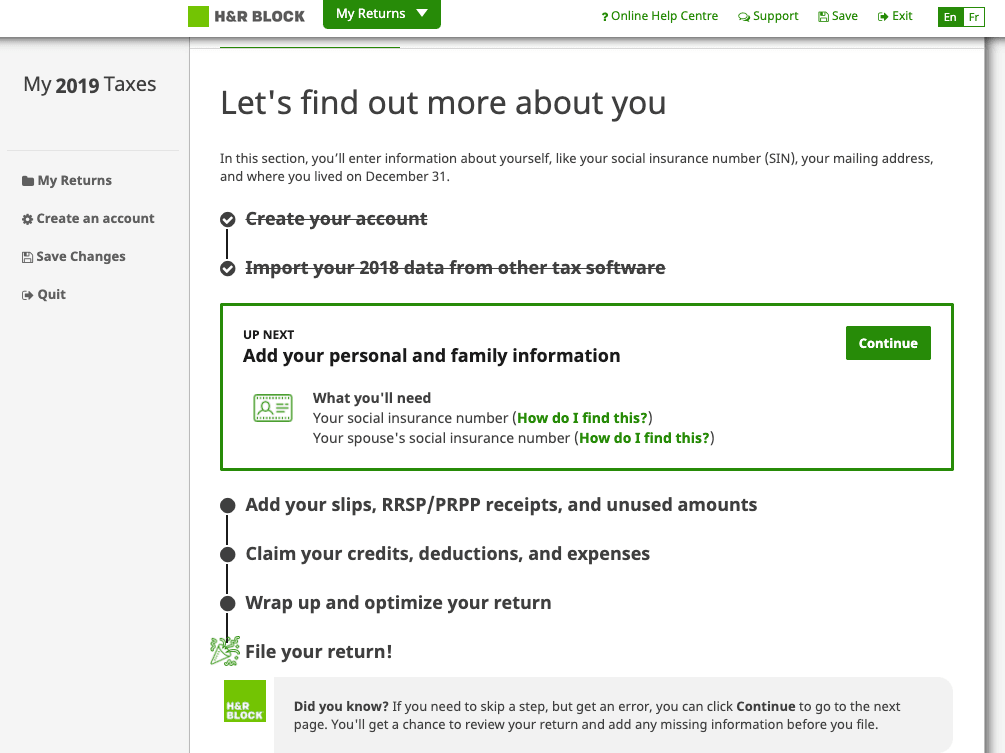 Next, you'll be prompted to auto-fill your return slips by connecting your CRA account, and then you'll be asked to provide information about your RRSPs and previously unused amounts. In the next step, you'll be able to claim extra credits, deductions, and submit expenses.
Once everything is added, you can go over your tax return before it's submitted. Since H&R Block connects with NETFILE, the CRA's official online filing system, you'll be able to send your tax refund directly from this software without having to import or export your documents anywhere else.
Support
The level of tax support you'll receive depends on the plan you choose. With the free plan, you'll only have access to the online help section, which is a collection of FAQs and guides on how to get started.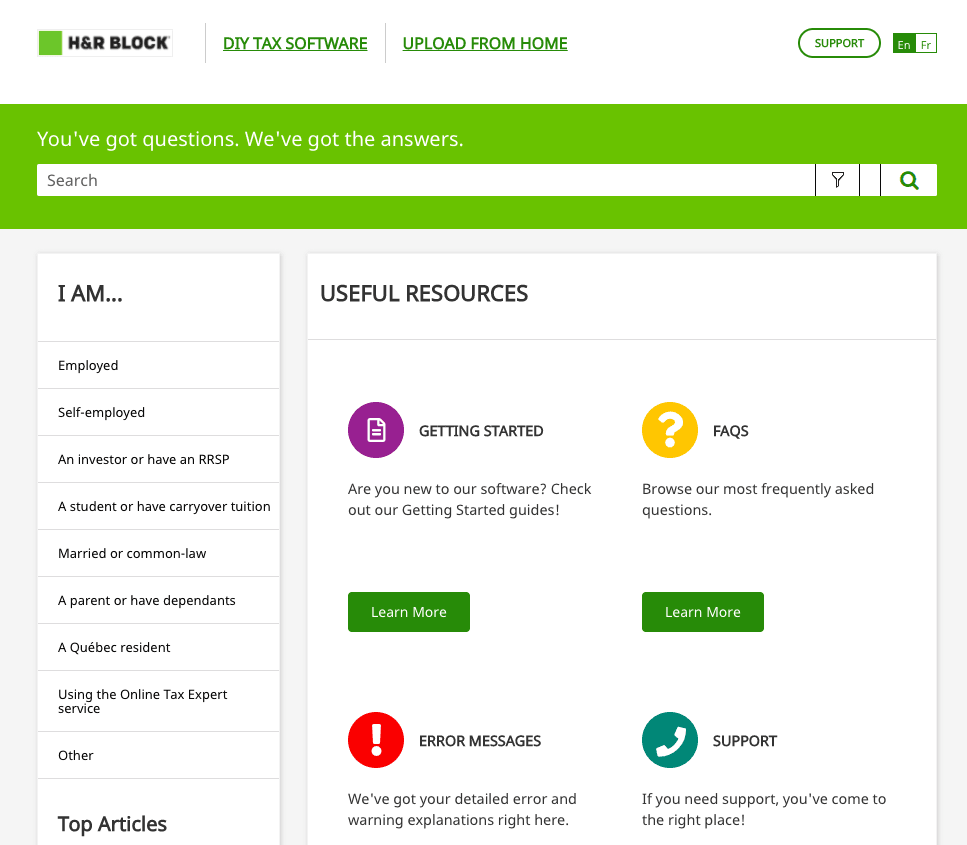 The online help centre does a good job of covering most of the basic questions, but for anything specific to your own case, you won't find answers here.
It's important to note that all of H&R Block's plans only come with technical support, which is for questions about the software or your account, but these agents are not tax experts and cannot provide you with any advice.
In order to get more thorough help with your tax refund, you can purchase the Expert Review add-on starting at $39.99 (prices may vary by province and returns) and you'll receive unlimited tax advice. With this tool, you can schedule as many calls as you'd like with your own personal review expert who can guide you on how to get the most out of your return.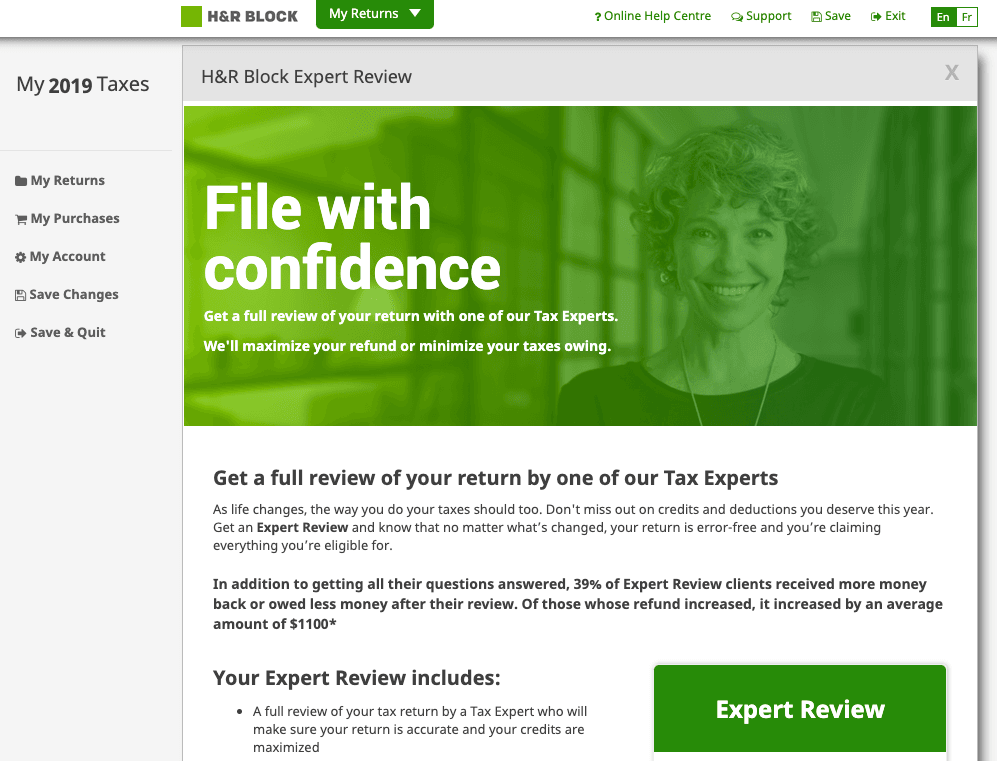 How it compares
You're probably curious about how H&R Block compares to other Canadian tax software, like TurboTax or Wealthsimple Tax. Honestly, H&R Block can hold its own, but there are definitely areas where it falls a little short. TurboTax's pricing is a little higher, but you get a few extra features, like having seven years of taxes stored online (historically you'll only get this on H&R Block's highest plan).
Wealthsimple Tax is a little easier to use and also uses a "pay what you want " model, meaning you can pay $0, $20, or as much as you see fit for each return. This is a good choice if you know your tax return is going to be very straightforward.
The unique advantage of using H&R Block is the fact that you have the option of filing online or in-person. If your finances get more complex in the future, you can opt to go into an H&R Block office to consult with an expert, something that neither TurboTax or Wealthsimple Tax are set up for.
Read more: TurboTax vs. Wealthsimple tax
Bottom line
H&R Block is a reliable option for filing your taxes. The online software is easy to use and gives you more choices of how you can file than any other DIY tax return software. The pricing is standard when compared to its competition, and while it isn't as well-rounded as TurboTax in terms of available features or plans offered by a specific need, it's still a good software to file with if your tax refund is relatively clear.
Get 15% off H&R Block's tax sofware
FAQs
Is filing with H&R Block really free?

+

Yes, it's really free if you stick with the Free Plan. However, there are some exclusions, for example, if your tax return includes bankruptcy, filing for a deceased person or a non-resident, multi-jurisdiction, capital gains following the transfer of a family business, or some CAA calculations, then the free version won't cut it for you.

Can I get my refund immediately with H&R Block?

+

Yes and no. If you go to an H&R Block to file with a tax expert, you can get a refund on the spot if you qualify. But, if you're filing online on your own, then your file needs to be sent to the CRA, so you'll need to wait for them to send you a refund.

Is H&R Block expensive?

While this really depends on your personal budget, in general, H&R Block is quite affordable. If you need more than what the free plan can offer, the paid plans won't set you back more than $34.99. However, keep in mind that extras like expert tax support or audit protection can quickly add up.