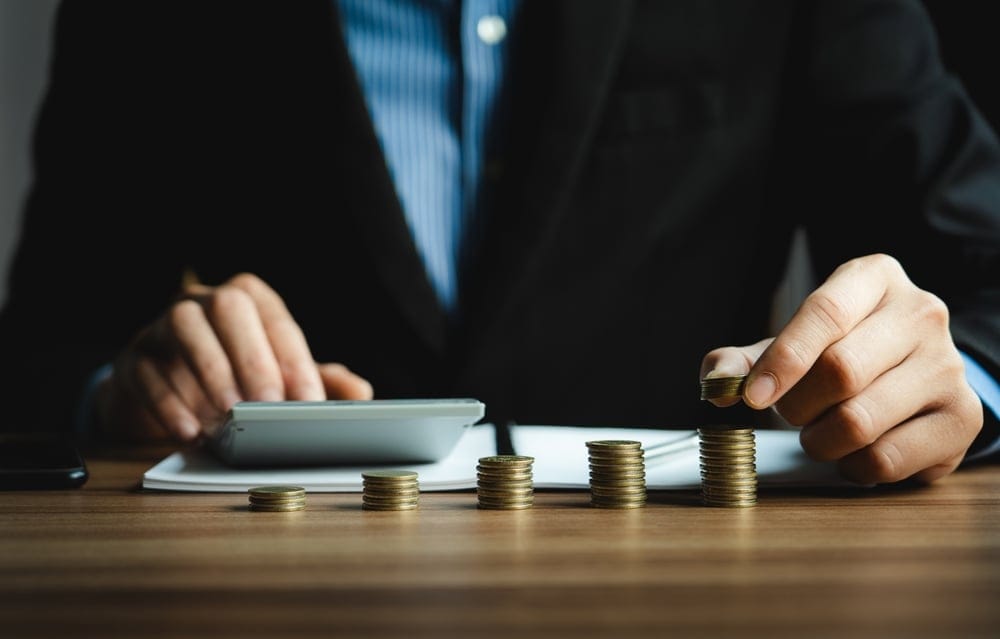 How to use Wealthsimple Trade
Sutthiphong Chandaeng / Shutterstock
We adhere to strict standards of editorial integrity to help you make decisions with confidence. Please be aware that some (or all) products and services linked in this article are from our sponsors.
We adhere to strict standards of editorial integrity to help you make decisions with confidence. Please be aware this post may contain links to products from our partners. We may receive a commission for products or services you sign up for through partner links.
Stumped on how to use Wealthsimple Trade? The first step is to open an account and fund it, and then follow these easy steps to trade on Wealthsimple Trade.
Get started with Wealthsimple Trade
When it was launched in 2019, Wealthsimple Trade made waves as Canada's first commission-free trading platform. The platform has been through a few tweaks since its inception (the addition of a desktop-based version and a $3-a-month premium account option, for example) but overall remains a no-frills, user-friendly investing option. If you've been considering checking out Wealthsimple Trade but DIY trading gives you anxiety, we'll show you how to use Wealthsimple Trade in this comprehensive step-by-step guide.
How to buy stock using Wealthsimple Trade
Follow these steps and you'll be off to the races.
Step 1: Log in to Wealthsimple Trade
Open the Wealthsimple Trade app or log into your Wealthsimple account via your desktop. (Note that the visuals may be slightly different depending on whether you're trading via the app or the website — though overall the appearance is quite similar).
Make sure to pick "Trade & Crypto", not "Invest and Save!" The latter will take you to the Wealthsimple robo- advisor.
If you don't have an account, it only takes a few minutes to sign up. Plus, Wealthsimple Trade will reimburse an outgoing administrative transfer fee of up to $150 on investment account transfers valued at more than $5,000.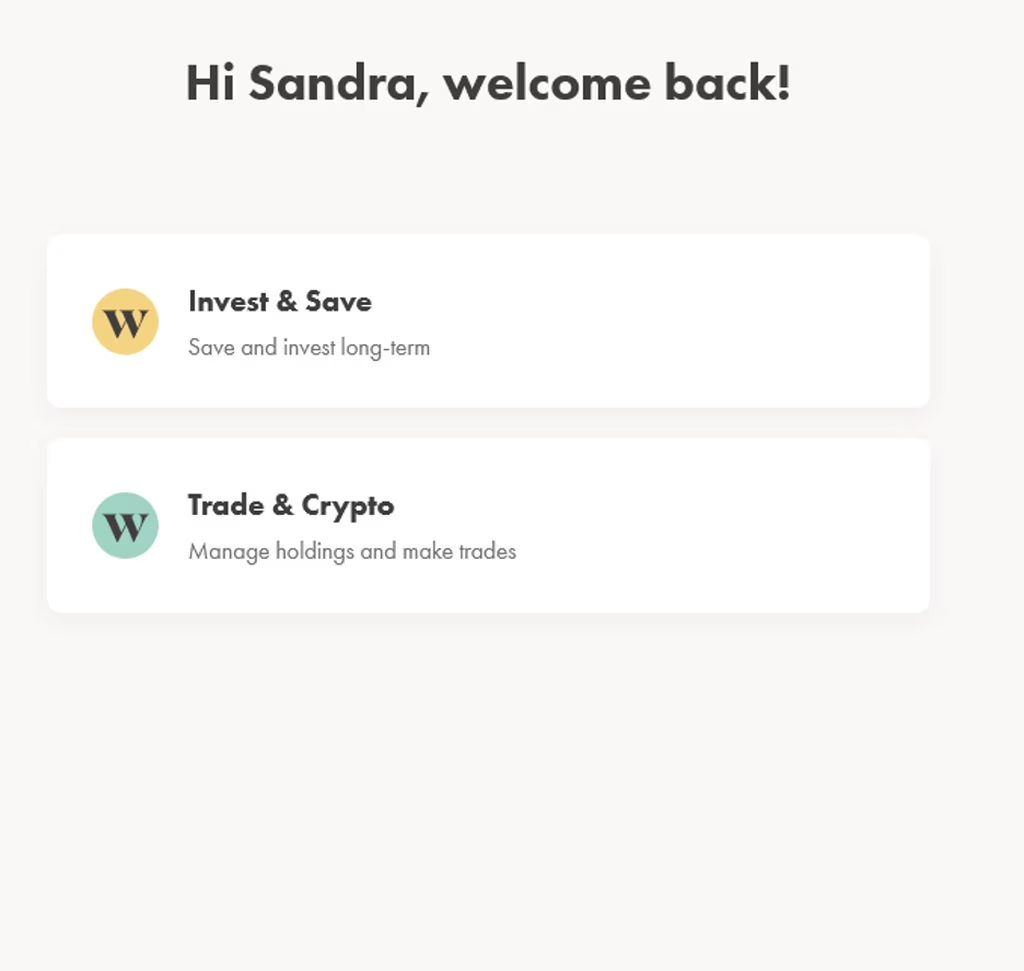 Step 2: Fund your account
If you don't have any money in the account, you need to add funds before you can start trading.
Start by hitting "Add funds."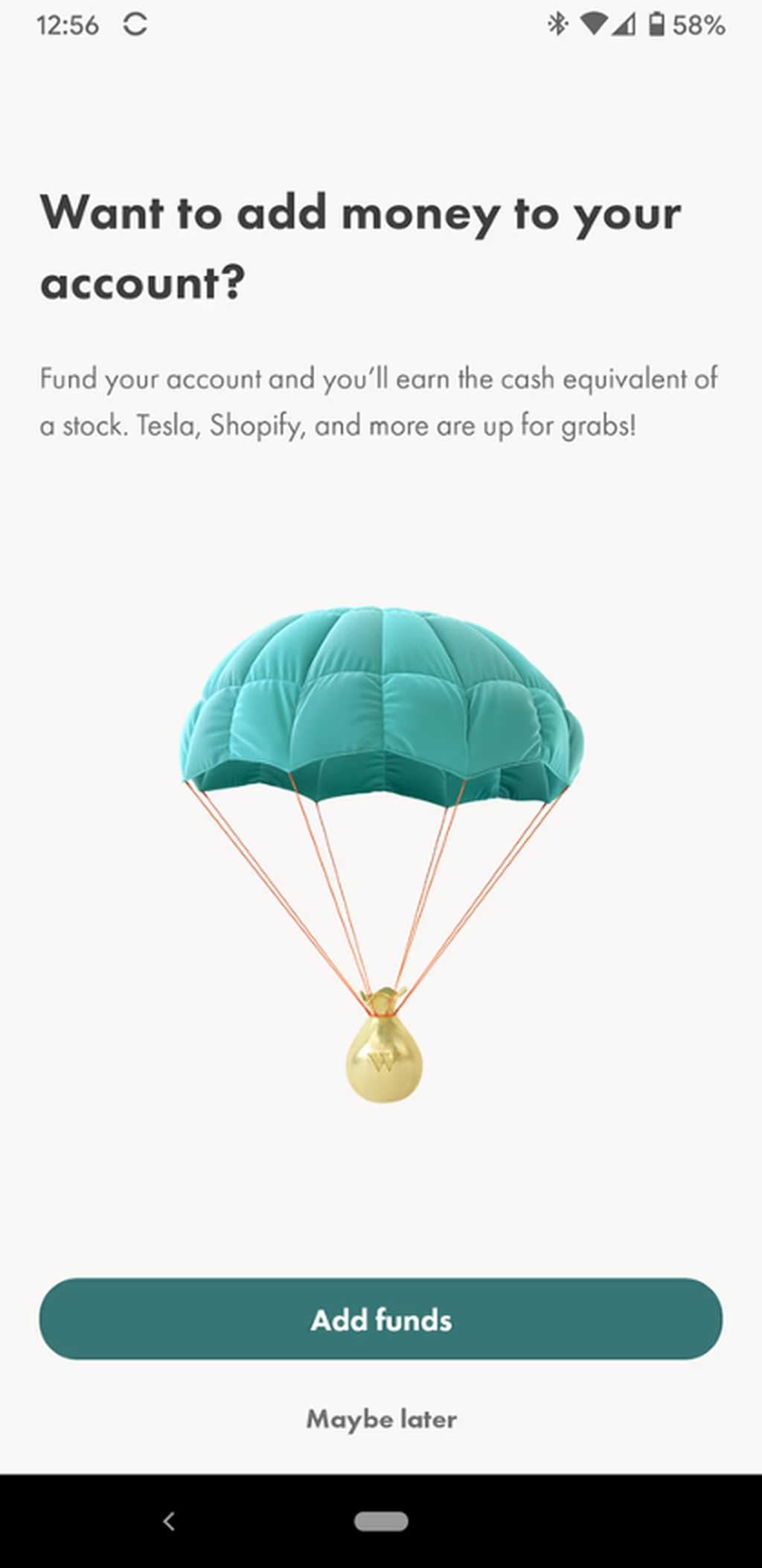 Then enter the amount of money you want to deposit.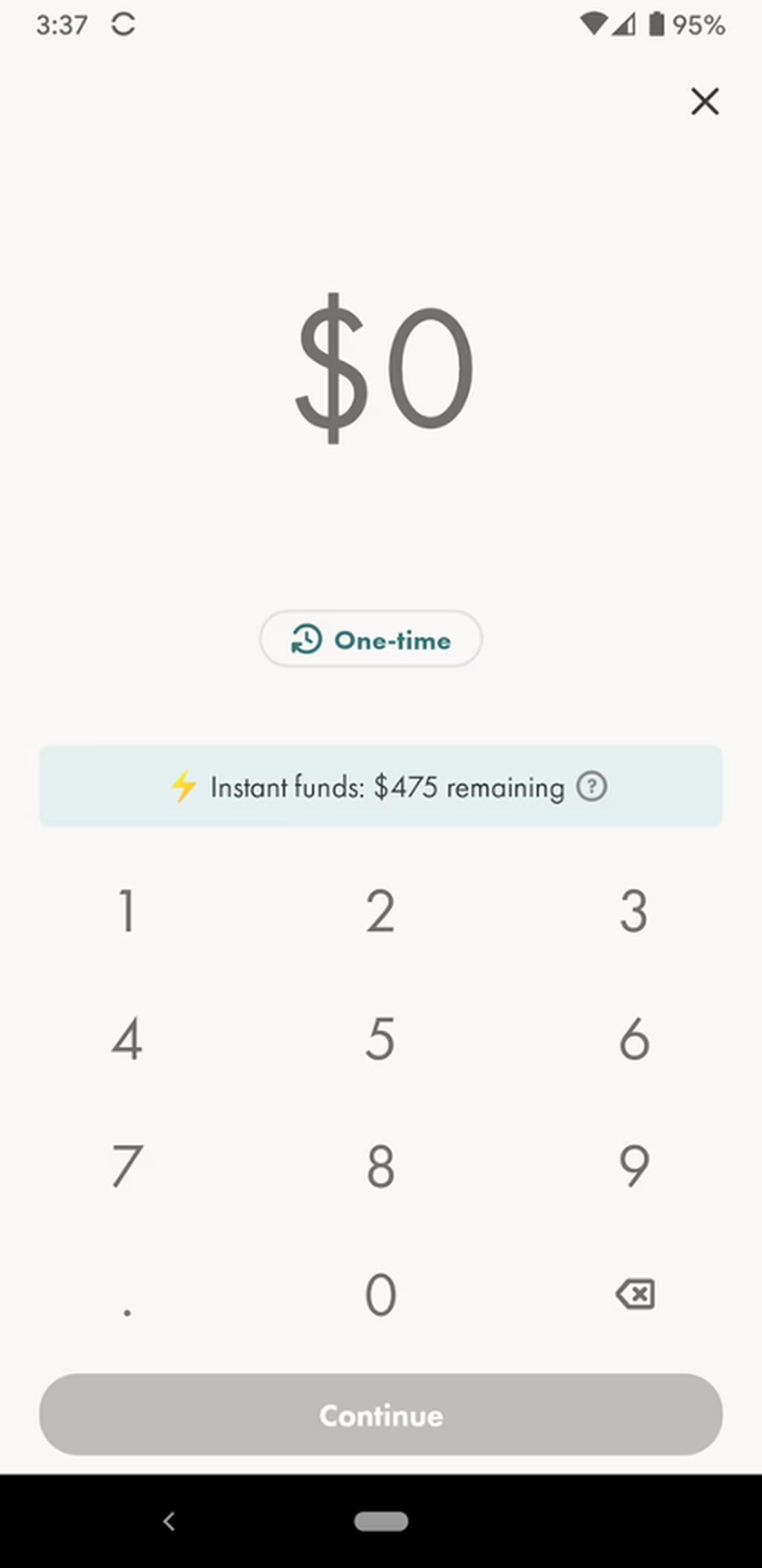 Then, wait for your deposit to arrive in your account. It usually takes about 30 seconds.
Depending on how much you deposit into your account, some funds might be available instantly, while the rest might take between 3–5 business days before you can begin trading. You can instantly deposit $1,500 with a free account, and $5,000 if you are a Plus subscriber ($10/month).
Once the money hits your account, you can start trading. You can also set up regular auto deposits so you're never without funds.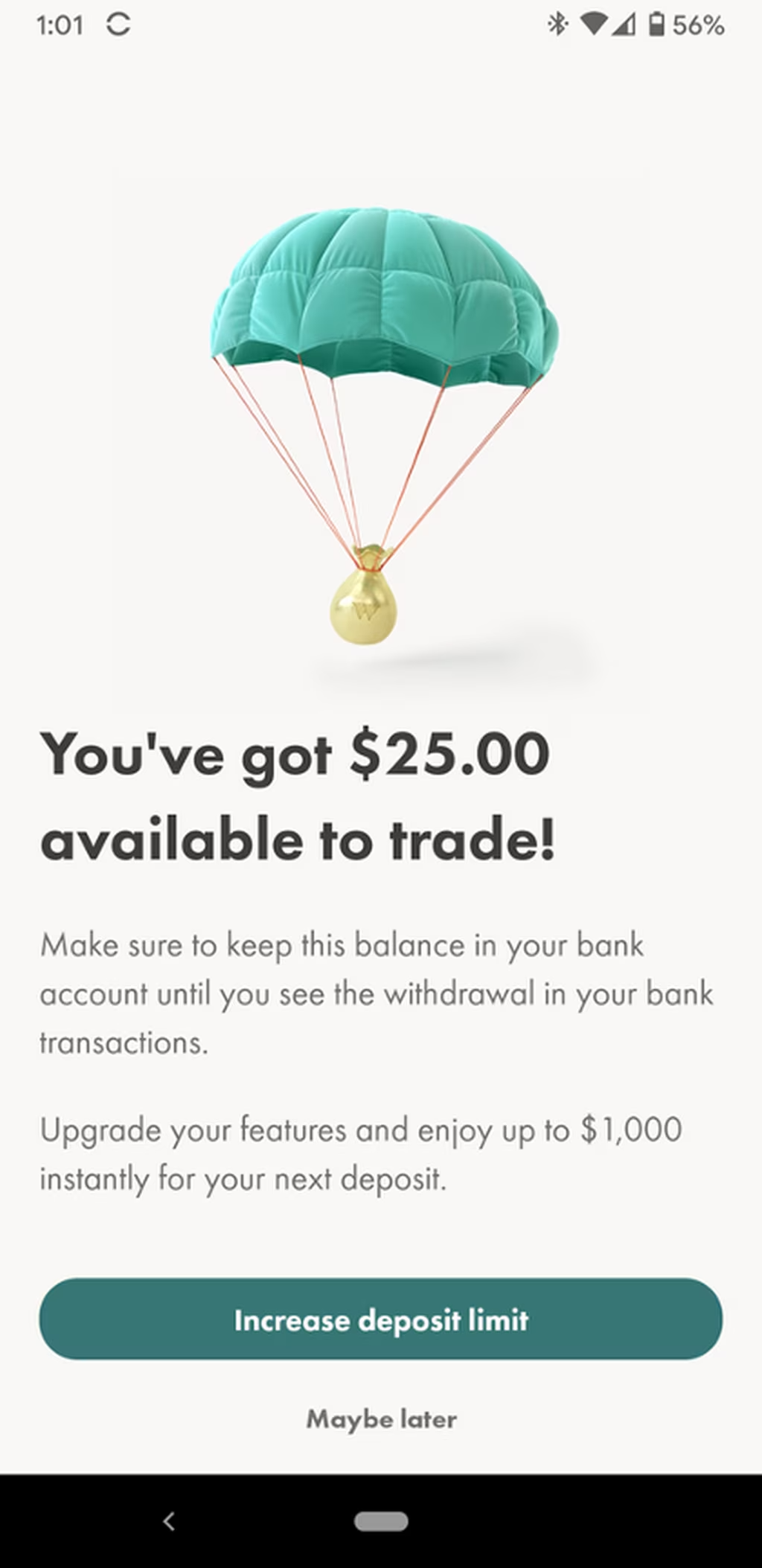 Step 3: Search for stocks
Now the fun part: shopping for stocks!
In the app, hit the Browse Stocks button or use the search bar at the top right corner of your screen to search stocks and ETFs. You'll be taken to a screen that features a list of stocks ranked by activity and performance.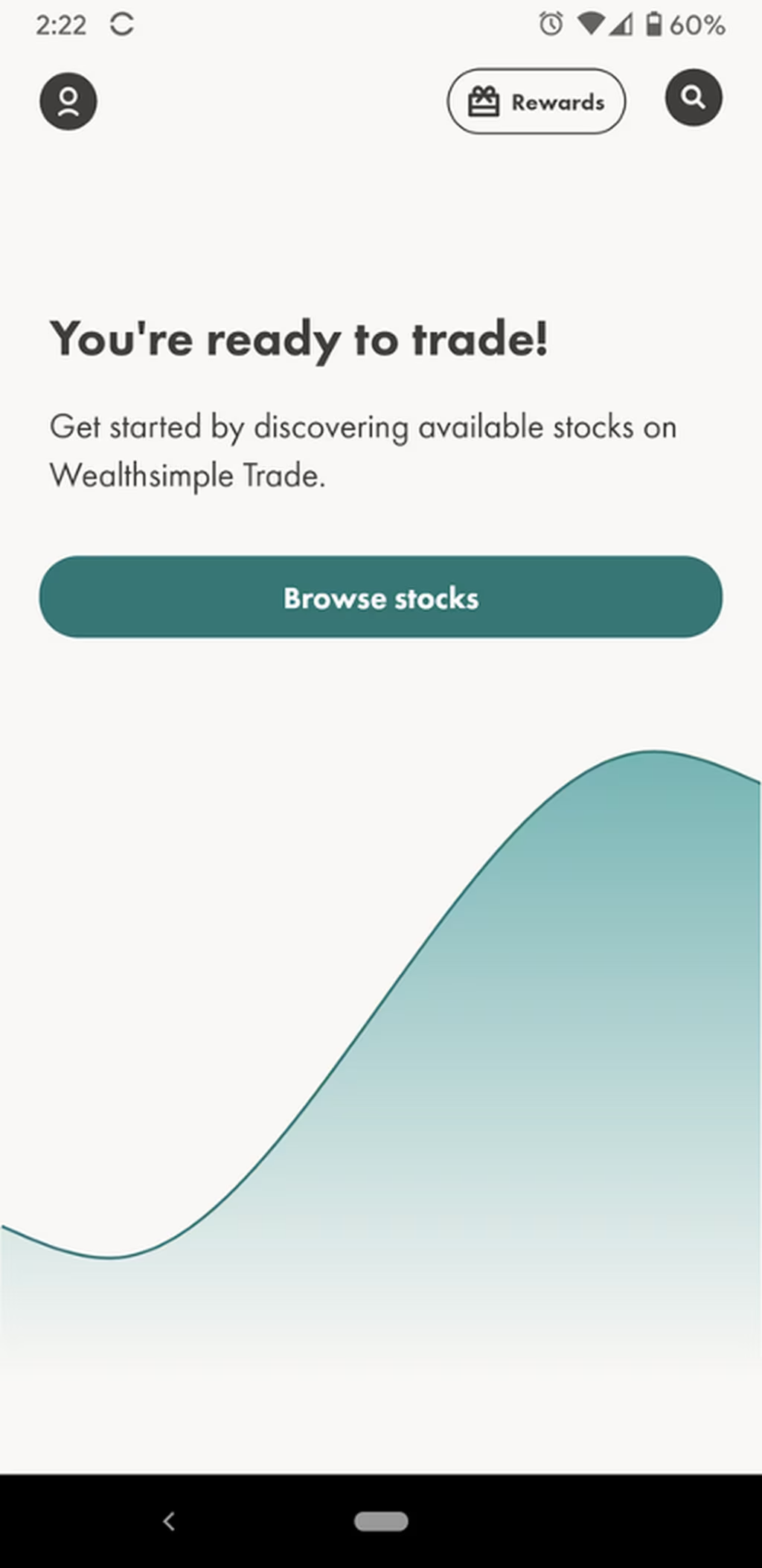 You'll also find other headings, including crypto (if you wanted to buy any crypto, you need to open a Wealthsimple Crypto account), biotechnology stocks, newly listed stocks and more.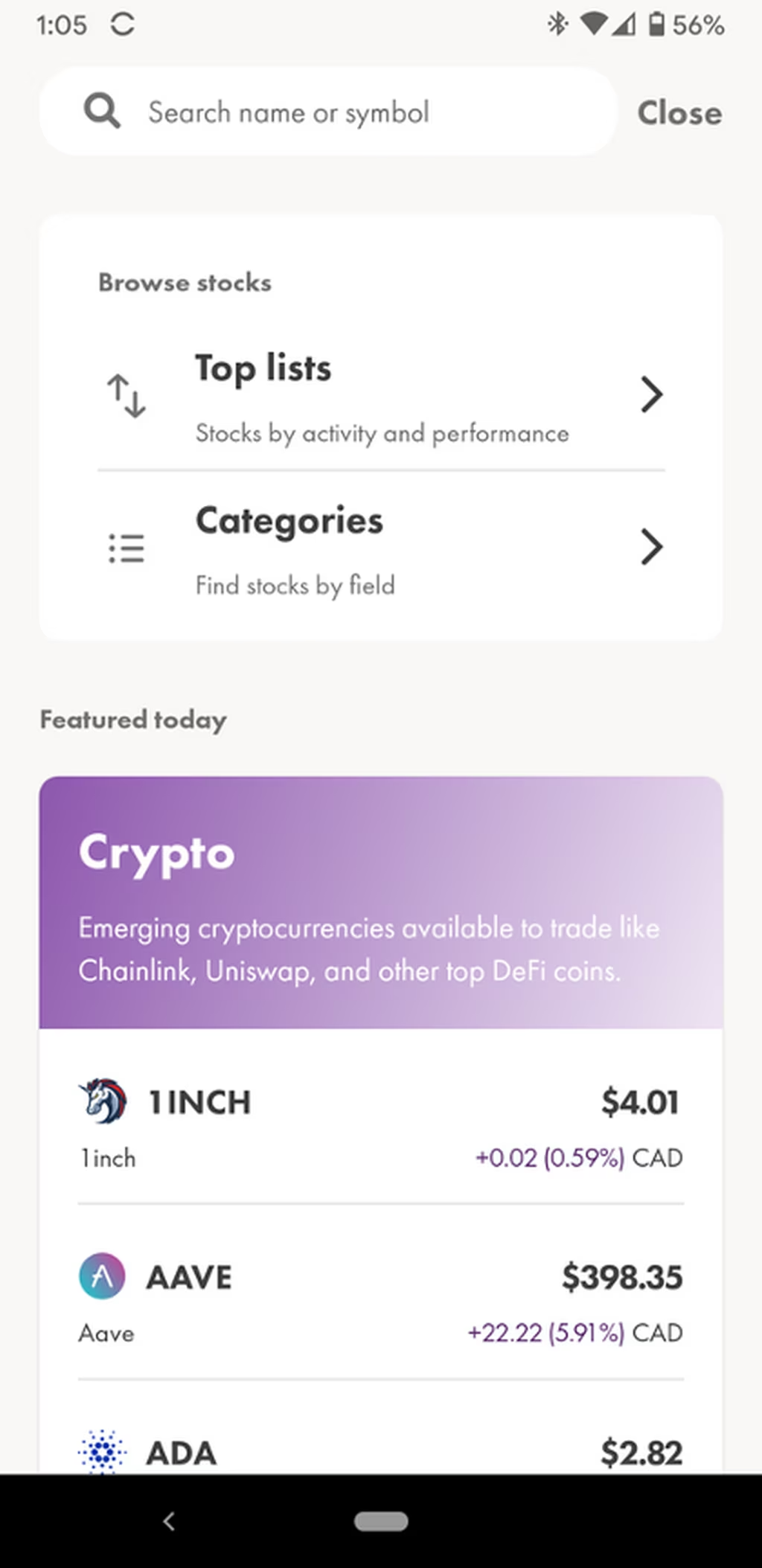 Another option is to simply tap on the heading to get a more detailed list of stocks from the specified category.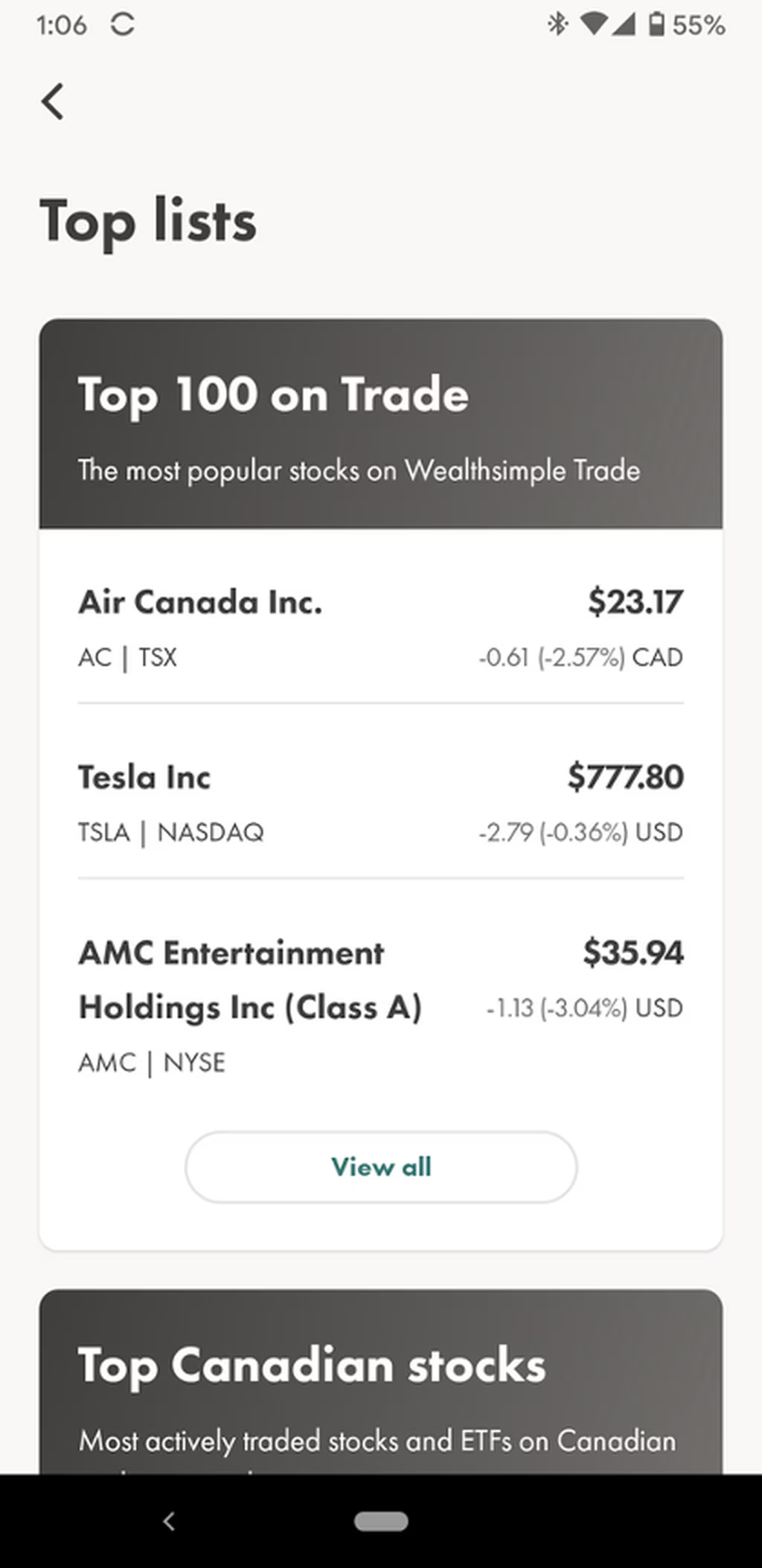 For example, let's say I want to buy one share of Air Canada stock. I could either hit Air Canada from the Top 100 screen or start typing the stock symbol or company name in the search bar.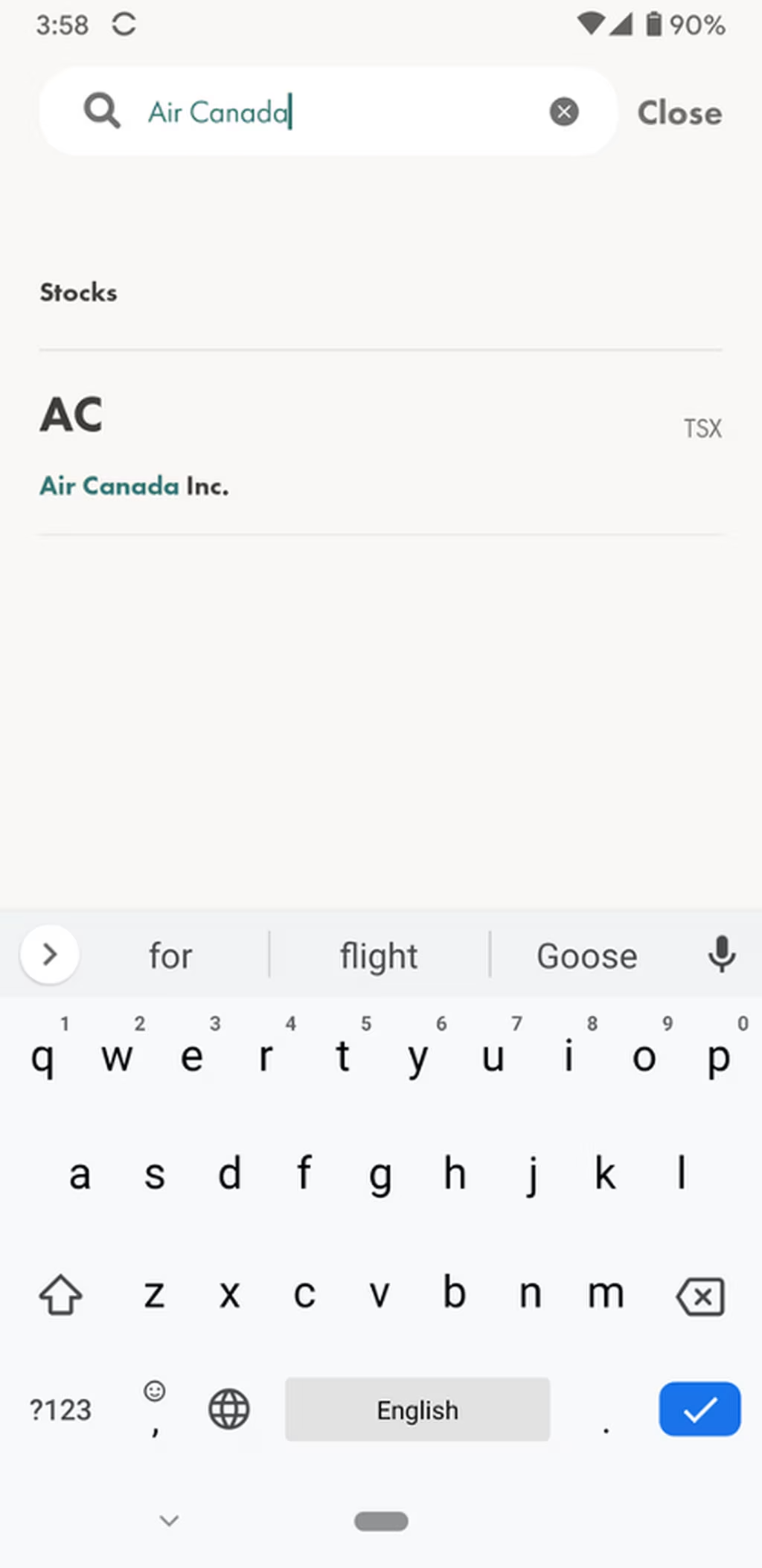 Step 4: Read the stock chart
Next, you want to check out all the info about a stock or ETF.
Using Air Canada as the example again, I tap AC and then details about the stock are displayed. That includes information about:
What exchange the stock is sold on
The highest the stock has traded for in the last 52 weeks
The market cap (the total number of outstanding shares multiplied by share price).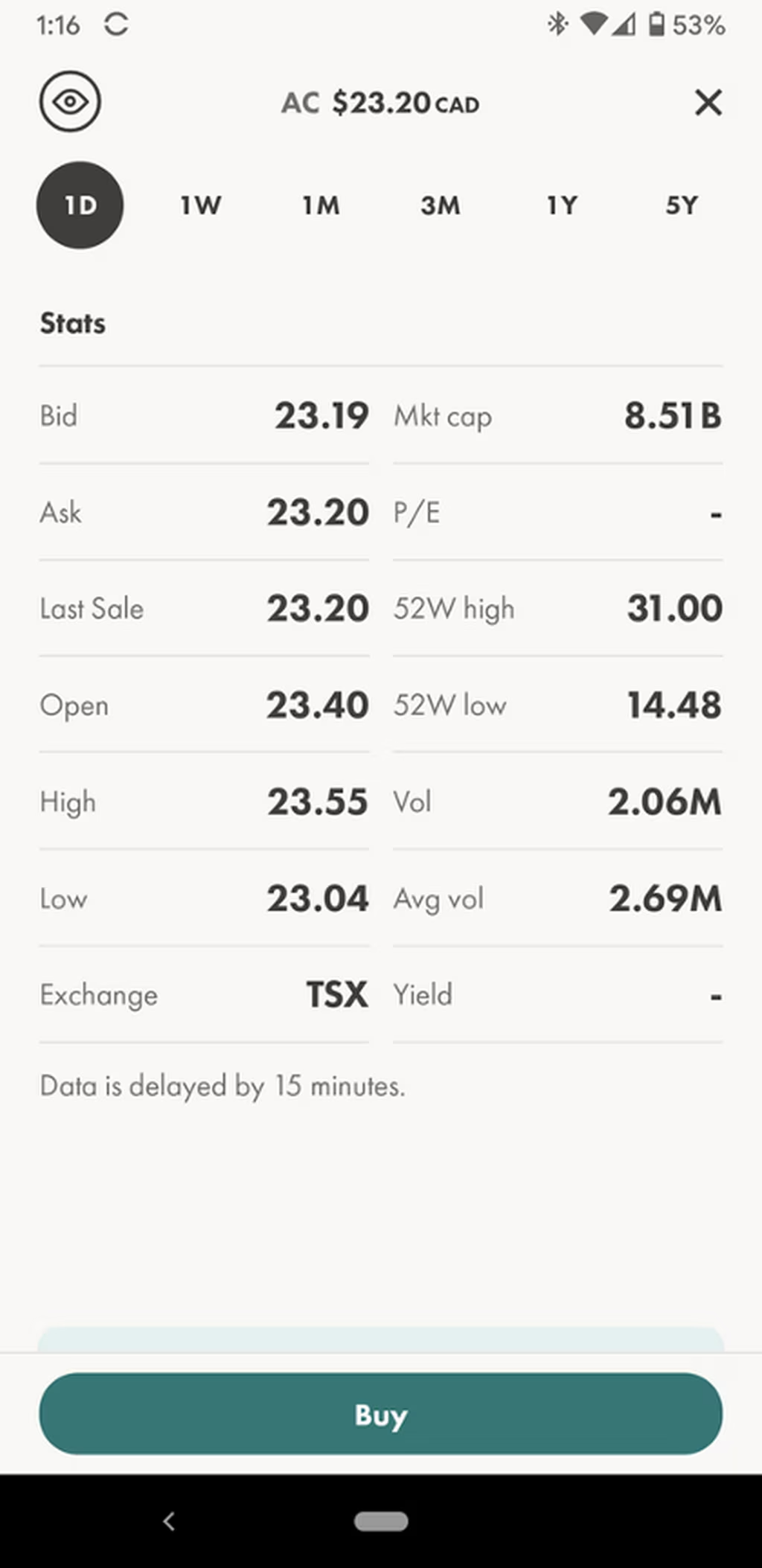 Note that there is a 15-minute delay for the data. You would need to get a premium Wealthsimple Trade account to get to the second stock data.
Step 5: Select the stock
If you decide you want to buy the stock, you just hit "Buy." You will then be asked how many units of the stock you want to buy. Select the amount and hit continue.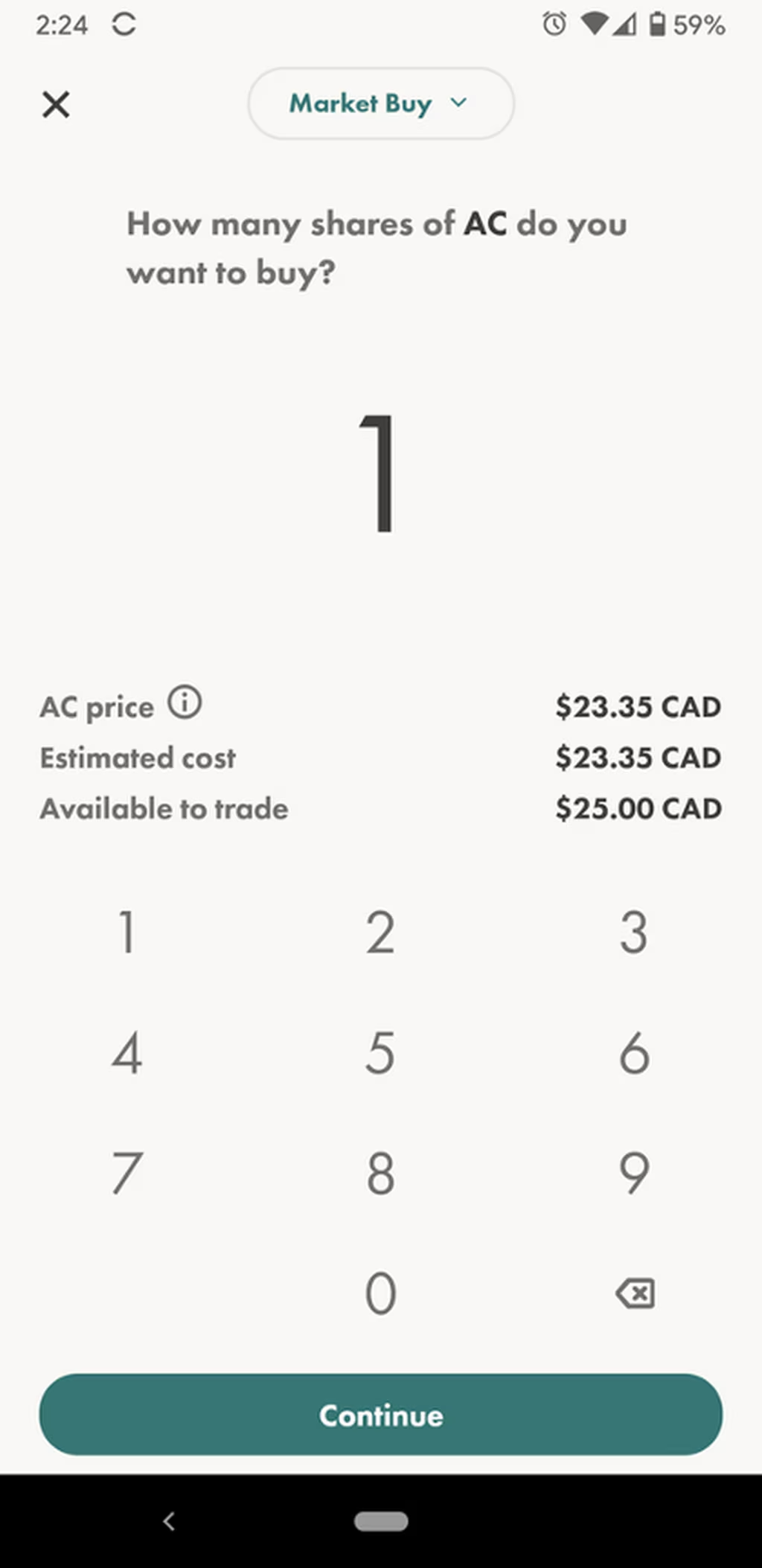 Note that the price of the stock and the cost to buy it are the same because Wealthsimple Trade does not charge a fee. (However, if I had wanted to buy a U.S. stock, Wealthsimple Trade charges a 1.5% currency conversion fee on Canadian to US dollar conversions.)
Step 6: Confirm the purchase
You'll then be asked to confirm the purchase.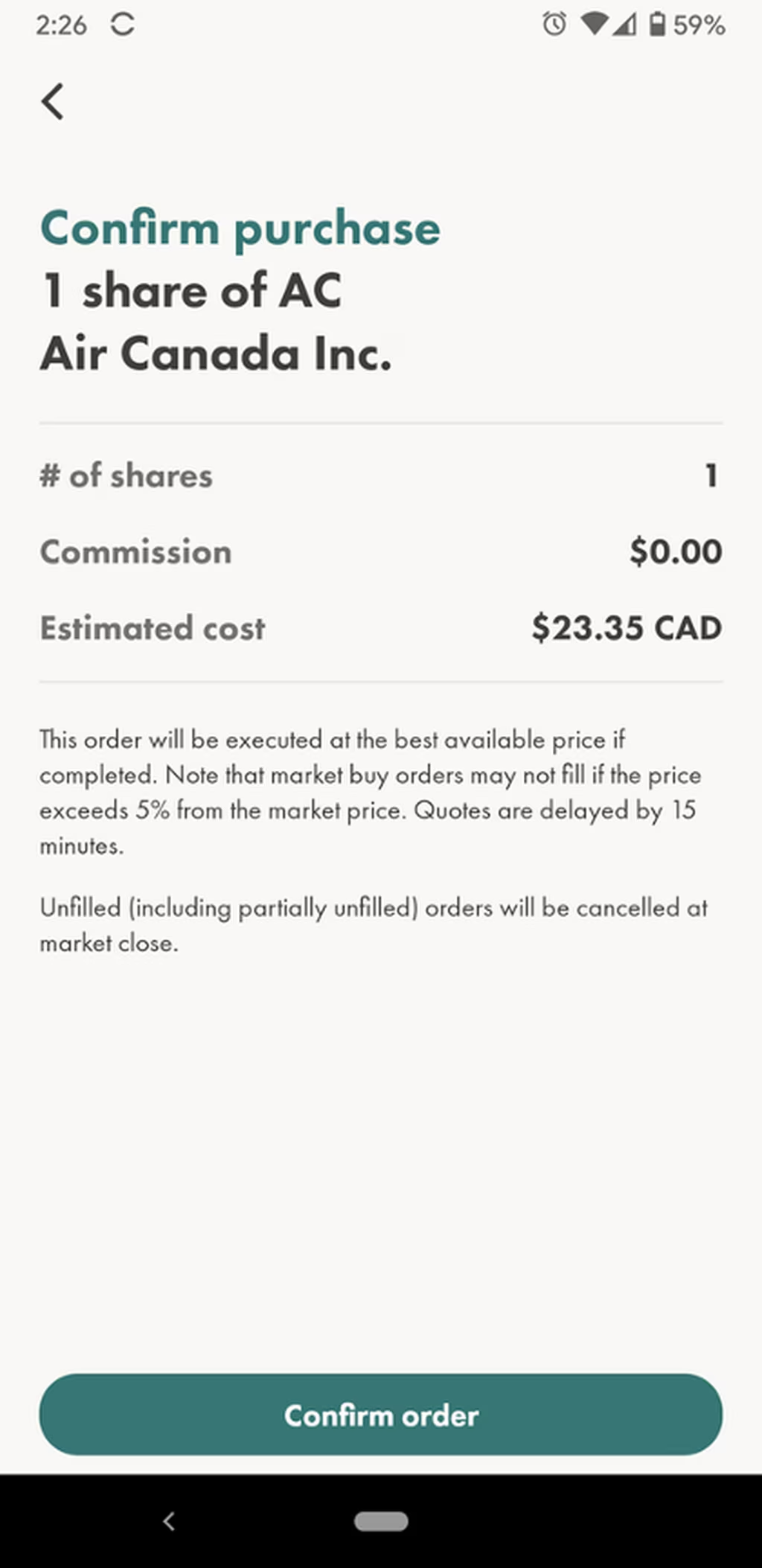 Your order will then be sent.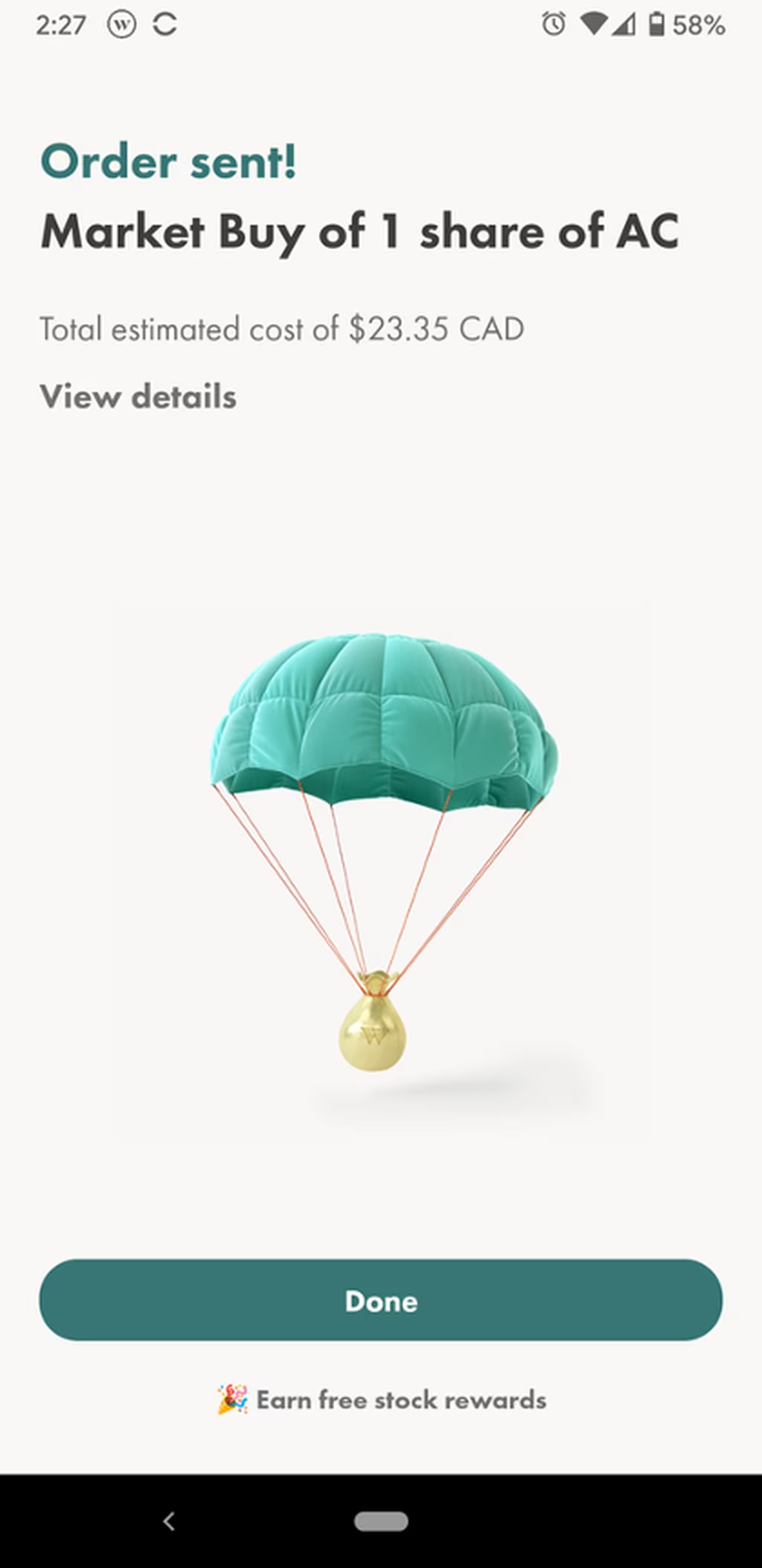 Step 7: Pour yourself a drink. You're done!
You will get an email to confirm that your order has been filled.
How to sell stocks on Wealthsimple Trade
Selling stocks on Wealthsimple Trade is just as easy and intuitive as buying them.
Step 1: Select The Stock You Want to Trade
Login to your account and go to the dashboard, where you can see what stocks you hold and how they've been doing. For this example, I only have this one share of Air Canada stock that I can sell.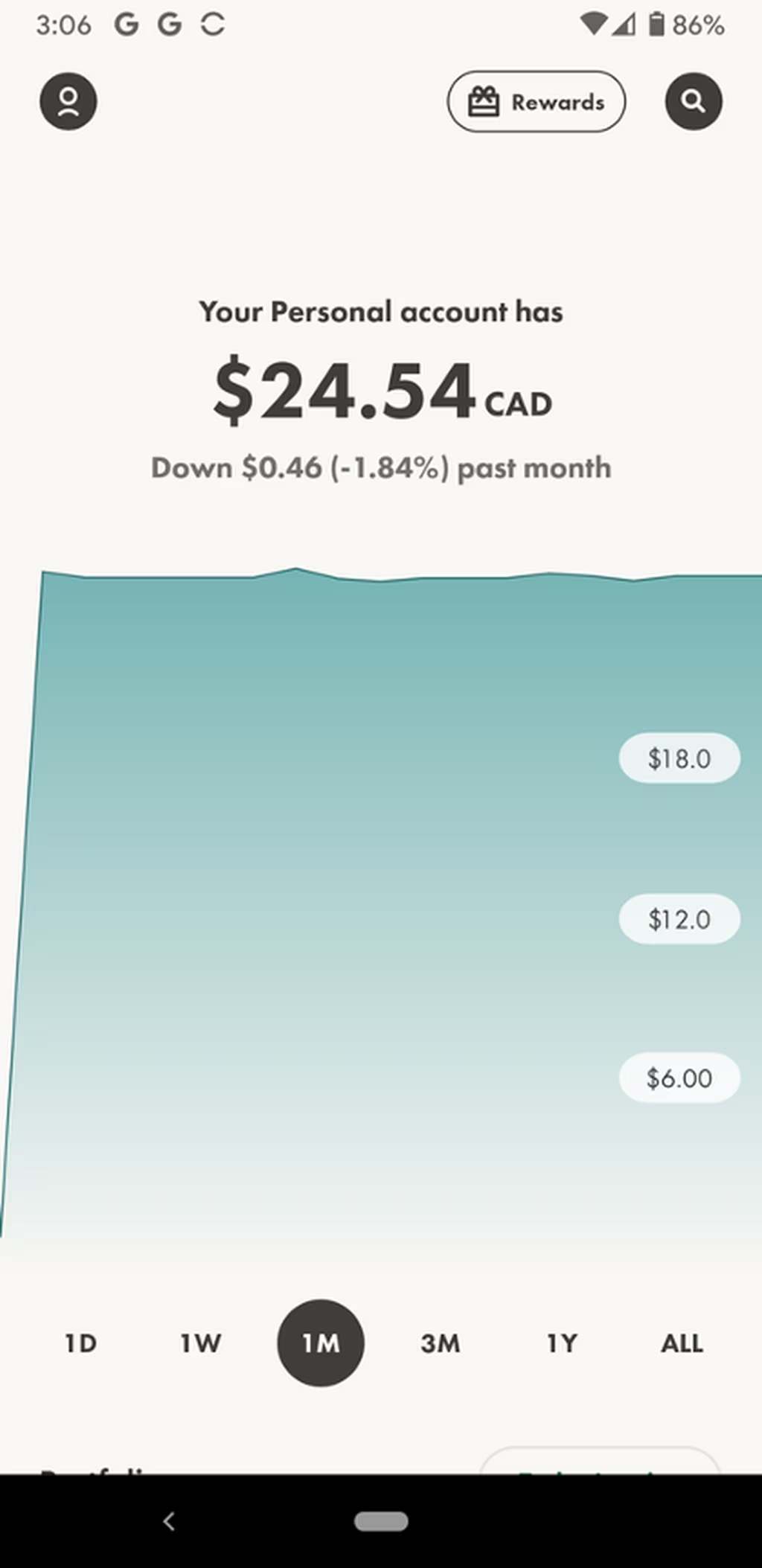 Step 2: Tap The Stock You Want To Trade
Go to the portfolio section, which is about halfway down your dashboard landing page. Just tap the stock symbol.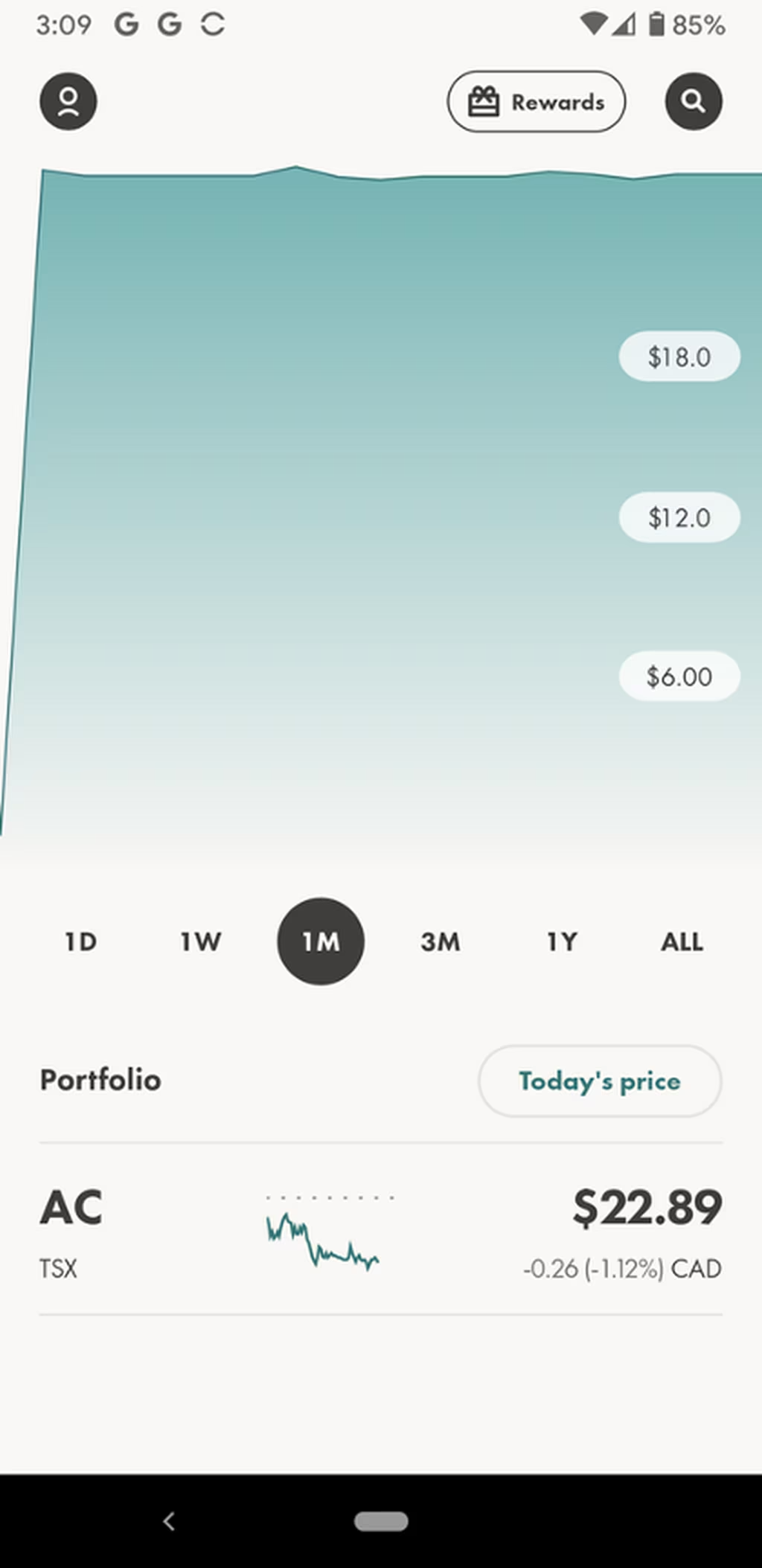 Step 3: Select "Sell"
Once you tap the stock symbol (in this case, AC), Wealthsimple Trade will take you to a new screen that asks you if you want to buy or sell the stock. Simply hit "sell".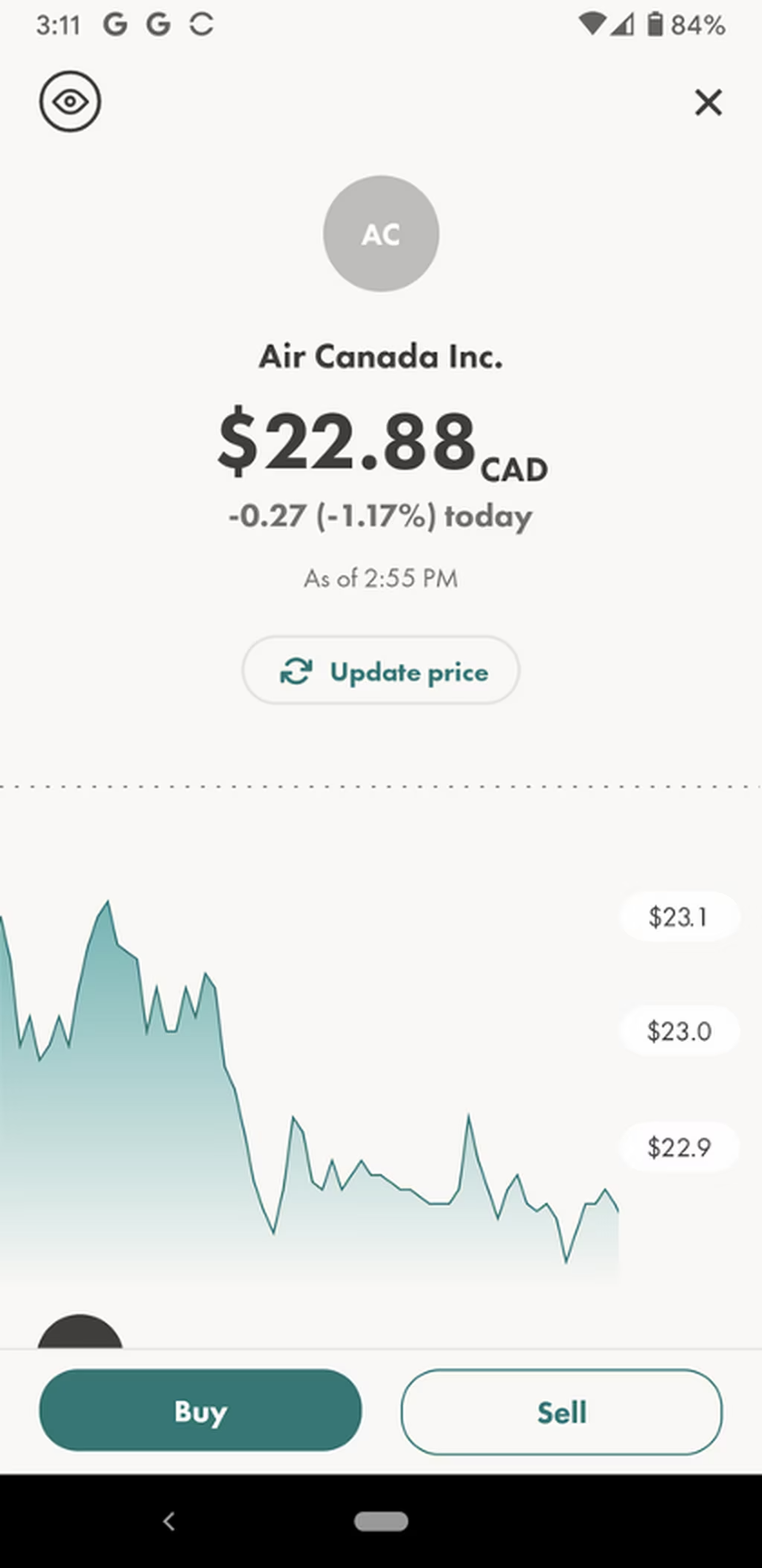 Step 4: Select number of stocks to sell
Wealthsimple will show you the number of shares you have and how many are available for sale. They will also show you the sell price per share.
Step 5: Confirm the sale
Simply hit "Continue" once you've selected the number of stocks to sell.
You'll then be asked to confirm the sale. You'll also be shown how much it will cost you to make the trade. Of course, because Wealthsimple Trade is commission-free, there is no charge to sell the stock.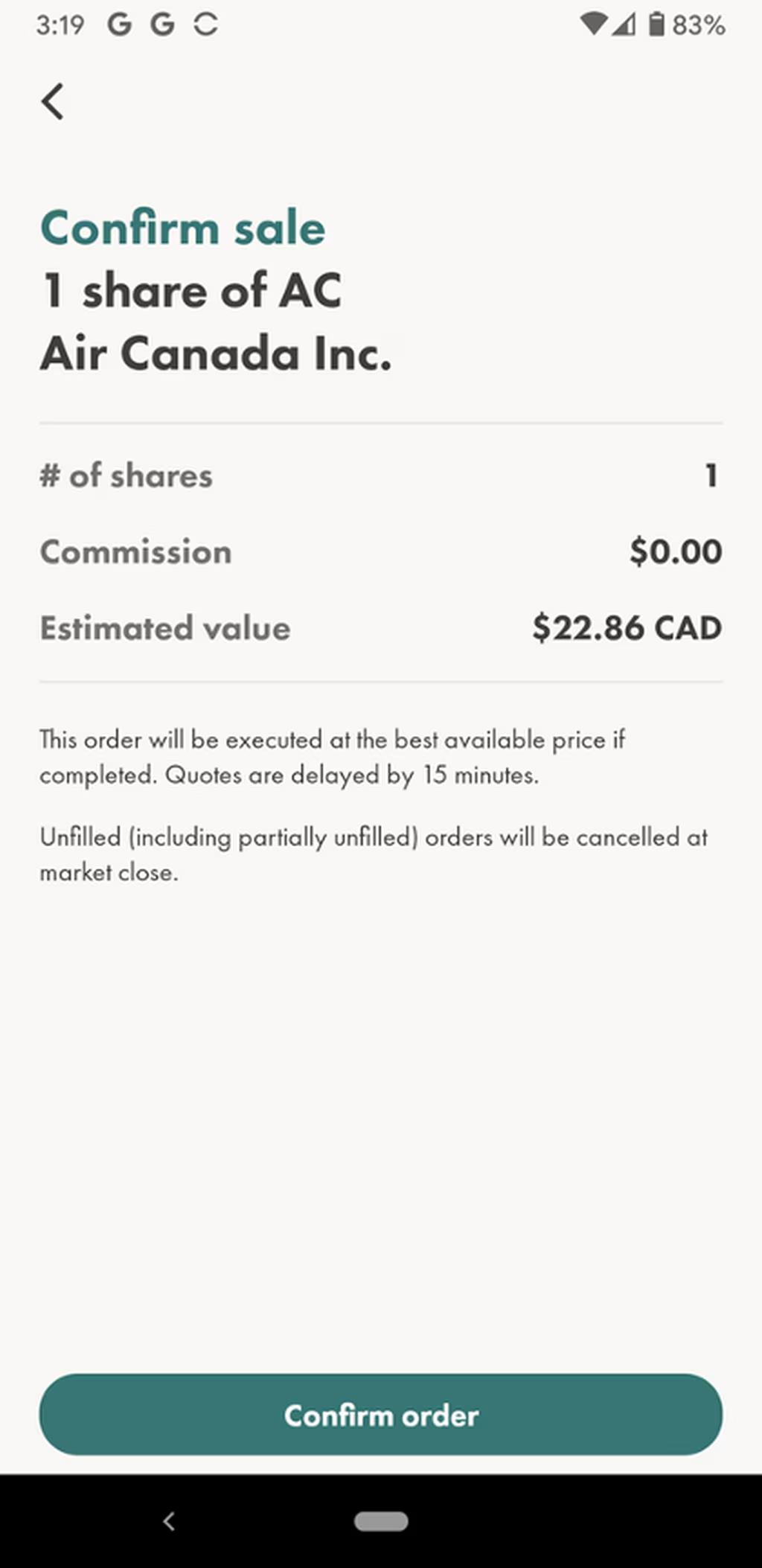 Step 5: Order sent. You're done!
That's it! You have sold your first stock (hopefully not at a loss!).
Wealthsimple will also send you an email to confirm that your order has been filled. Best of all, if you've made a mistake and want to rebuy the stock, you can do so easily and without paying a trading fee.
The bottom line
Now that you've seen how to trade on Wealthsimple Trade, it's pretty clear how user-friendly and intuitive the platform is. It's especially appealing to new investors who want to keep investing as simple and quick as possible. Wealthsimple Trade can also appeal to more experienced investors who appreciate a low-cost, no-frills platform and who can go elsewhere for in-depth investment and market information.
Please visit our Wealthsimple Trade Review to learn more.