Maybe. But maybe not. Weigh these pros and cons to decide whether accepting that store card is worth it for you.
The case for a store credit card A big reason to consider a store credit card is that they're usually easier to get than a standard credit card.
That means people with low credit scores or no credit history stand a better chance of being accepted, and the cards can offer a way to rebuild or establish credit.
Another plus is that store-sponsored credit cards often come with special perks, such early word on sales, cash back, coupons or a system for earning potentially valuable points. That means that store credit cards can be a better option for people with low credit that want rewards, as compared with prepaid credit cards or secured credit cards.
These perks are worth considering if the store is a place you shop frequently, because you could see substantial savings over time. But to really benefit, you'll need to use good sense, keep your balance low and pay off your balance every month.
Unexpected vet bills don't have to break the bank
Life with pets is unpredictable, but there are ways to prepare for the unexpected.
Fetch Insurance offers coverage for treatment of accidents, illnesses, prescriptions drugs, emergency care and more.
Plus, their optional wellness plan covers things like routine vet trips, grooming and training costs, if you want to give your pet the all-star treatment while you protect your bank account.
Get A Quote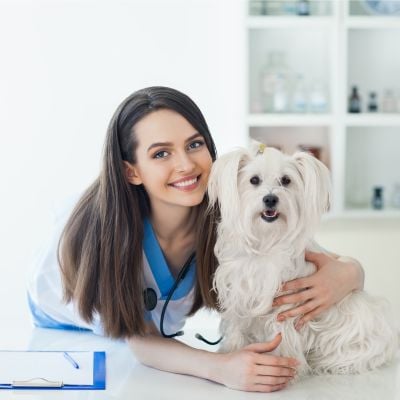 The case against a store credit card Most store credit cards come with steep interest rates — sometimes 10 percentage points higher than other cards. So, if you carry a balance from month to month, you can expect to be dinged with high interest costs.
Also, you can be reasonably sure a store credit card with come with low credit limit. This can be an issue because high credit utilization can negatively affect your credit score.
If you have a limit of $1,000 and put $500 on the card, you're utilizing 50% of the card's credit. It's widely recommended that you keep credit utilization below 30% to avoid hurting your score.
Finally, when you apply for a store card, the retailer might give you a quick approval but the bank backing the card might pull your credit to take a harder look. Too many of these inquiries can ding your credit score.
Is a store credit card right for you?
Here's the bottom line: If you think you may wind up carrying a balance, a store credit card is probably not a good idea.
But if you expect to keep the card paid off and can get significant cash back or other rewards from a favorite retailer, it is worth considering.
Sponsored
Trade Smarter, Today
With a wide variety of investment chocies, CIBC Edge makes it easy for you to trade how you want, when you want.