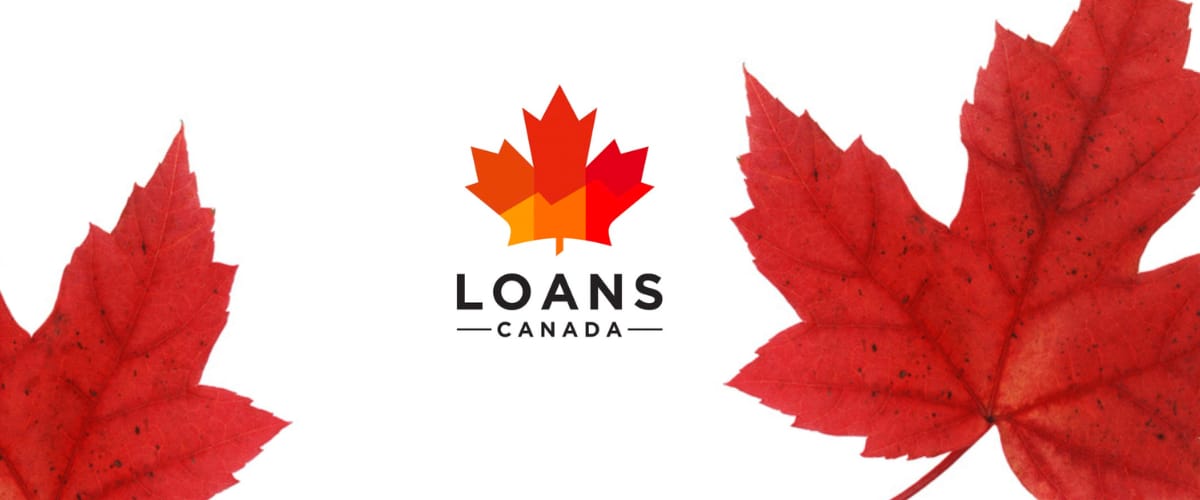 Loans Canada / Shutterstock
🗓️
Updated: August 16, 2023
We adhere to strict standards of editorial integrity to help you make decisions with confidence. Please be aware that some (or all) products and services linked in this article are from our sponsors.
We adhere to strict standards of editorial integrity to help you make decisions with confidence. Please be aware this post may contain links to products from our partners. We may receive a commission for products or services you sign up for through partner links.
Loans Canada at a glance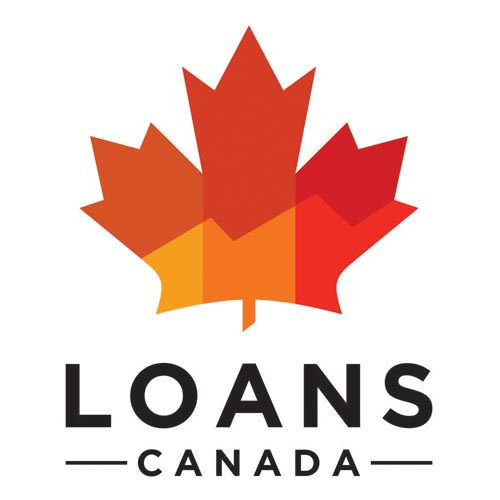 Apply now ►
Quick Facts
Loan Amount: $500 to $50,000
APR range: 1.99% to 46.96%
Minimum credit score: None
Minimum annual income: None
Provincial restrictions: None
The idea of securing a loan from a bank might conjure images of waiting in a brick and mortar branch, scheduling multiple meetings with a bank representative, and fearing that all your time spent in the application process will be for naught if the bank rejects you. But many Canadians have neither the time nor the financial history needed to secure a loan via a traditional bank. If you need to access cash quickly or if you have an uneven credit record, you might be better off choosing an online lender.
Online lenders are companies that specialize in processing your lending paperwork quickly and approving loans in a far shorter time than can be expected from a traditional bank. Some online lenders are also able to accommodate a wide range of borrowers, including new immigrants to Canada and Canadians with less than perfect credit histories. Unfortunately, matching your needs as a borrower with one of these online lenders can be tricky, as today there are a large number of lending options online. That's where Loans Canada, Canada's largest online loan search platform, comes in.
About Loans Canada
Loans Canada was founded in 2012 by Scott Satov as a new way to match Canadians with the right lender for their needs. Loans Canada is not a direct lender. It's a lending platform, which means it matches Canadian borrowers with online lenders across the country. Loans Canada currently specializes in matching suitable lenders to Canadians with poor credit scores, thin credit histories, and those going through consumer proposal or bankruptcy.
Loans Canada's top features
Fast solution; less risk
The biggest advantage of Loans Canada is that it does your research for you. You submit a single loan application via its platform, and that application is evaluated for compatibility with a wide network of lenders.
This functionality has two main benefits: First, it makes the process of searching for a loan easy, fast, and gentle on your credit score. You won't have to call around to different lenders or have your credit score subjected to a hard check only to discover you don't qualify.
Second, because Loans Canada works with many online lenders, each with its own lending specialization, there are very few scenarios in which a borrower won't qualify for a loan of any kind. No matter what your financial circumstance or credit history may be, Loans Canada can likely connect you with a lender who is willing to work with your unique situation.
Borrower community
Loans Canada's system enables borrowers to rate and review lenders, which will better inform you as to whether or not a recommended lender is right for you. This review system also helps Loans Canada weed out lenders with a poor customer service track record.
Long-term financial growth
Loans Canada has an extensive learning centre designed to help its customers pay off their debt once and for all. It's a chance for borrowers to not only address their immediate financial needs, but to also improve their financial acumen and set themselves up for success long term.
Visit Loans Canada
Types of loans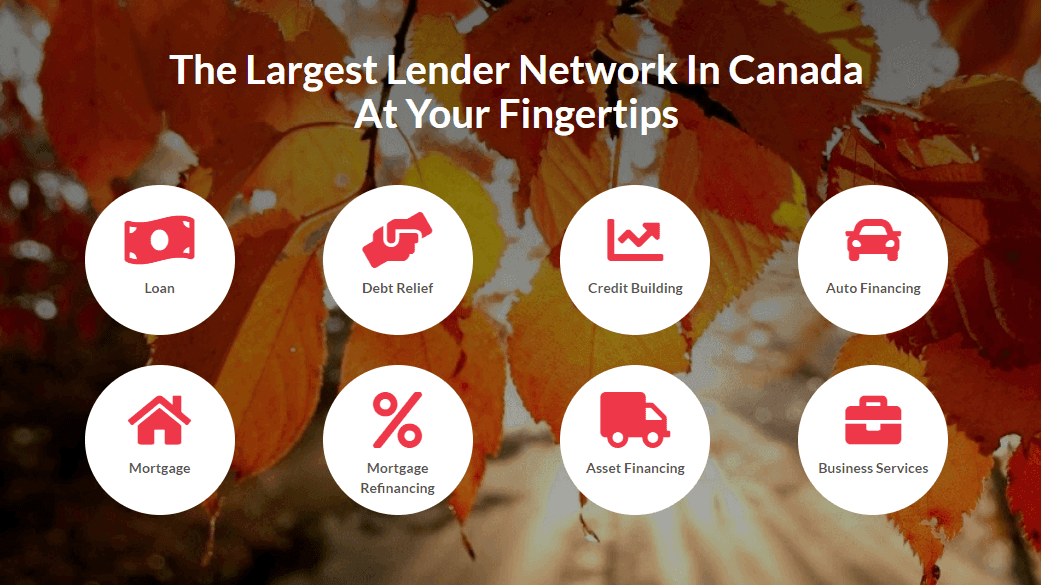 Personal loans
Personal loans are intended to pay for expenses such as weddings, last-minute travel, or emergencies. Typically, these loans are unsecured, which means you don't need cash or an asset to guarantee the loan. These loans often require the lender to check your credit score, since that is a key indicator of your creditworthiness. Amounts offered by Loans Canada's partners range between $500 to $50,000.
Debt consolidation loans
Debt consolidation loans are lump-sum loans designed to pay off your high-interest debts and consolidate the money you owe into a single, low-interest loan. If you are interested in consolidating several high-interest loans, e.g. several credit cards with high balances, then you'll need to make sure the loan you are applying for has a lower interest rate than the debt you are transferring. Otherwise, you'll end up paying more interest overall.
Auto loans
Auto loans are used to purchase vehicles and often require you to use your car to secure the loan. This means that if you default on your payments, your lender can seize your vehicle. Lenders partnered with Loans Canada offer both new and used car financing, refinancing, or financing for auto repairs.
Business loans
If you find yourself needing cash for your business, Loans Canada can connect you with small business lenders for unsecured loans ranging from $1,000 to $500,000 with no collateral required. Their partners also offer commercial mortgage lending and equipment financing. If you have assets in your business, you can use those to secure your loan.
Credit-building loans
If you have bad credit, one of the best ways to rebuild it is to take out a loan and diligently pay it off, which will improve your credit score over time. But the paradox of trying to get a credit-building loan through a traditional lender is that you're unlikely to qualify for a loan with a poor credit score.
Secured loans are ideal for borrowers in this position. Essentially, you secure a loan up front with cash and pay it back over time. At the end of the term you'll receive your original principal amount back, though the lender has collected interest from you over the course of the loan term. Loans Canada partners with providers of both secured loans and secured credit cards for those looking to rebuild their credit.
Home equity loans
If you need access to cash, borrowing against your home equity is the cheapest way to get it. Home equity loans let you access the equity you've unlocked in your home by paying down your mortgage. Loans Canada puts you in touch with lenders offering home equity loans, along with second mortgage lenders, mortgage refinancers, and reverse mortgage lenders. You can even use Loans Canada to apply for a new mortgage.
How to apply for a loan with Loans Canada
After you've determined which type of loan you'll need, you can start the application process. Loans Canada's application process takes about five minutes, and you'll need to provide some basic information to your loan provider, such as your:
Name
Age
Address
Phone number
Employment information, including your employer's contact details
The next step in the application process is to submit your required documentation. Your lender may request the following:
Pay stubs
Proof of employment
Bank statements
Proof of Canadian citizenship or permanent residency
SIN
Void cheque
I advise you to compile this information in advance to shorten the time it takes to get approved for your loan. Once you submit your application, you'll need to wait to be approved by your lender. Approval notification usually comes via email or phone. If you need your funds quickly, it's important to monitor these forms of communication closely so you can respond to your loan approval promptly and arrange to receive your loan as quickly as possible.
Most of the online lenders partnered with Loans Canada pledge to have unsecured loans approved within 48 hours, so if you haven't heard from your lender within that period, follow up with the lender to ensure your loan application is processed promptly. Some secured loans, like home equity loans, require longer processing times, because they take more due diligence and paperwork to process.
Finally, once your loan is approved, you'll arrange to receive your funds. Most lenders will deposit money directly into your bank account, although some may issue a cheque.
Fill out the form below and get started now!
Visit LoansCanada.ca for more serivces
Pros and cons
Not every Canadian will benefit from using Loans Canada. I recommend reviewing the below before you hop onto their platform.
Pros
Fast access to cash, usually within 48 hours
The ability to compare many different lenders in one place
A variety of loan types including secured or unsecured
Flexible terms and interest rates
Online-only lending means no need to visit a brick and mortar bank branch
Cons
Early repayment of some loans may incur penalties
Some lenders include loan origination fees (basically a fee for processing the loan)
Interest rates can be higher for bad credit loans
Is Loans Canada secure?
Loans Canada takes the appropriate steps to ensure the information you submit to them is protected, adhering to the guidelines set out by the Canadian Personal Information Protection and Electronic Documents Act. Their customer service representatives are up to date on security and privacy practices, and Loans Canada only collects information that is relevant to the loan approval process.
Customer service
Loans Canada is based in Toronto, Ontario, but services all of Canada. You can get in touch with Loans Canada via the toll-free number on its website, which is staffed from 9:00 a.m. until 5:00 p.m. EST, Monday through Friday. You can also send them a message directly through Facebook or email them at [email protected].
Reviews of Loans Canada's customer service have been mixed, but most negative reviews appear to come from borrowers that have mistaken Loans Canada with their direct lender. With that in mind, it's critical to remember that Loans Canada is only an online lending platform, and not the financial institution from whom you'll ultimately obtain your loan.
Who should try Loans Canada?
Loans Canada could be a great way to meet your financial needs if you match any of the below:
Fast cash – If you are looking for access to cash within 48 hours, Loans Canada's platform can accommodate that.
Thin credit report – If you have a short credit history, which you might have if you are a newcomer to Canada, a traditional brick-and-mortar lender may not be willing to lend you money. Loans Canada's network includes lenders that can work with those who are just starting to build their credit.
Low credit score – Most traditional lenders require a minimum credit score to qualify for a loan. Some of the lenders on Loans Canada do not have a minimum credit score requirement, and are willing to work with you if you are currently in or have recently come out of a consumer proposal or bankruptcy.
Who should avoid Loans Canada?
While Loans Canada is available to every Canadian, not everyone should use it. Consider a traditional lender if any of these conditions apply to you:
High credit score – If you have a high credit score you'll qualify for the lowest interest rates from traditional lenders, particularly if you already have a strong, long-term relationship with a bank.
Revolving credit requirements – Most lenders on the Loans Canada platform offer lump-sum loans. If you want access to credit, but don't want to use it all at once, a revolving credit agreement from a traditional lender might be a better fit.
Longer loan term requirements – Five years is the maximum loan term offered by lenders in Loan Canada's network. If you need a longer loan term than that, consider a different lending platform or get in touch with a traditional bank.
Physical branch preferences – The lenders available through Loans Canada are online lenders, meaning most of them do not have physical branches that you can visit. If you prefer a lender with a location you can go to in person, a traditional lender like a bank or a credit union might be a better option.
Alternatives to Loans Canada
There are other online lending options that you might consider. Here's how Loans Canada stacks up to LoanConnect, which is also an online loan aggregator.
Loans Canada
LoansConnect
Best for
A wide variety of borrowing circumstances
A wide variety of borrowing circumstances
LoanConnect has a streamlined application process that matches you to online lenders in as little as five minutes. The LoanConnect platform isn't as educational, however, as the Loans Canada website, so if you're looking for long-term financial growth, Loans Canada might be a better choice. Loans Canada also lets you review available lenders before you complete your application, which makes it easier to research your choices before committing to a lender.
The bottom line
The world of online lending in Canada is expanding every day, but there are a number of less reputable lenders out there that you should avoid. By using a lending platform like Loans Canada, you can take advantage of user reviews to filter out the companies with negative feedback and ensure you're choosing to work only with the highest quality online lenders to serve your borrowing needs.
If you opt to use the Loans Canada platform, be aware that some of the lenders in the Loans Canada network might be willing to lend to borrowers with low credit scores, but this may come with the notable caveat of a high APR. A high interest rate makes a loan principal harder to pay back, so it's important to read the fine print before accepting a loan.
Visit Loans Canada
FAQs
Will my provider ask for a deposit?

+

Loans Canada does not ask for an insurance deposit or a deposit of any kind, and neither do any of their partners. If you find yourself being asked for one, it might be a scam and you should consider calling the provider to make sure it's legitimate.

Can I get a loan if I'm self-employed?

+

Absolutely! Loans Canada provides options for many people as a result of their wide lender network, including the self-employed

Will Loans Canada check my credit score?

+

You might be required to provide consent for Loans Canada or their partners to see your credit score depending on the loan you are looking to take.