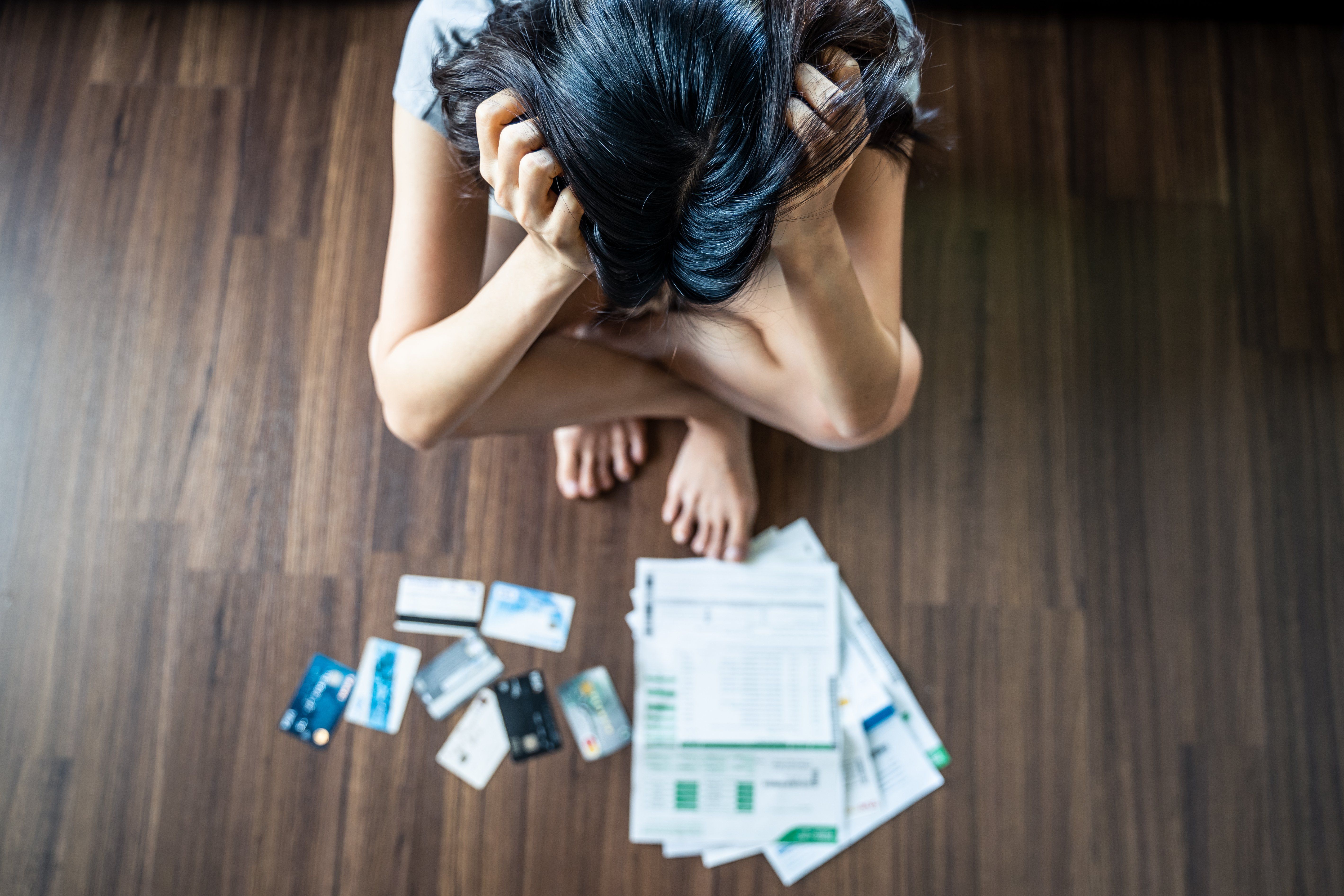 Debt consolidation loans: Compare the top providers
Hananeko_Studio / Shutterstock
🗓️
Updated: August 28, 2023
We adhere to strict standards of editorial integrity to help you make decisions with confidence. Please be aware that some (or all) products and services linked in this article are from our sponsors.
We adhere to strict standards of editorial integrity to help you make decisions with confidence. Please be aware this post may contain links to products from our partners. We may receive a commission for products or services you sign up for through partner links.
As per the fourth-quarter reports, the average Canadian owes almost double on every dollar they make. The actual number teeters somewhere in the range of $1.79 of debt for every dollar of disposable income. Staring down the barrel of such sobering statistics, it's not surprising that so many people are looking for debt relief. For Canadians looking to climb their way out of debt, one of the best tools has been consolidation loans.
Debt consolidation can help you save on interest payments, keep monthly payments more organized and manageable, as well as lower your monthly payments to a more feasible sum.
If you're struggling under the burden of serious credit card balances, student loans, medical bills, or other types of debt and are looking for a solution, this is the guide for you.
What is a debt consolidation loan?
A debt consolidation loan is cash you can access that is used to pay off all your debt from previous loans, overdue bills, credit card balances, and any other outstanding payments due. Debt consolidation loans in Canada are available for both private and business use, and they are a promising way for both use cases to settle an unstable financial situation.
Best debt consolidation loans available
If you're ready to start depleting your debt, it's time to start comparing providers. Here are a few of the best debt consolidation options available to consumers:
Loans Canada is a lending portal for people looking to borrow cash. What appeals to Canadians about this marketplace are its flexible approval ratings and turnaround time. Loans Canada partners can get you your money in as little as 48 hours. And there is a lender for just about any credit score out there.
How it works:
Applying for a loan with Loans Canada is intuitive and quick. In fact, it probably won't take you more than five minutes. Here's how:
1.

Fill out your basic information (name, phone number, age, employment info)

2.

Submit documentation (pay stubs, proof of citizenship, etc.)

3.

Wait for approval. This is usually given within 48 hours

4.

After approval, finalize the loan, and receive your money
What we liked best:
◦ Fast money: While many online lending marketplaces offer you access to multiple lenders simultaneously, Loans Canada can usually get you your money within 48 hours. That's exceptionally fast.
◦ Liberal approval rating: Loans Canada works with all types of credit scores and histories. Even if you don't have sterling credit, you can probably find a lender who is willing to approve you for a loan within this network.
Click to apply or learn more by reading our complete Loans Canada review.
LoanConnect provides simple and easy ways to find debt relief in Canada. A Canadian lenders marketplace, LoanConnect acts as a powerful search engine for finding the best loans and rates possible. Basically, this service has created a wide lender network with more than 20 of Canada's well-known lenders to make application and loan comparisons faster and less complex.
Here's how it works:
1.

Enter your information into the application form.

2.

LoanConnect will run your data through the network of lenders to find a suitable match.

3.

Get loan offers to review, compare, and approve.

4.

Choose the loan that's best for you and connect directly to the lender to finalize the process.
What we liked best:
While there are a lot of lending portals out there, there were a few things that made LoanConnect stand out, including:
◦ Huge network of reliable lenders to choose from: The bigger the pool of lenders, the more competitive the rates you'll receive.
◦ Fast turnaround: Most lenders will offer pre-approval, so you can have your money in as little as twelve hours.
◦ Flexible repayment terms: LoanConnect lenders vary in their repayment terms. You can find loans for anywhere typically between 3 to 120 months.
Click to apply or learn more by reading our complete LoanConnect review.
Alpine Credits is a bit different than a typical lender, in that it offers only secured loans and lends exclusively to homeowners. Securing a loan with your real estate can potentially nab a lower interest rate than you might get with a regular, unsecured loan, and it can also open up borrowing possibilities to those with poor credit. That said, you do carry the risk of losing your secured asset if you default on your loan.
How it works:
1.

Fill out basic info about who you are, your annual income, housing costs, etc.

2.

Confirm info you entered above and enter additional details about the value of your real estate

3.

Alpine Credits will email you instructions about which documents to send them in support of your application (most recent property tax assessment, recent mortgage statement, etc.)

4.

Receive your loan offer and decide if the terms offered meet your debt consolidation needs
What we liked best:
◦ Low interest rates: The whole point of a consolidation loan is to get an interest rate lower than the interest rates that your current debts are subjected to. Securing your home against a loan will make getting a low interest rate far more realistic than it might be with an unsecured loan, particularly if you have a poor credit score.
◦ Open-minded approvals: Alpine Credits claims to have a broader perspective than traditional banks when evaluating loan applicants, prioritizing the amount of equity you have in your real estate over your credit score or income level.
Click here to apply for a secured loan with Alpine Credits.
Lendful is an online loan marketplace whose aim is to 'help Canadians that pay over 20%+ on a credit card control their financial future.' To that purpose, Lendful offers competitive, unsecured debt consolidation loans to those that can meet some basic requirements: You need to have at least an average credit score and a credit history three years or longer, as well as some form of a steady income in order to qualify. Loans are available to those 19 years of age or more who are permanent residents of Canada.
How it works:
1.

Enter some information into a preliminary application covering where you live, your income, basic living expenses, etc.

2.

Review a more detailed application sent via email by Lendful, fill it out, and sign electronically. This stage of the app prompts you to enter additional info about your debt ratio, as well as the financial details for any co-applicants you'd like on the loan (which could increase your chances of being approved and/or being offered a low interest rate).

3.

Lendful sends you the terms of their loan offer; you decide whether or not to accept. If approved you receive your funds within 24 hours.
What we liked best:
◦ Good interest rates for unsecured loans: Applicants with strong credit scores can get a loan at an interest rate that is conducive to consolidating debt. You can do better than a 9.9% interest rate if you have a secured asset to back up a loan (like a house or a car), but for an unsecured loan this is a strong rate useful for consolidating high-interest debt, like credit card debt.
◦ Wide range of loan amounts available: Debt consolidation is a sound financial strategy for those with high-interest debts of all levels, big or small. Even if your credit card debt is 'only' $5K, getting a consolidation loan with Lendful can still substantially cut down on what you'll pay in interest.
Click here to apply for a loan with Lendful.
How can I choose the right loan and lender?
With so many different types of debt consolidation options, it can be hard to figure out which one is best for your situation. Generally speaking, the terms of the loan will be a good gauge of whether or not it's the right type of loan for you. Look at the following features to compare your options and make your selection:
APR: The annual percentage rate is how much interest you will pay throughout the year for your loan. The higher the APR, the more you are paying in interest.
Loan amount: Some lenders are willing to lend large amounts, while others will cap your borrowing. Find a lender that works with your debt needs.
Fees: Be careful to learn about all the fees involved and compare these alongside the APR. A low-interest rate will be cancelled out by a high origination fee, prepayment penalty, or other surcharges found in the fine print.
Should I apply for a debt consolidation loan?
While consolidation loans may seem like a great idea, it's not the best solution for everyone. The question is: how will you know if a debt consolidation loan is the right option for you? Well, that depends on the type of debt you have and your motivation for taking out the loan.
Generally, these loans come with low eligibility requirements considering the circumstances, making it relatively easy to get approved. If you have multiple types of debt and are willing to pay off the loan responsibly, consolidation is the best option to manage everything at once.
How can I receive a debt consolidation loan?
Unlike many other types of financial commitments, applying for a debt consolidation loan is very simple:
1.

Compare lenders. Consider how strict their policies are for missing a payment, how disciplined you will need to be in repayment and curbing your spending habits, interest rates and accessibility to company representatives

2.

Apply for a loan online from the lender that works best for your needs

3.

Wait for the lender to approve your request for a loan

4.

Receive your money and use it to pay off your existing debts

5.

Set up a method of making monthly payments toward your new debt consolidation loan

6.

Become debt-free!
It's really that simple. Consolidation loans are beneficial for debtors because they provide you with better interest rates, a set monthly payment amount regardless of balance, and the mere fact that you are not accruing more debt.
Different types of debt consolidation solutions
Debt relief is not a one-size-fits-all solution. In fact, there are many different options that you can, and should look into when facing debt. Some of the most common ones include:
Debt consolidation loan
Many Canadians often find debt consolidation to best meet their debt repayment needs. These types of loans typically have a lower interest rate than most other types of loans, making it easier to stick to the monthly payments and get out of debt. This may mean extending your repayment term by several months or even years, but if it means you can stick to the repayment plan, it is worth the additional interest payments to get out of debt.
Home equity
A home equity loan is a good option for homeowners. Equity is how much your home is worth on the market minus whatever mortgage payments are still due. So, if your home is valued at $200,000 on the market and you have $50,000 left on your mortgage, then your home equity would be $150,000.
To get approved for a home equity loan, you'll need to have at least decent credit (score above 620). Additionally, your home equity will have to be sizeable enough to make it worthwhile for the lender to approve you for the loan. If you do get approved, though, this is a good way to consolidate debt, because home equity loans typically come with much lower interest rates than other types of loans. The one downside to this process is that your home is now acting as your collateral, and if you fail to pay the loan back, it can be foreclosed upon. For this reason, many people prefer to steer clear of home equity loans as a debt consolidation option.
Line of credit
A line of credit works a lot like a low balance credit card. The lender lets you borrow a certain amount of money, repay it, and then borrow that same amount again. As long as you repay the balance, you can keep borrowing that same amount for the entire term of the line. A line of credit is a bad idea, though, if you are not changing your spending habits. After all, with an endless source of borrowing potential, it is tempting to continue racking up a bill on your credit cards without ever really taking care of the debt or the problem. Use this solution if you are confident that you can stymie your spending habits.
Credit card balance transfer
This is not always one of the top-recommended options for debt consolidation. What it is, when it's a good idea, and when it should be avoided will be discussed in the section below.
Friends and family loans
This is another option that people can look into when trying to consolidate debt. If you have a friend or family member willing to loan you the money, you can probably get more generous repayment terms and possibly even waive the interest altogether. Just be careful with this kind of loan because it can turn a friendly gathering or family holiday party into a hotbed of politics and uncomfortable feelings.
Balance transfer credit card vs debt consolidation loan
One other option we didn't discuss above is a balance transfer credit card. Here's a quick look:
Features
Best consolidation loan
Balance transfer credit card
APR
0% introductory, post promotional interest rate 14.74%-29.99%
Payment flexibility
Long and short repayment terms, option to miss payments periodically without penalty
No flexibility, must pay each month without fail
Fees
Origination, late payment, early payment penalty: range from 1% to 5%
Annual, balance transfer: range from 0% to 3%
Payoff time
Post-promotional 30-day repayment schedule
Debt consolidation loans are better if you have multiple types of debt, like student debt, various credit cards, and outstanding bills.
Balance transfer credit cards, on the other hand, are a better option if you currently have a lot of credit card debt sitting on a high APR card. It's easy enough to fix; just switch over to a 0% APR introductory rate with a low or no balance transfer fee, but be sure to pay off the transferred balance within the promotional period as afterwards the interest rates become quite high.
A case study: Jack Nimbly resolves his debt
All this talk about theoretical interest rates and savings can be extremely confusing for the average consumer. Here is a real-life example of how you can save by consolidating debt:
Jack has racked up $8,000 in credit card debt, making monthly payments of $450 at a 20% interest rate. This will take him 22 months to pay back and accumulate $1,567.30 in interest. In addition, his car loan debt amounts to $2,500 and he is paying $150 a month at a 12% interest rate. At this rate, it will take Jack 19 months to pay off the debt with an added $248.64 in interest.
This brings Jack to a headache of monthly payments in the amount of $600 over the span of about 2 years, all the while paying $1,815.94 in interest. That's a huge loss and a lot to track for Jack.
Alternatively, Jack can take out a debt consolidation loan. He can continue his payments of $600 a month and lower his interest rate to 8%. This way, Jack will pay off his debt in just 19 months, with a significant reduction in his total interest to $702.35, cutting what he was originally paying by more than half!
Summing it up
Debt consolidation loans are not for everyone. If you have no plans on changing your spending habits, can't make the monthly payments, or have filed for bankruptcy, debt consolidation is not a good option for you to consider.
However, if you are ready to get out of debt, want to make a fresh start of it and have the ability and means to make monthly payments, this is an excellent solution. A single consolidated monthly payment will be easier to manage, both mentally and financially. Plus, the lower interest rate will add up to lower monthly payments and less interest paid out overall. Whatever you choose though, always do your research and compare prices to be sure to avoid scams or offers that seem too good to be true. With a little patience and discipline, you can leave behind your debt and gain control of your finances.
FAQs