What is a home equity line of credit (HELOC)
Home equity lines of credit are loans provided against the value of your home. Your home is used as collateral — an assurance that you will be able to pay back the amount you borrowed — in order to unlock lower interest rates.
To get a HELOC, you need a considerable amount of equity in your home: a minimum of 20%. That's in addition to any other qualifications a lender requires.
HELOCs are different from home equity loans, which present you with a lump sum that you need to repay on a set schedule. A home equity line of credit works more like a credit card, allowing you to borrow what you want up to a certain limit and repay it at your convenience.
You can get a HELOC combined with a mortgage or as a stand-alone product. Either way, the credit available to you through your HELOC can be a maximum of 65% of your home's market value or purchase price.
When a HELOC is combined with your mortgage, the amount of credit you are eligible to borrow may automatically increase as you pay off the principal of your mortgage.
More: HELOC vs Home Equity Loan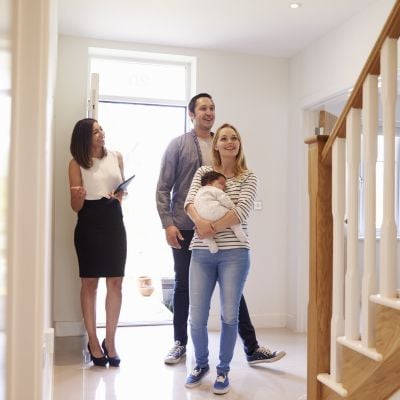 Whether you're hunting for a new home or looking to refinance your mortgage, knowing how much your new loan might cost you is critical. Use our handy mortgage calculator to help you understand what your payments could look like.
Get Started
What can you use your HELOC for?
A home equity line of credit can be used for any number of things. Some common uses are:
Home renovations
Paying for education
Consolidating debt
Financial investments
Emergency expenses
Major purchases
You can even use a HELOC to refinance your existing mortgage — or in place of a mortgage when buying a second property.
That can offer you more flexibility, as you won't have to pay off the principal and interest on a fixed schedule. To use a stand-alone HELOC as a substitute for a mortgage, you must put down 35% or more of the home's purchase price or market value.
When you initially borrow money with a HELOC, your lender lets you do so during the "draw period." During this time, you will only be required to pay interest on the loan, though you can also repay some or all of the principal if you wish.
When the draw period is up, you enter the "repayment period." At this time, you will contribute to both the principal and interest on your loan until your balance is repaid in full.
You can't take out more money from your HELOC when you're in the repayment period.
More: How does refinancing a mortgage work in Canada
Using a HELOC for home renovations
If you use your HELOC for home renovation or home repair, you are effectively reinvesting some of your home's value.
By borrowing against your home equity to upgrade your residence, the hope is typically that in the long run, the value of your home will increase more than your short-term borrowing costs.
Using a HELOC to consolidate debt
If you have multiple debts that you're paying off, consolidating them can simplify the process. Having one loan instead of multiple ensures your payments are going to the right lender at the right time.
And because a HELOC is secured by your mortgage, its interest rate is generally significantly lower than the rate on unsecured loans, like most credit cards.
For instance, even a low-interest credit card might have an interest rate of 12.99%. Meanwhile, you might find a lender offering a HELOC for "prime plus one" — that is, one percentage point more than the prime rate, which currently stands at 3.7%.
Before you take this step, remember that consolidating your debt this way would tie it to your home. If you fall behind in your payments, you could end up losing possession of your home, creating a worse situation than you had to begin with.
And while banks typically perform a "stress test" to ensure you're in a financial position to handle more debt, they will often grant you more than you might require. If you're already weighed down by debt, only borrow as much as you need to pay off your old balances.
Using a HELOC for financial investments
The idea of accessing quick cash to invest in a skyrocketing stock might seem like a smart move. But no matter how much you stand to gain, there are serious risks associated with borrowing money to invest.
If you were to borrow $10,000 from your HELOC to invest in stocks and had to pay interest on that principal of 4.5% annually, you would have to generate a return on your investment of more than 4.5% — that's $450 — to break even.
That might not sound like a lot, but rates of return on investments fluctuate greatly. Month-to-month you can experience dips and gains, so you have to be certain that you can weather the storm of market volatility and still be able to pay off your debt.
How will you pay back that $10,000 — with interest — if your stock plummets?
You might consider borrowing money from your HELOC to invest when your mortgage is mostly paid off, you are still earning an income and you have little other debt. Even then, it's smart to speak to a financial advisor before making such a risky investment decision.
Budgeting for a home equity line of credit
There are a lot of ways to use your home equity line of credit, but there's one step you should always take beforehand: budgeting.
If you're tempted to use your home's equity for a major purchase or other endeavour, your first step should be ensuring you can handle repayment.
While HELOCs offer lower interest rates, and you initially only need to pay interest, the principal amount you borrowed is still going to come due at some point. Having a financial plan to pay back the full debt is essential.
Do your research into what types of home equity lines of credit are available, and create a budget to establish a payback schedule. Speak to a financial advisor to determine if such a loan is right for you, and carefully consider whether you're able to carry the additional financial debt.
Sponsored
You're 5 minutes away from the best mortgage
Searching for your perfect mortgage shouldn't be hard. Homewise is an online brokerage that will negotiate on your behalf with more than 30 big banks and other lenders, completely free, and it only takes five minutes to apply.
If you're in the market for a new mortgage, or if you're looking to refinance before interest rates rise again, go to Homewise now and answer a few simple questions to get started.