42% of Canadians are stressed about money
If you've jumped into the housing market and are feeling vulnerable, you're not alone.
Life insurance marketplace PolicyMe surveyed 1,500 Canadians and found that 70% think Canada is overall becoming unaffordable. Additionally, 42% say they're feeling stressed, and 40% said they had to pull money from their savings last year.
The country's inflation isn't helping, and 63% of homeowners say they're concerned about the impact of higher interest rates on their mortgage payments.
And despite Canadians largely agreeing there aren't enough affordable housing options on the market, 39% are still looking to purchase a home in the next five years.
Bottom line: Canada's future and current homeowners are stretched. Financial gurus will tell you the first thing you should do is cut back on your monthly bills, but there's one you shouldn't get rid of: life insurance.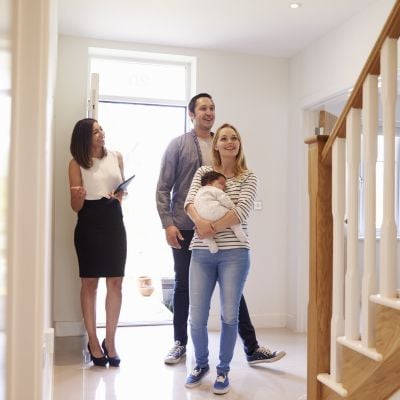 Whether you're hunting for a new home or looking to refinance your mortgage, knowing how much your new loan might cost you is critical. Use our handy mortgage calculator to help you understand what your payments could look like.
Get Started
Life insurance can keep your family in their home
Homeowners are feeling anxiety, and anxiety can spark bigger "what if?" questions. Like what if something happened to me, and my loved ones had to keep up with these payments? Could they afford it?
That's where a term life insurance policy from companies like PolicyMe can help.
Here's how term life insurance works: You make a low monthly payment for a fixed time, typically 10 to 20 years. In exchange, if you were to die during that time, your loved ones would get a tax-free payment (a.k.a. a death benefit).
The payout could range anywhere from $100,000 to $5 million or more depending on the policy.
Your loved ones could use that money to cover whatever they need, including funeral costs, debt payments and — yes — paying the mortgage to keep a roof over their heads.
Get up to $5 million in life insurance without the hassle
When it comes to where you get your life insurance, you've got a lot of options. But buying life insurance can often be a shaky experience.
Sales agents might recommend policies that make them the most money, instead of the ones that offer your family the best protection. Unnecessary expenses can add up to an expensive policy. And the process could take weeks or months as you await approval.
But online insurance companies like PolicyMe are working to fix the industry.
Use the PolicyMe life insurance calculator to determine exactly how much coverage you need —this is based on your family, lifestyle, financial commitments, and your savings and income.
Then, skip all the unnecessary steps and expenses that'll inflate your bill. Instead, apply for your policy online, and find out if you're approved in a matter of minutes.
Protect your family's future
Whether you're a current or future homeowner — or simply want to protect your family — life insurance could be a smart move to protect against. It'll give you peace of mind in uncertain times, which is honestly pretty priceless these days.
Plus, it takes just a few minutes to get a free quote.
Sponsored
You're 5 minutes away from the best mortgage
Searching for your perfect mortgage shouldn't be hard. Homewise is an online brokerage that will negotiate on your behalf with more than 30 big banks and other lenders, completely free, and it only takes five minutes to apply.
If you're in the market for a new mortgage, or if you're looking to refinance before interest rates rise again, go to Homewise now and answer a few simple questions to get started.