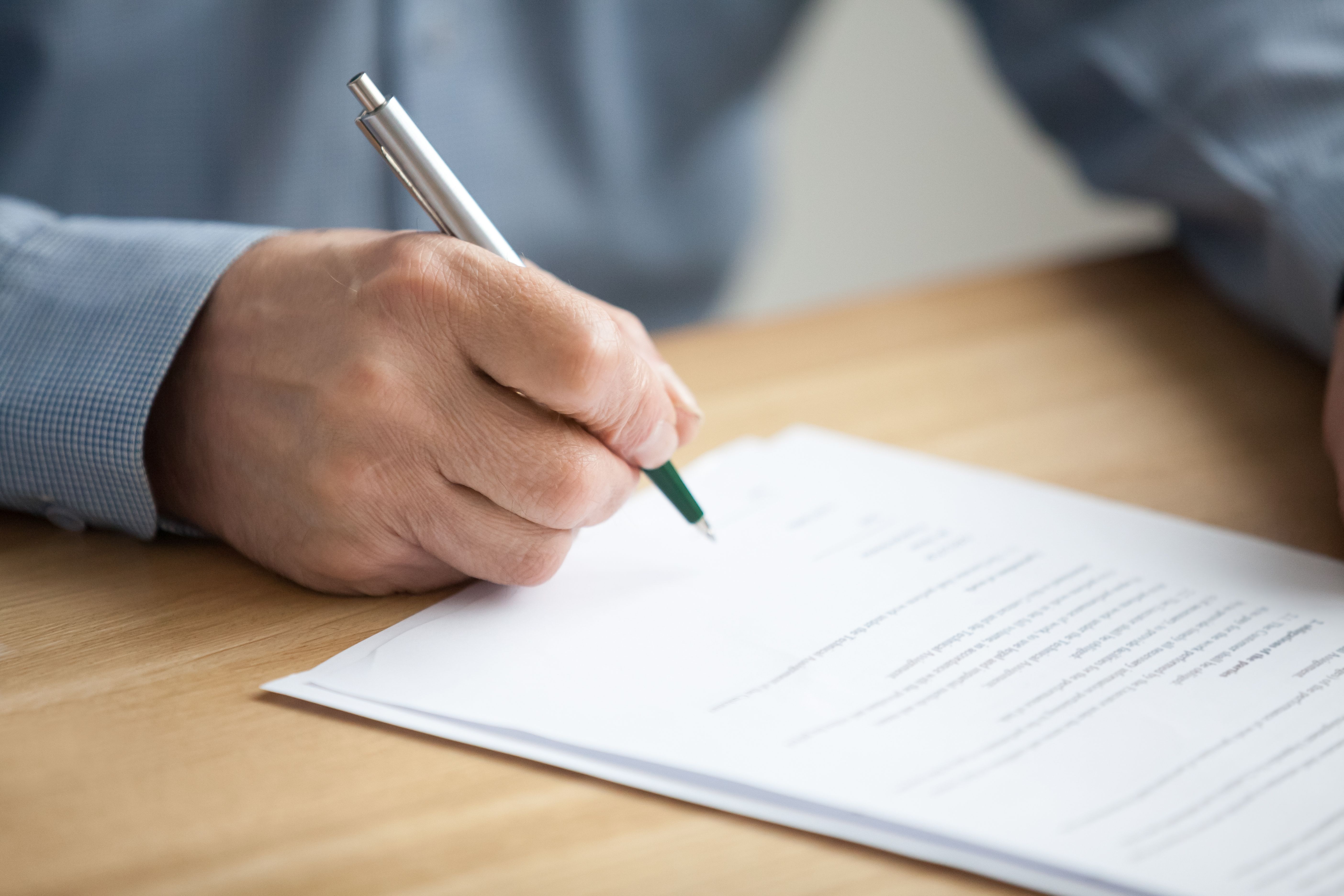 Epilogue review: Create a legal will online
We adhere to strict standards of editorial integrity to help you make decisions with confidence. Please be aware that some (or all) products and services linked in this article are from our sponsors.
We adhere to strict standards of editorial integrity to help you make decisions with confidence. Please be aware this post may contain links to products from our partners. We may receive a commission for products or services you sign up for through partner links.
Looking into online wills? Canada has several online will businesses that allow you to take care of creating a will and a power of attorney document from the comfort of your own home.
Epilogue Wills is one of the new providers that allow you to create an online will in Canada, and it's the only estate planning platform that was actually founded and run by experienced estate lawyers. Curious to know more? We tested it out to see what it's like.
Get your will today
What is Epilogue Wills?
Epilogue Wills is an online platform that allows you to create legal and binding wills and power of attorney documents from the comfort of your own home. It offers an easy and affordable solution to what is often considered to be a tough and depressing task.
Currently, Epilogue is available in all English speaking provinces including: Alberta, British Columbia, Manitoba, New Brunswick, Newfoundland and Labrador, Nova Scotia, Ontario, Saskatchewan and PEI.
What does Epilogue Wills offer?
Epilogue Wills offers you the option to create a will or a will alongside a power of attorney. They offer both of these options for individuals and for couples. Here's a breakdown of what each product entails.
Will only
Creating a will with Epilogue gives you everything you need to set up a legally binding will. Create your own custom will, which also includes a document stating your funeral and burial wishes. This product includes detailed signing instructions (so you can ensure you do it properly) and you can update it for free anytime as needed.
Will and power of attorney
This package includes everything that the will Only package offers plus a power of attorney for personal care and a power of attorney for property. This includes a document appointing someone to handle your finances if you're unable to do so yourself and a document naming someone to take charge of your healthcare decisions should something happen to you. This package offers complete protection since it covers both death and incapacity.
Both of the above products are meant for individuals. However, Epilogue also offers the same products for couples.
Wills only (couples)
Each partner can create their own custom will and state their funeral and burial wishes. This package can be updated for free at any time and includes detailed signing instructions to ensure you do everything correctly.
Wills and power of attorney (couples)
This includes everything in the wills only package plus allows you both to create powers of attorney to choose someone to handle your finances and healthcare should you become incapable of doing it yourself.
Social media will
Decide what happens to your digital legacy when you pass away. You can choose which posts to preserve and decide how your posts and online profiles will live on once you're no longer around.
How much does it cost?
Epilogue Wills products are priced as follows:
Individual plan
Couples plan
Will and power of attorney
Get your will today
What's Epilogue Wills' Specialty?
Epilogue Wills has some notable features that make it an attractive alternative to traditional ways to create a will.
Affordability: Creating a will with a lawyer will usually cost you around $1,000 or more. With Epilogue, you'll pay a lot less.
Convenience: You don't have to leave your home to create a will. You can do it completely in your own time. This is especially beneficial right now given COVID restrictions and frequent lockdown measures.
Accessibility: Epilogue aims to make creating a will easy and accessible to everyone including individuals who are unable to physically visit a lawyer's office.
Speed: The whole process only takes about 20 minutes.
Expertise: Epilogue was founded by two estate lawyers with extensive backgrounds in estate planning and is the only online will business in Canada that was created by individuals who have experience in the field. You can rely on lawyer-quality documents that are more 'future-proof' as well as professional guidance throughout the entire process.
How does it work?
It's a pretty simple process from start to finish, but we'll walk you through it step-by-step so you can get a good idea of what to expect.
1.

On the Epilogue Will website, you will see an orange button in the top right corner that says 'Get Started'. Click that.

2.

You will then be asked which province you live in. Remember, Epilogue is only available in select provinces right now (updated list provided above).


3.

Next, you will be asked if you have a spouse or partner and then if you have children.


4.

Once you have answered the above questions you will be asked for your full legal name.


5.

You will then be asked for your email and to create a password for your Epilogue account. This means your information will be saved along the way and you can come back as needed if you don't want to do it all at once.


6.

Once your account is created, you will be asked what type of product you are looking for. Do you want just the will, or would you like a will and a power of attorney? Most people choose both as it is the most thorough option, so that's what I went with here.


7.

Now it's time to fill in some personal information. The first section asks for pretty basic details. You'll be asked for your relationship status, birth date, where you live, what gender you identify as, and if you have any pets so that you can name someone to look after them.


8.

Upon completing these questions you'll get a page to review and edit your answers. If it looks good, move ahead to the next section, where you're asked about distribution.

Here, you'll be asked all sorts of questions, such as how you'd like to distribute and divide your assets. You can expect questions about whether you want to donate to charity, what age your assets get passed to your beneficiary, and if there are any specific items you want to leave to someone.

9.

You'll have a chance to review and fix your answers as necessary, and then you can move on to the final step which covers your executors. In this section you'll name your executor and what their relationship is to you and also name an alternate executor, if you wish. In November of 2022, Epilogue announced a new feature allowing you to name RBC Royal Trust as your executor. That makes it the first and only will platform in Canada that can help someone name a professional trust company as the executor of their will. You do not need to be a customer of RBC to benefit from this option.


10.

Next up is power of attorney. This is broken up into two sections and each one should only take a minute. These sections work exactly like the executor section of the will: Name your 'attorney' and your relationship and choose an alternate should you like. You will do this twice: once for POA for property and a second time for POA of healthcare. You can choose the same individual for both. You will also be asked about artificial life-saving treatment should you be incapable of making the decision for yourself. When finished, you will be able to review and edit if required.


11.

Once completed, you can generate your documents or review everything. When you are ready to generate the documents, you will also be able to state your funeral and burial wishes before paying. When all documents are ready and complete, they must be printed out. If you don't have a printer you can pay a small fee to have them printed and mailed to you. Be sure to follow the detailed signing instructions and ta-da! You now have a legally binding will and power of attorney documents.
Throughout the entire process, there is a speech bubble icon in the bottom right corner. Should you have a question, you can start a live chat with a representative from Epilogue Wills. There are also little question mark icons throughout the process on different steps. If you click on these they will expand into more detailed explanations.
How does it compare?
Products Offered
Last will and testament, Affidavit of Execution, Power of Attorney for Property (Finances), Power of Attorney for personal care (Healthcare)
Last will and testament, Power of Attorney (Finance and Property), Healthcare Emergency Representative and Wishes
Living will, Last Will and Testament, Power of Attorney, Expatriate Will
Standout Feature
The only online will service created by experienced estate lawyers
Offers will packages for individuals, couples and families (up to six members)
Offers more variety of options including Living Will and Expatriate Will
The online will businesses compared above are three of the most popular options for Canadians. As you can see there's a big difference in pricing. It's true that both Willful and Legalwills.ca start with cheaper options, however, the prices also reflect how in depth these platforms are. Additionally, LegalWills.ca prices its products individually whereas the others offer bundle-type prices for couples and families. Yes, Epilogue Wills has the highest base price of the three, but it also has the real-world experience of estate lawyers behind it.
Pros and cons
Pros
Convenient and easy
Created by professionals who have real-world experience in the estate industry
Options for individuals and for couples
First and only online Will platform in Canada that can help someone name a professional trust company as the executor of their Will
Cons
One of the pricier online will platforms on the market
Only available in select provinces (for now)
Product offerings are limited compared to some other online will businesses
Should I go with Epilogue?
If you are an individual or a couple looking to create a relatively easy, straightforward will and power of attorney document, then Epilogue Wills is a good choice. Its real-world experience in the estate planning industry adds an extra level of trust that other online will platforms can't match. And the guidance available through the process takes away any stress you may feel while completing a binding legal document from home.
That being said, Epilogue Wills may not be for everyone. As mentioned above, it only offers a couple of products and there are other platforms that offer more options (such as expatriate wills). Additionally, if you have a complicated estate, Epilogue Wills may not be your best bet. In some situations, you will need the expertise of a lawyer's services.
Final word
Online Wills are becoming more popular among Canadians and it's good to see more variety out there. While Epilogue Wills may seem expensive in the realm of online wills, it's important to remember that it's still cheaper than going to a lawyer's office and that you get the comfort of knowing your Will is backed up by experience. The fact that Epilogue Wills was founded and is run by two individuals who had over a decade of experience in estate law really does make Epilogue a standout option.
Start creating your will online with Epilogue
Epilogue does not provide legal or any other professional advice, such as accounting, or tax advice. *Prices do not include tax.