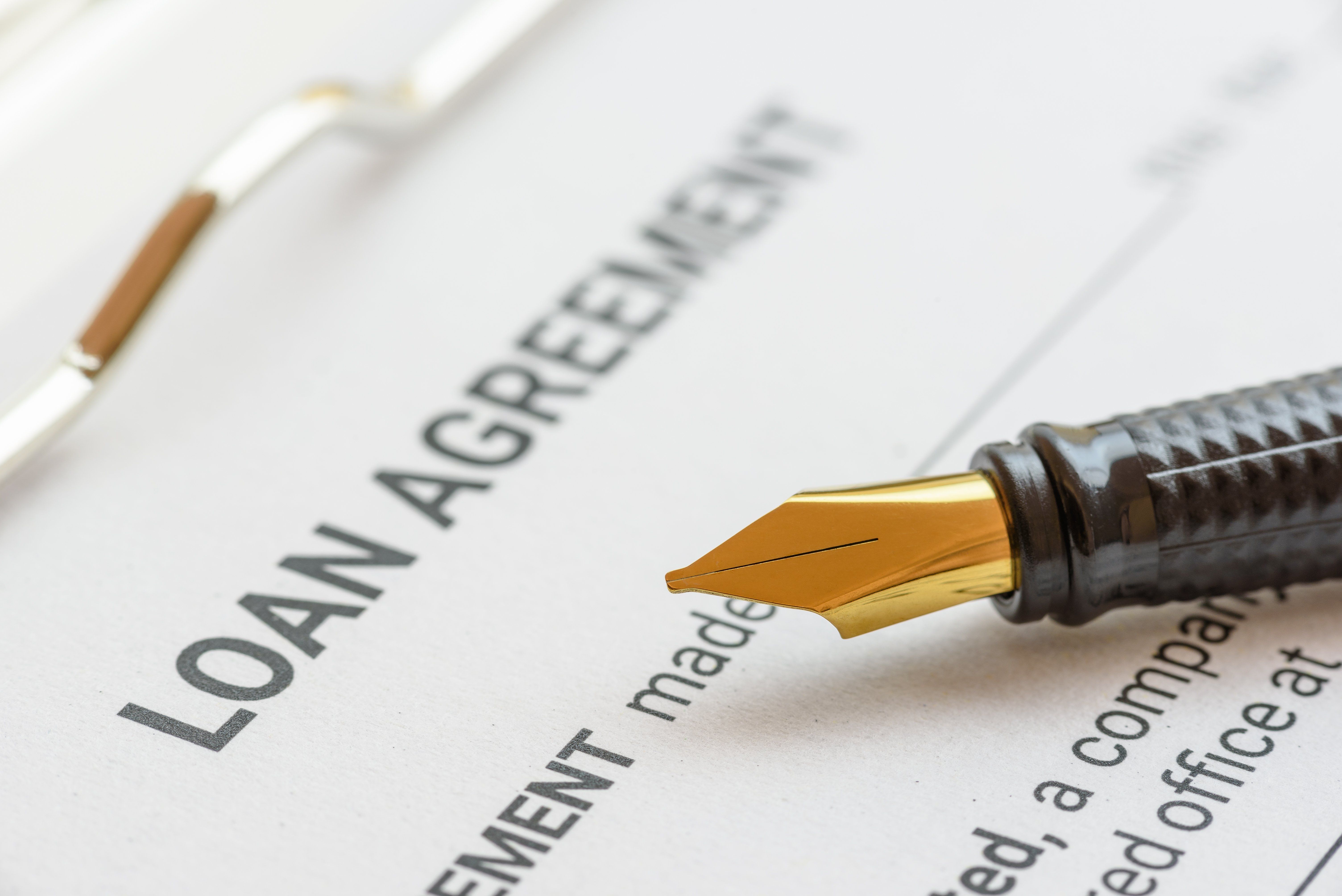 Need a small personal loan? Here are your best options!
William Potter / Shutterstock
We adhere to strict standards of editorial integrity to help you make decisions with confidence. Please be aware that some (or all) products and services linked in this article are from our sponsors.
We adhere to strict standards of editorial integrity to help you make decisions with confidence. Please be aware this post may contain links to products from our partners. We may receive a commission for products or services you sign up for through partner links.
If you're ever in a bind and need a small loan of up to $5,000, lenders offer small personal loans that provide you with funds quickly. There are many things you can use a small personal loan for and, similar to installment loans, they often come in handy for emergency situations like an unexpected vet visit, a death in the family or a broken-down car.
You may think charging these expenses to your credit card is the best bet, but credit cards have high interest rates (usually around 19.99%), which can make paying back your debt challenging. Instead, you could use a small personal loan to cover your unexpected expenses and repay the loan at a reasonable interest rate over time.
There are several ways to obtain a small personal loan:
Banks: Financial institutions with a variety of financial products and brick and mortar branches.
Credit unions: Cooperative financial institutions offering savings and debt products from physical locations.
Online lenders: Specialized lenders offering loans exclusively online, interest rates may be higher than banks or credit unions.
Payday lenders: Short-term lenders offering high-interest (payday) loans with instant in-person approval.
What is a small personal loan?
While there is no official definition of small personal loans in Canada, most lenders offer these types of loans.
Usually small personal loans range from $1,000 and up to $5,000 in size, however, you can find some lenders that provide loans of less than $1,000. You can use a small personal loan for anything that requires a quick influx of cash like emergencies or covering short term cash flow problems.
Small personal loans typically have a moderate interest rate (lower than a credit card), and repayment terms range between a few months up to several years. You'll make payments on your loan on a monthly or biweekly schedule, and most lenders allow you to pay off your loan ahead of schedule, without penalties.
Who does it best in Canada?
LoanConnect
Loans Canada
Mogo
LoanConnect
LoanConnect is an online lending platform that connects you with dozens of online lenders in Canada. By filling out a single application, LoanConnect will match you with appropriate lenders, allowing you to compare interest rates and loan terms from multiple lenders. Lenders' minimum loan amounts vary however, you can find a loan ranging from $500 to $50,000. Some of these lenders offer funding the same day you submit your application, making LoanConnect a good source of fast cash.
Click here to get a loan or learn more by reading our complete LoanConnect review.
Loans Canada
Loans Canada is another online lending search engine that offers a huge variety of loans from vehicle loans and personal loans to commercial business loans. Loans Canada works similarly to Loan Connect in that a single application connects you with lenders across Canada, making it easy to compare the terms of each loan side by side. If you're looking for a minimum loan of $500 to $50,000, and you want to thoroughly research your options without having to submit applications at each lender, Loans Canada is a good choice.
Click here to get a loan or learn more by reading our complete Loans Canada review.
MOGO
Vancouver-based Mogo is a direct lender, meaning it will approve and administer your loan firsthand rather than referring you to other lenders. It provides personal loans between $500-$15,000, with interest rates ranging from 9.9%-47.72%. Mogo is unusual in that it can provide loans to borrowers with below average or poor credit scores; applicants with good or excellent credit scores may be referred to Lendful, Mogo's partner lender.
Another thing that makes Mogo stand out is that it offers refunds on most of its loans within the first 100 days of loan activation. If you find another loan that's a better fit for you, just return the principal loan amount to Mogo and you can get a refund of the interest and fees you paid.
Currently Mogo only works with borrowers in British Columbia, Ontario, Alberta, Manitoba, New Brunswick, Nova Scotia, PEI or Newfoundland.
Click here to get a loan with Mogo.
How to choose the best provider for you
As we mentioned above, there are several different types of lenders, and the best one for you depends on several factors. Here's what to consider when choosing a lender:
Interest rates
It's important to shop for the lowest interest rate on your loan, as the interest rate will impact how expensive the loan is to pay back. Banks and credit unions typically charge the lowest interest rates on personal loans, often in the single digits. Some online lenders offer comparable interest rates, but, depending on your credit profile, could offer interest rates up to 46%.
Fees
Some loans have fees associated with them. The most common is a loan origination fee, which you'll pay when the lender extends you the loan. The loan origination fee may be a flat rate or a percentage of the total loan amount. Your lender may also charge a fee to pay off the loan early.
Customer service
Small personal loans are a straightforward financial product, but if you need assistance, the quality of customer service offered by your lender will impact your experience. If you prefer to deal with your finances in person, a bank or credit union with a physical branch is a good choice. If you are comfortable servicing your loan online, an online lender may work for your needs.
Reviews
There are many online lenders in Canada, and reviews can help you determine which lender is right for you. Read as many reviews as possible to help you establish a clear picture of the lender's business practices and the quality of their customer service.
How to get a small personal loan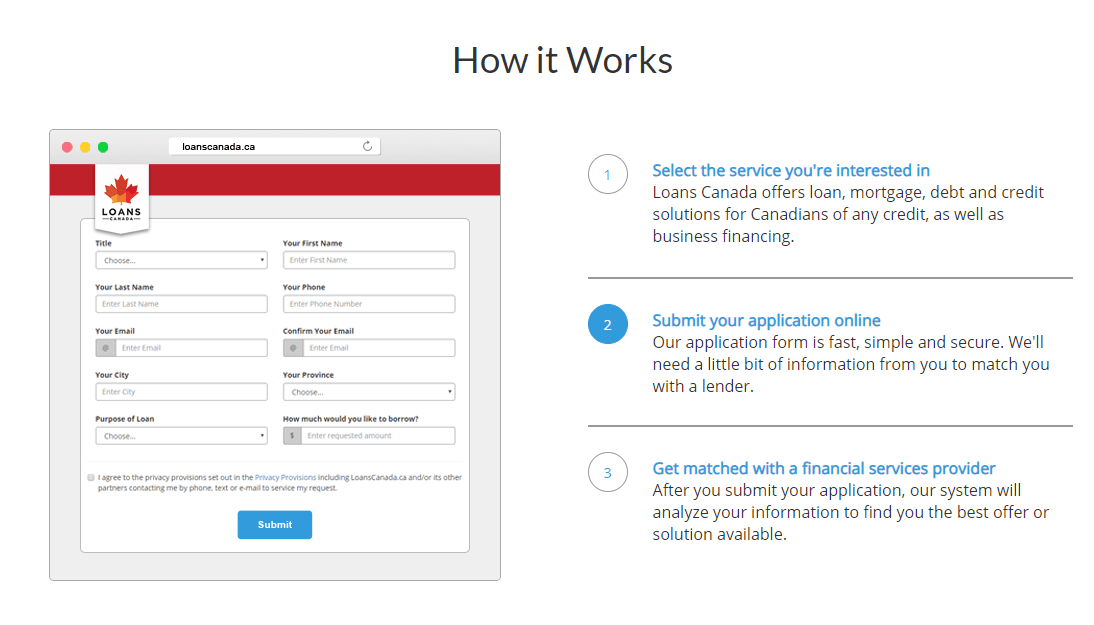 Applying for a small personal loan takes several steps, and each step is going to look a little bit different depending on the lender and type of loan you choose. Here is a high-level overview of the process to apply for a small personal loan.
1. Complete your loan application
Once you've selected a provider, you'll need to apply for your loan. If you choose a credit union or bank, you may need to fill out the application in person. If you choose an online lending platform, your application will be submitted entirely online.
When completing your application, be prepared to provide the following information:
Your name, address, and phone number
Your employer's information
Consent for the lender to pull your credit score
Your financial information including bank statements
Proof of Canadian residency and age of majority
A voided cheque
2. Loan application processing
Once you've submitted your loan application, it may take several days to be approved. If your lender requires additional documentation, this is when they will ask for it, usually by email or phone. Stay available by phone or email during this time, so you can promptly respond to your lender's inquiries, especially if you need funding quickly.
3. Loan approval and funding
Once your loan is approved, your funds are deposited into your account. Some online lending platforms promise funding within 48 hours, where some credit unions or banks may take longer. After you receive funding, you'll begin making regular repayments on your loan.
Who is eligible for a small loan?
While each lender will have different criteria regarding who they will lend to, here are some basic requirements shared by almost all lenders:
* Have photo ID* Be a Canadian citizen or permanent resident* Be the age of majority in your province* Be employed and able to provide proof of employment* Have a Canadian chequing account* Have an email address
These are the basic requirements to apply for a loan in Canada, and some lenders will also require a minimum credit score, a minimum income, and assurances that your existing debt load won't prevent you from paying off your new loan. However, that shouldn't discourage you from applying for a loan if you really need one. There are lenders that will give you an emergency loan even if you have a bad credit score or existing debts.
Is it worth it?
Benefits
Fast personal loans up to $5,000 when you need it most
Small loan principal means payments are affordable
Loan terms up to five years
Interest rates lower than a credit card
Drawbacks
Some lenders charge very high interest rates
Missing a monthly payment could lead to debt and bad credit
Additional fees and surcharges can make loans unaffordable
Who should NOT go for a small loan?
Small personal loans aren't the best option for everyone. Particularly, if you have a low credit score, a high existing debt load, or a low income as you may not be eligible for a small personal loan through a bank or credit union. In these cases, your only option may be an online lender.
If you choose to borrow through an online lender, you may only be eligible for loans with very high interest rates. In these cases, it's better to look elsewhere to cover your emergency expenses.
Here are some alternate sources of funding for your emergency expenses:
Friends and family
Selling assets like old jewelry, or a sought after collection
Asking for an advance on your paycheque
Using overdraft on your chequing account
Charging the emergency to your credit card
If these sources of funding aren't options for you, and you choose to work with a lender offering a high-interest rate, take time to read the fine print. Make sure you have a clear understanding of your monthly payment obligations, whether there are any additional fees included, and whether you can pay off the loan early.
Make sure the interest rate on the loan isn't so high that you'll have trouble paying it off. This situation can create a cycle of borrowing new money continuously to pay off your previous loan, which is extremely expensive and a difficult cycle to break.
Our bottom line
If you're facing an emergency or unexpected expense, the last thing you want to worry about is how you are going to pay for it. Small personal loans can be a good option to cover a short-term cash deficit, but be wary of high-interest rates. If possible, tap your personal network of friends and assets to cover your emergency first. If those resources aren't available, compare prices from multiple online lenders to find the best personal loan for you.
FAQs
Are personal loans secured or unsecured?

+

Personal loans are usually unsecured meaning you don't have to put up an asset, such as a car or a mortgage, as collateral.

Can I get a small personal loan with bad credit?

+

Although it depends on the lender, there are lenders who accept people with bad credit, though interest rates might be higher.

Can I get a small personal loan if I don't have a job?

+

Similar to people with bad credit, you can still get a loan if you don't have a steady income, it all depends on your lender. Just keep in mind the difficulty and discipline involved in taking a loan with no income.