Talk it out The pandemic has been a financial boon for some households, who were able to limit their expenses while working from home, increase their savings and possibly break into the red-hot real estate market.
A solid 65% of Canadians feel confident their families could manage without them, even without the support of a life insurance policy.
Other families haven't been so fortunate: Over a quarter of respondents aren't sure their families could keep a roof overhead if left on their own.
"Having these conversations can be stressful, but it's important to be as open as possible with the people close to you about all aspects of your lives together," says Maria Winslow, senior director of life and living benefits at RBC Insurance.
"If we've learned anything throughout this past year, it's that life can bring unexpected events and risks, so it's important that Canadians also take action to protect themselves and their families."
Unexpected vet bills don't have to break the bank
Life with pets is unpredictable, but there are ways to prepare for the unexpected.
Fetch Insurance offers coverage for treatment of accidents, illnesses, prescriptions drugs, emergency care and more.
Plus, their optional wellness plan covers things like routine vet trips, grooming and training costs, if you want to give your pet the all-star treatment while you protect your bank account.
Get A Quote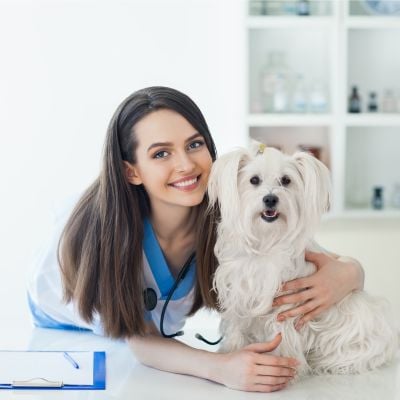 How to get on solid ground
If you feel worse and not better after discussing your financial situation, here are five simple steps you can take to put yourself in a better position:
1. Address your immediate debts Before you can start planning for the future, you need to face what's right in front of you.
As the RBC survey shows, debt is weighing heavy on many Canadians' minds, with 38% talking more about their family's financial security.
If you've been relying on credit cards or other high-interest debt to carry you through difficult times, consider paying them off with a low-interest debt consolidation loan. You'll be able to save a considerable amount on interest, potentially helping you free yourself from debt years sooner.
2. Improve your cash flow
If you're not on track to meet your financial goals, accelerating the timeline will generally require significant sacrifices in your lifestyle. If that's not an option, you'll need extra income to help get you there.
About half of Canadians say the pandemic has changed their feelings toward work, according to a survey for recruitment agency Robert Half last summer. And they're not just looking for better compensation: Many want jobs that are more fulfilling or line up with their personal values.
With so many folks making a change, it's a good time to look for vacancies in high-paying positions. Some of the better job boards will match your skills to great jobs you didn't even know existed.
3. Cut down on housing costs The price of shelter has soared over the last year, and that doesn't seem likely to change in the foreseeable future.
At the same time, interest rates remain near historic lows. If you already own a home, refinancing your mortgage now could help you save thousands. Lower monthly payments will be much easier for your family to manage, with or without you.
To make yourself a better prospect as a borrower and unlock the lowest rates, put in a little time and improve your credit score. That should be fairly straightforward if you're already working to address your debt and boost your income.
4. Put your savings to work
If COVID-19 has taught us anything, it's to temper our optimism with a drop of pessimism. Last year, a third of Canadians told pollsters for Scotiabank they had to break into their savings accounts to cover day-to-day expenses.
If that includes you, your first step should be to top up your emergency fund. And don't just leave your funds sitting in a traditional savings account, where it will earn next to nothing in interest: Put your cash in a high-yield account where it has a chance to truly grow.
Of course, even the best bank account isn't going to help you build much wealth over time. A profitable investment portfolio, on the other hand, can help you generate the money you'd need to cover your kids' education and other necessities — something 56% of Canadians are concerned about.
Even if you don't have thousands of dollars to spare or experience playing the stock market, popular apps will allow you to start investing with just your "spare change" and turn pennies into profits.
5. Secure your family's future No one enjoys thinking about their own death, but it has to be done. Especially if you're married, a parent or a homeowner, creating a legal will is essential. It's the only way to ensure your money and assets wind up in the right hands.
But what if your assets aren't enough? About 35% of Canadians report that they don't currently have a life insurance policy — and yet, faced with the unpredictable, 63% acknowledge that insurance is the best way to take control.
Whatever happens in the future, locking in an affordable life insurance policy today is the best way to ensure your family will never have to worry about paying the bills or losing their home.
Sponsored
Trade Smarter, Today
With a wide variety of investment chocies, CIBC Edge makes it easy for you to trade how you want, when you want.