Why the loonie has gotten so strong The loonie's unexpectedly sharp rise has been driven by three primary factors, all of them related to the pandemic.
One of the most important drivers has been the robust demand for Canadian commodities triggered by the opening up of other major economies, like China's. Metals, energy and forestry products are all seeing their values surge due to increased demand and supply shortages that have lingered due to COVID-19 shutdowns last year.
When Canada's commodities are in demand, it's generally a sign of economic strength, which makes the loonie more attractive to investors.
The Bank of Canada also has played a role in juicing the loonie's value. While delivering its April 21 interest rate decision, the central bank stated that Canada's economy could grow by as much as 6.5% in 2021. The bank also indicated that its inflation target of 2% could be reached on a sustained basis "some time in the second half of 2022," months ahead of its original target.
By leapfrogging the U.S. Federal Reserve in terms of post-COVID optimism, the Bank of Canada signalled to the world that the country's economic recovery is on firm footing, possibly firmer than that of our noisy neighbours to the south. That, too, makes the Canadian dollar attractive.
The weakness of the U.S. dollar is another factor. The greenback has been beaten black and blue since the beginning of the pandemic. The economic smackdown delivered by COVID-19 and the government's uneven response to it were responsible for the drop last year. This year, it's investors worrying about inflation and about the Federal Reserve's plans to keep interest rates at rock bottom, possibly until 2024.
The loonie is expected to continue performing well against the U.S. dollar. Employment will continue improving, which will finally get Canadian consumers spending at normal levels again. Favourable mortgage rates should keep money flowing into Canada's critically important housing market. And if Biden's infrastructure plan somehow makes it through the congressional spanking machine, it should result in a spike in demand for Canadian metals and lumber.
"I see a little bit of further upside for the currency over the next six and 12 months," BMO Capital Markets chief economist Doug Porter told Global News. "I could see it getting potentially as high as 85 cents at some point in the next six months."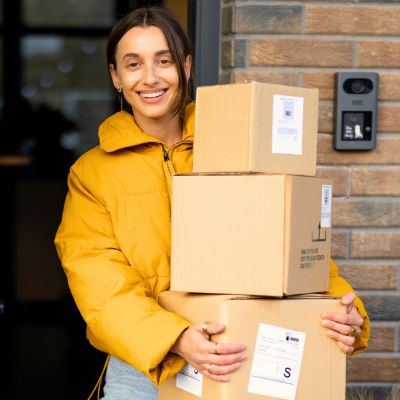 Shopping online? Let Capital One Shopping find and apply the best coupons for you. No hassle, just savings. Install now, save always.
Learn More
The good and the bad of a surging loonie A stronger loonie isn't necessarily a positive development for Canada's COVID rebound.
For one thing, it increases the cost of goods sold in Canadian dollars. That can take a sizeable bite out of the country's exports. At a time when the economy is still shaking off the effects of the pandemic, more — not fewer — sales to our trading partners are needed.
A strong Canadian dollar also gums things up when it comes to inflation.
In January, the Bank of Canada added a stronger Canadian dollar to a list of risks to the bank's inflation outlook. That may not sound out of the ordinary, but it was the first time since July 2011 that a rising loonie was singled out.
A stronger dollar, because it lowers the price of imported goods, creates direct downward pressure on inflation. (Those lower exports do, too.) The Bank of Canada is waiting for inflation to gain steam and hit 2% for a sustained period before it begins lifting its emergency pandemic measures. The longer that's delayed, the longer it'll be before the Canadian economy behaves more normally.
But a muscular loonie is a boon for consumers, especially those of us who have made ordering online from the U.S. part of our daily routines over the past year.
If the loonie is still flying when the border reopens, prepare yourself for a southward stampede of cross-border shoppers and travellers. Until then, it should at least provide some help in mitigating the impact of rising food prices.
Don't start that shopping spree just yet Sure, with a stronger Canadian dollar you have more spending power to play with. But there are a few things you'll want to consider before taking your beefed-up loonies and going on a spending spree.
First, given recent increases in gas prices, a shopping trip to the U.S. may not be much of a cash saver. Fuel prices in the States are higher than they've been in years — the average is close to $3.10 USD per gallon — so if it's savings you're after and you have to drive more than a few hours, it's doubtful you'll come home ahead.
If you're looking to maximize your next online shopping spree, remember that you may have to pay duty, shipping or even extra credit card charges when buying outside of Canadian borders. Those costs will really eat into any savings you stand to gain. Using an app that hunts for bargains for you can help balance things out.
On the more ambitious side of things, a higher loonie can make U.S.-based investments, like real estate, seem more attractive — but since your returns will be coming back as U.S. dollars, your profits will actually shrink as the Canadian dollar rises. Be sure to speak with a trusted financial adviser before making any major decisions.
If the pandemic has left you in a position where spending more just isn't an option right now, don't sweat it. There are plenty of simple ways to save money, generate more income and improve your finances without any help from a strong Canadian dollar.
Sponsored
Automatically apply coupon codes for free - it's kinda genius
Capital One Shopping's browser add-on automatically applies coupon codes as you shop online. It also alerts you whenever there's a better deal available from another retailer. It's absolutely free – plus it takes only two clicks to install.
Add the Capital One Shopping browser extension today and start earning discounts of up to 50% on the things you already buy. Your bank account will thank you