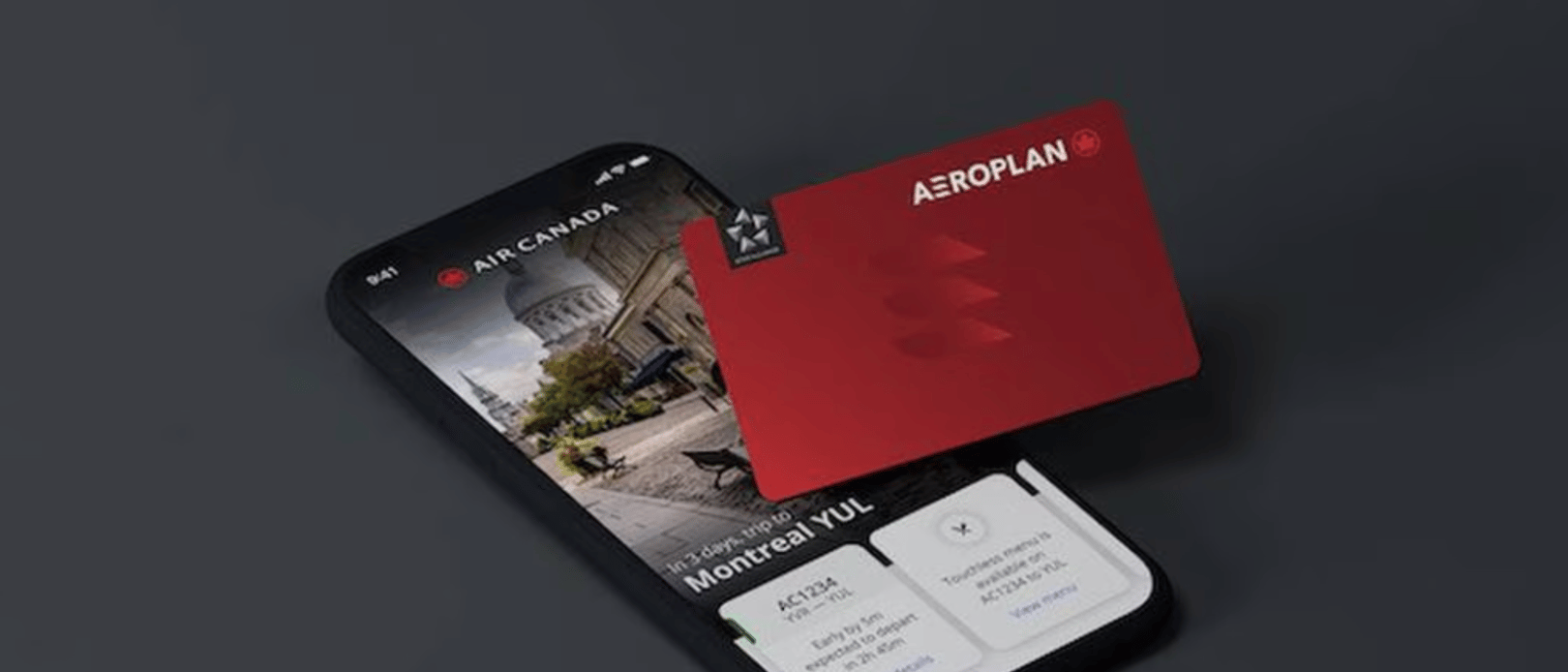 Your guide to the new Aeroplan program
🗓️
Updated: August 01, 2023
We adhere to strict standards of editorial integrity to help you make decisions with confidence. Please be aware that some (or all) products and services linked in this article are from our sponsors.
We adhere to strict standards of editorial integrity to help you make decisions with confidence. Please be aware this post may contain links to products from our partners. We may receive a commission for products or services you sign up for through partner links.
Air Canada overhauled its popular Aeroplan loyalty program in 2020 with many new benefits for members. Learn what's changed and how you can maximize your points-earning potential in this new Aeroplan era.
Aeroplan – one of Canada's most popular flight reward programs – launched the new and improved Aeroplan loyalty program on November 8, 2020. Time to test out the program and get a jump start on accumulating rewards—even if your flight plans are currently grounded due to the global pandemic.
What are the changes to the Aeroplan program?
Based on our expert review, most of the changes are good and improve the Aeroplan program. These include a simpler redemption system, opening up all seats for booking on Air Canada flights, the elimination of carrier surcharges (hooray!), the ability to pool your points with family members—plus a few new perks are still in the works. There are changes to Aeroplan credit cards, and a new set of welcome offers are available. The only downside for some collectors may be the new dynamic pricing, but others might benefit from this addition. Overall, the changes are positive and keep reading to learn more about what's changed with the Aeroplan program that started to roll out in late 2020:
New Aeroplan rewards structure
Air Canada took the opportunity to totally rethink the old Aeroplan system and give it an overhaul. The first thing you need to know is that you no longer earn Aeroplan Miles now you'll earn Aeroplan Points. Your old Miles automatically transferred over to points in 2020 on a one-for-one basis.
Earn on booking flights (now at all fare levels and destinations) with cash at AirCanada.com or through the Air Canada app, or when you spend on in-flight food and drink and duty-free purchases. You can also earn points by spending with your new Aeroplan credit card, shopping in the Aeroplan eStore, and booking hotels and car rentals through Air Canada partners.
The redemption system for flights is also simpler. Before you redeem, reference the Flight Reward Chart to see which travel zone your planned trip falls under. You can use the Points Predictor Tool to get a fairly accurate estimate of the cost (in points) of your trip and gauge whether to fly with Air Canada or a partner airline. This is a major improvement on the old system, which left you guessing about what flights would cost and often meant paying more points than expected.
Every seat is available on Air Canada flights
A big benefit of the new program is that you can now reserve any seat you like, as long as it's for sale. Previously, if you wanted to redeem your Aeroplan Points, you would have selected from a small block of seats on each flight. Sometimes this meant that you had to choose a different flight or route if all of the designated "rewards seats" on your desired flight were sold out. Now, you can have your pick of window or aisle, business class or economy seats – your options are only restricted by seat availability.
While partner airlines will continue to limit the number of seats available for purchase using points, you'll be able to see the fixed number of points you need to redeem for partner flight rewards on the point predicter tool.
Say hello to dynamic pricing
This big change to the program may be a downside for those used to the static pricing of the old system. When booking under the new program, your flight may cost more points if a route is popular or if you're travelling in peak season. However, sometimes you may be able to use this to your advantage, depending on when you buy and which destination you plan on visiting. For example, if you're travelling from Toronto to the Dominican Republic during the holiday season, your flight will end up costing you more points than if you decided to plan that same trip in September, or if you decided to redeem your points for a ticket to a less popular destination, such as Guatemala City. To estimate the points range that you'll need in order to redeem your flight, use the point predictor tool.
Say goodbye to carrier surcharges
A huge perk of the new system is that you won't pay any surcharges on your flight with Air Canada. That means no more going through the booking process only to find out that you have to pay hundreds of dollars for extras, such as fuel surcharges. You'll still have to pay tax and third-party fees, but you can cover these costs using points.
You'll have to pay a $39 booking fee if you want to fly with a partner airline, but you guessed it—you can now cover this cost with your points, too.
Pool your points
With the new Aeroplan program, you'll be able to pool your points with up to eight family members – meaning that you can accumulate points faster in one big shared balance. On top of that, if your group includes an Elite Status Member or a primary Aeroplan Credit Cardholder, everyone in the family can take advantage of the cardholder's preferred pricing. This is a change from the previous system where customers could transfer Miles between accounts, but it would set them back 2¢ per Mile transferred.
When redeeming points from the family pool, the amount you contribute is proportional to the number of points under your name. For example, let's say you have a family of two and you want to redeem 50,000 points from the pool of 100,000 points. If person A had 40,000 points and person B had 60,000, then they would each contribute 20,000 and 30,000 points respectively, or half their total number of points each.
You can choose to spend all the points in the pool on one person's flight or divvy them up among members, but ultimately the "Family Lead" (administrator of the account) can control who can redeem what.
New website
Now that the new program has gone into effect, the old Aeroplan site is no more, so add AirCanada.com to your bookmarks. You'll be able to compare and book all of your flights using your Aeroplan Points (and/or cash) online, or via the Air Canada app.
Perks and bonuses
Some aspects of the new Aeroplan program are just starting to rev up, but now that the new program is in effect check out the incentives such as generous welcome bonuses on the new credit cards, and look out for additional hotel and Aeroplan eStore partners.
New Aeroplan credit cards
While Aeroplan is maintaining its partnerships with TD, CIBC, and American Express, there are changes to the co-branded credit cards across the board. The new cards are divided into three main categories:
At this level, you'll be able to redeem flights for fewer points (compared to a non-cardholder) with preferred pricing on flight rewards. You'll earn points in the bonus categories for your card, and those points will never expire. Rack up the points by using your Aeroplan card when you spend at AirCanada.com.
You'll get all the benefits of the entry-level cards, plus a free first checked bag on Air Canada flights, regardless of whether you paid with points, cash, or a combo of the two. Travelling with some friends? If you're all on the same reservation, up to eight people can also get that free first checked bag. Plus, you'll get an Elite Status qualification boost when you spend 10k in a calendar year. If you have a secondary cardholder on account, they'll be able to take advantage of many of your perks as well, even when travelling on their own.
Premium-level credit cards
All of the benefits of the first two cards, plus even more perks including Maple Leaf Lounge and Air Canada Café access, priority boarding, and priority check-in. If you're a frequent flyer and you spend 25k in a year you'll qualify for the Annual Worldwide Companion pass, which lets you buy a companion ticket for as little as $99.
How to maximize your future Aeroplan rewards
Even though the overhauled Aeroplan program is still relatively new, there are a few things you can do right out of the gate to make sure you maximize points. Here are a few tips:
Pool your points ASAP. Create your family sharing plan to pool those points, book hotels and rentals through partners and shop in the Aeroplan eStore.
Timing is everything. Now that dynamic pricing is in effect, travelling at an off-peak time, or using a combo of Air Canada and partner flights with stopovers will help you get the most out of your points.
Get an Aeroplan credit card. With an Aeroplan credit card in your wallet, you'll receive points as you spend, which can go a long way to getting you on that next rewards flight. The right card for you will depend on a number of factors, and you'll have to do some research into the best Aeroplan credit cards in Canada. Explore which card offers earning categories that match where you spend the most money. For example, the TD® Aeroplan® Visa Infinite* Card lets you earn some the most points on groceries, gas, and and direct through Air Canada® purchases (including Air Canada Vacations®) made with your card†, so if you find yourself spending in these categories the most often, this card may be a good choice for you. Or, if you don't want to pay an annual fee and you often stay at hotels, you might want to try Best Western Mastercard® Credit Card. While this isn't a co-branded card, it still lets you transfer your earnings to Aeroplan points.
†Terms and conditions apply.
Status matters. You'll accumulate Status Qualifying Miles (SQM) Status Qualifying Dollars (SQD) and Status Qualifying Segments (SQS), which you can use to qualify for status from the 25K to Super Elite levels. Your status can be used to qualify you for rewards such as a 50% discount on preferred seats, priority seat selection, and Maple Leaf Lounge Guest passes, among many others.
READ MORE: How to use your Aeroplan points
The verdict: Are the Aeroplan changes a good thing?
Overall, the new changes make it much easier to collect, redeem, and share points, which means it will be easier to enjoy the benefits of the program going forward. However, some points collectors may be put off by the introduction of dynamic pricing. While this may cost you more points for flights at peak times, this is in line with what other rewards programs offer and isn't unique to Aeroplan. In other words, the new Aeroplan program is rolling out some solid changes that will benefit you and your wallet.