Insurancehotline.com review
Insurancehotline.com / Insurancehotline.com
We adhere to strict standards of editorial integrity to help you make decisions with confidence. Please be aware that some (or all) products and services linked in this article are from our sponsors.
We adhere to strict standards of editorial integrity to help you make decisions with confidence. Please be aware this post may contain links to products from our partners. We may receive a commission for products or services you sign up for through partner links.
Number of insurers: 30+ brokers
Multi policy bundling discount: Available
Multi vehicle bundling discount: Available
Student discount: Available
InsuranceHotline.com helps Canadians directly compare the prices and policies of a broad range of insurance providers in Canada. You can use the InsuranceHotline.com platform to compare different insurance quotes for your car, home, or motorcycle, as well as life insurance, travel insurance, and commercial insurance. The service is free, so you can comparison-shop quotes without making any commitments until you find a policy that works for you.
InsuranceHotline.com was established in 1994. Its offices are located in downtown Toronto, but its insurance comparison mechanism is located entirely online.
Eligibility criteria
The first step to getting a quote for any type of insurance on InsuranceHotline.com is to fill out your postal code. This is a seemingly simple but important step, as you may not be eligible for some types of insurance coverage depending on your province of residence. For instance, in British Columbia, Saskatchewan, and Manitoba, auto insurance is administered by the government, so drivers in those provinces won't be able to use InsuranceHotline.com to get an auto insurance quote.
Geographical considerations aside, there may also be more specific eligibility requirements based on the type of insurance you're looking for. As an example, when executing a search for auto insurance you will be asked about your driver's history; having multiple tickets or accidents in your driving history can affect your eligibility with different insurers or the overall price of your quote.
Try InsuranceHotline.com
Types of insurance
InsuranceHotline.com offers comparisons for a few different types of coverage that are further broken down into different insurance sub-categories.
Motor vehicle insurance
Car insurance
Motorcycle insurance
Rideshare insurance (for Uber or Lyft drivers)
You're able to choose your deductible for comprehensive coverage and collision coverage between $100–$1,000 and select liability coverage between $1,000,000-$2,000,000. The different components of an auto insurance policy can be tailored to include total loss of use of your car, rental coverage, and coverage for your windshield.
Home insurance
Homeowner insurance
Condo insurance
Homeowner insurance can cover your personal property, detached structures like a shed or garage, additional living expenses (for example, if you're unable to stay at home due to a fire or flood), and legal liability. Condo insurance will cover many of the same structures and circumstances.
As a tenant, you can get coverage for your personal possessions within a rented dwelling, as well as personal liability and living expenses.
Life insurance
Most life insurance policies will offer coverage for accidental death, critical illness, and disability credit, among others. Rates vary depending on the insurer, your age, and the amount of time you'd like to be covered. Additionally, the form you fill out will vary depending on your province and may include an option for joint coverage for two people.
Commercial insurance
Business insurance
Small business insurance
Professional liability insurance
Commercial insurance policies compared on InsuranceHotline.com can cover a range of business concerns, like property insurance, business interruption, construction, crime, and commercial car insurance. Even if you don't have a big company but you operate a small business, you should still consider getting small business insurance to protect yourself against loss and damages. Unlike most of the insurance search processes on InsuranceHotline.com, a commercial insurance search will not yield an instant quote. The quote request will be sent to an insurance representative who will be in touch with you within a couple of days.
Travel insurance
Travel insurance for Canadians
Medical insurance for visitors to Canada
Super visa insurance
Travel insurance for international students
Snowbird travel insurance
Trip cancellation insurance
Within these categories, you can select more options for your travel insurance policy, such as coverage for a single trip or for multi-trip, travel life insurance, lost baggage, flight delay and cancellation, and more. The rate you get can vary depending on your age, the length of your trip, and your destination.
How to get a quote with InsuranceHotline.com
Getting a quote with InsuranceHotline.com is generally a simple process. However, the steps involved vary for different types of insurance and can also vary depending on your province of residence.
1. Enter postal code
All of the insurance categories begin with one easy step: entering your postal code.

2. Enter insurance details
Next, you'll be prompted to fill in fields relevant to the specific type of insurance you're shopping for and what you're insuring (car, house, business, etc.). Here's an example of what you can expect to fill out for auto insurance: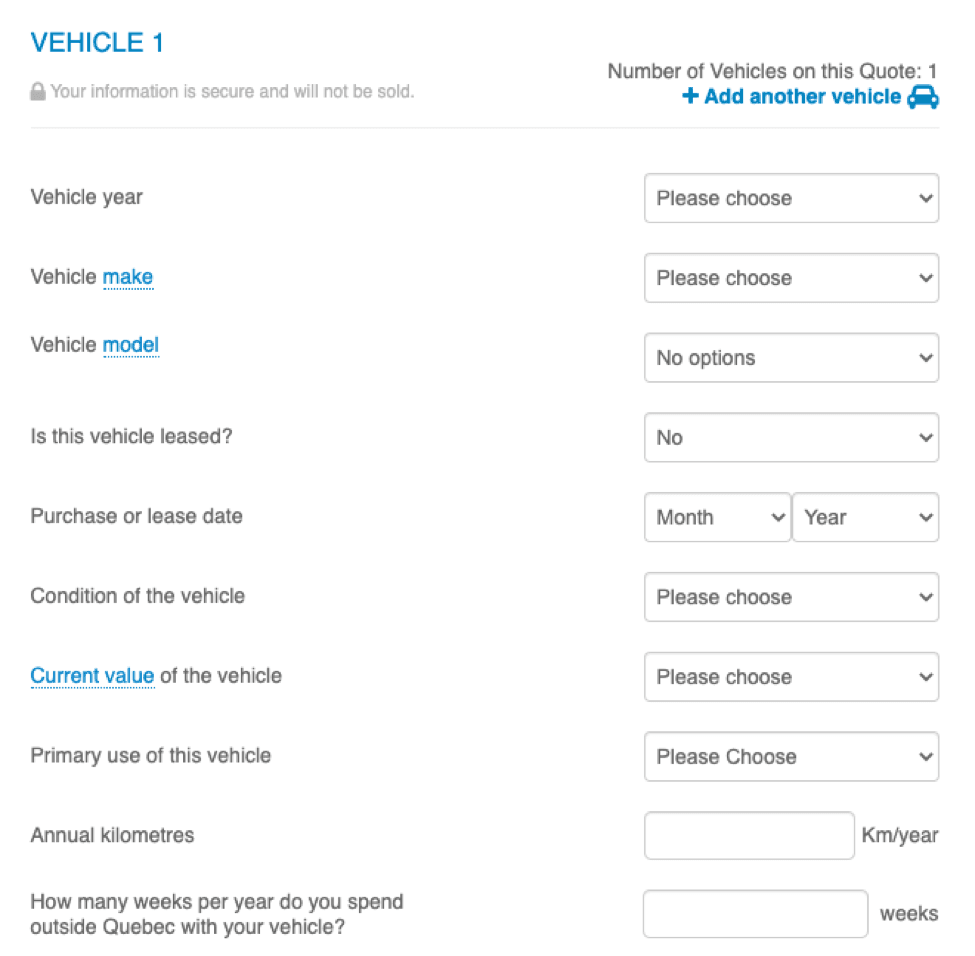 3. Review your quotes
You're then presented with the lowest quote and given a reference code so that you can call and finalize your purchase.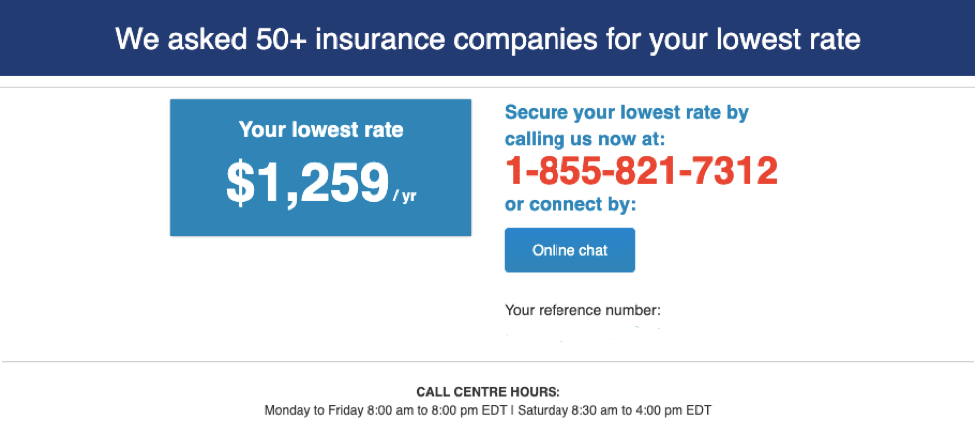 For other types of insurance, like life insurance and travel insurance, you get a list of rates and different policies that you can choose from. From there, you'll get a reference code where you can call to complete your purchase.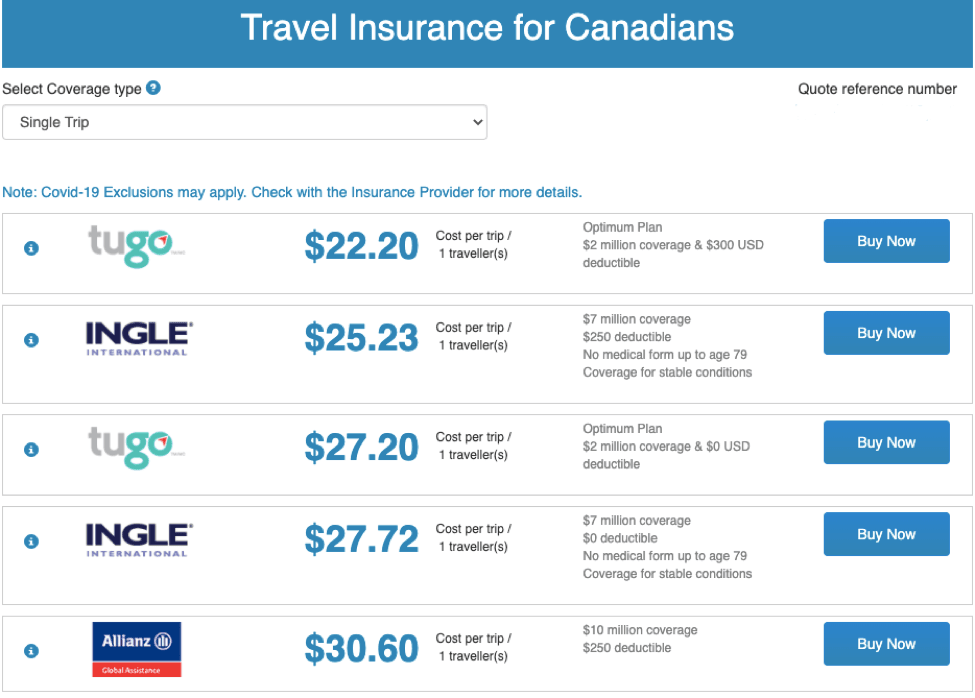 I tried out the quote process for multiple types of insurance, and I felt that the forms were relatively simple and that it was easy to get a quote quickly.
Try InsuranceHotline.com
Filing claims
Since InsuranceHotline.com is an insurance marketplace and not a direct insurer, all your claims will need to be filed through the insurance company you chose. Overall, the claim process will be quite similar from one insurer to the next, though there may be slight variations.
The first step to filing a claim will be to get in touch with your insurance provider right away. They will be able to guide you through the process and tell you exactly what paperwork you'll need. Be sure to keep good records of all documentation such as receipts, reports, or statements that can be relevant to your claim.
After submitting your claim and handing over your documentation, an agent from your insurance provider will look over your case. The agent will advise you of your next steps and of any additional information they need from you and help oversee your claim from start to finish.
Customer service
Though InsuranceHotline.com does have an office in Toronto, you can't meet with any representatives in person. You can contact InsuranceHotline.com by phone or email with questions you have about your insurance search.
Phone number: 1-855-821-7312
Call centre hours: Monday – Friday: 8am – 8pm (EST); Saturday: 8:30am – 4pm (EST)
Comments, feedback or general inquiries: [email protected]
Technical support: [email protected]
Who should and shouldn't use InsuranceHotline.com?
Technically anyone in Canada can use InsuranceHotline.com to get a comparison of quotes, though there are some restrictions depending on where you live, since not every insurance type is offered in every province or territory.
Overall InsuranceHotline.com is a great resource for anyone who wants to save money by shopping around before settling on a new insurance policy, or who has a policy that is lapsing soon. But it's not the right platform for those looking to complete their insurance hunt from start to finish online, without taking the added step of calling a broker.
What we like about InsuranceHotline.com
If you've worked with an online insurance marketplace before, then InsuranceHotline.com should be pretty straightforward and intuitive. Nonetheless, it does have a few noteworthy features that make it stand out from similar platforms.
Sample quotes in your area
Before you apply, you can browse InsuranceHotline.com to see recent sample quotes from other buyers. This can help you anticipate the ballpark cost of your quote so you can see if what you're eventually quoted falls within the range of what others in your area are paying.
In the example below, you can see auto insurance prices for people in Toronto as well as factors that affect the price of their quotes, like gender, age, and car model.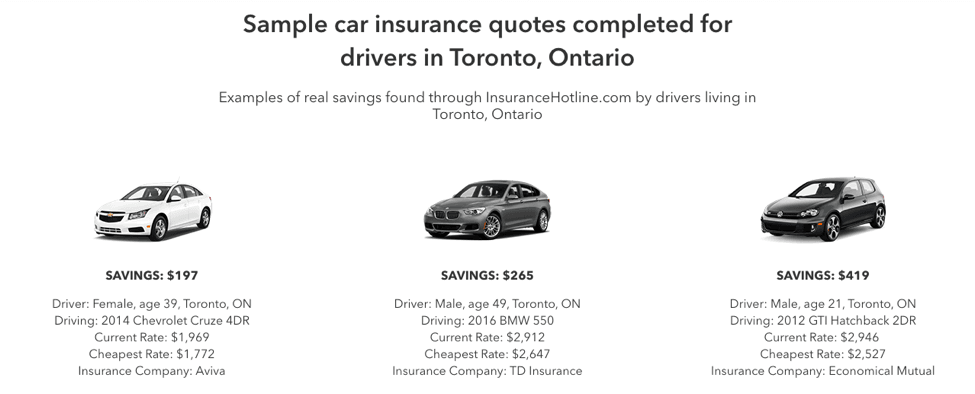 Helpful tips and FAQs to guide you
Aside from being an insurance marketplace, InsuranceHotline.com is also intended to be an educational center where you can find answers to your insurance questions and tips on insurance hunting. Topics covered in the InsuranceHotline.com 'Resource Hub' include what to look for in a policy, factors that will increase/decrease the cost of a policy, and statistics and average prices of insurance broken down by province.
Finding additional discounts
InsuranceHotline.com's application system can help you identify insurance savings opportunities you may not have known were available to you.
For example, when filling out a quote for auto insurance, you're prompted with potential discounts based on alumni status, professional affiliation, unions you might belong to, and the possibility of grouping multiple policies together.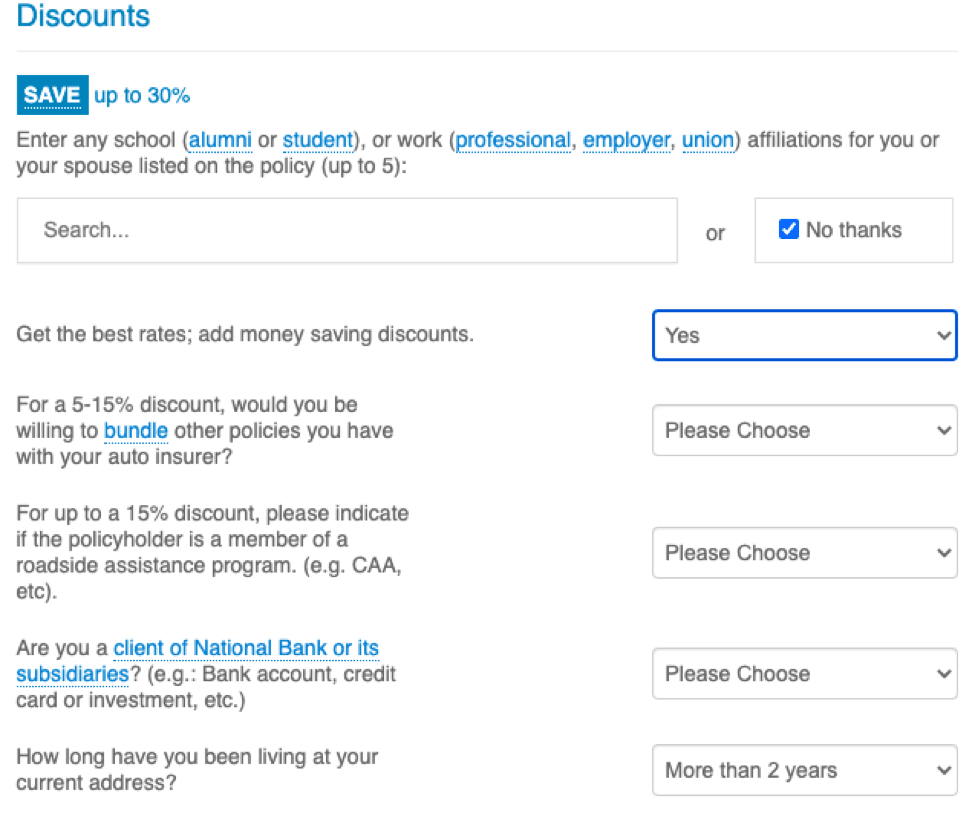 What we don't like about InsuranceHotline.com
No option for purchasing policies online
My one criticism of the quote-finding process is that I would have preferred an option to complete my insurance purchase entirely online instead of having to call to speak with an insurance broker. The search process is still relatively fast overall, but a start-to-finish process online would be even more convenient.
Limited call centre hours
Call centre hours aren't 24/7, so you don't have the convenience of finalizing your policy at any time, like at night or on Sundays. If you have a busy schedule, you'll need to make sure to set aside a window of time to call when the call center is open. And if you want to shop for a policy quickly, you can potentially be stuck with wait times when contacting the call center.
Geographic limitations
InsuranceHotline.com is not a great fit for all Canadians, because it cannot provide matches for each type of insurance to each province or territory. That said, the platform does a good job of halting irrelevant queries early on. You enter your zip code in the first phase of the search process, and if a type of insurance cannot be provided in your area, your search will be stopped and you'll be provided with links containing more information about how to access the insurance you need where you live.
Try InsuranceHotline.com