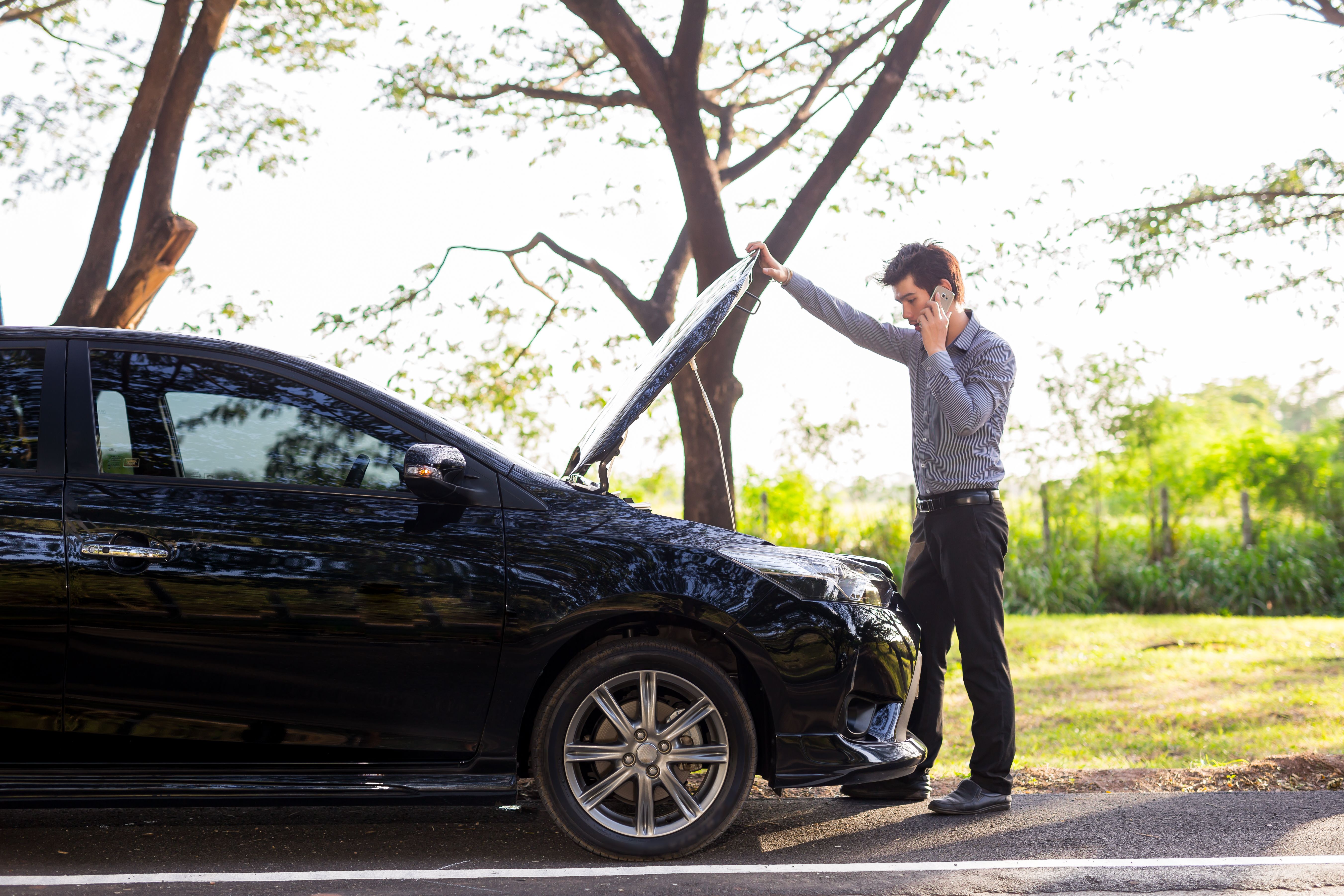 We adhere to strict standards of editorial integrity to help you make decisions with confidence. Please be aware that some (or all) products and services linked in this article are from our sponsors.
We adhere to strict standards of editorial integrity to help you make decisions with confidence. Please be aware this post may contain links to products from our partners. We may receive a commission for products or services you sign up for through partner links.
Kanetix is an online insurance marketplace which allows Canadians to search through a large database of insurance providers and compare their policies. Insurers partnered with Kanetix provide policies for car, home, travel, life, health, pet, and business insurance. With the ability to find multiple quotes instantly and compare them to one another, insurance-seekers should be able to get lower rates and more suitable policies than they would if they were to approach a single insurer directly.
What we like about Kanetix
Free and easy insurance comparison tool
Good user experience overall
Access to 50+ insurance providers
Special discounts available
Mobile app
The most conspicuous advantage of using Kanetix is that it gives you access to multiple insurance providers simultaneously. This is beneficial for a few reasons:
1.

Time: Contacting insurers and getting quotes from them one by one is a very laborious and time-consuming process. The Kanetix platform makes it easy to compare rates instantly and directly in one place.

2.

Money: The long process of comparing rates on your own can wear down your resolve to do thorough research, and make you more likely to settle for one of the first policies that you find—regardless of whether or not it's the best deal on the market. Simultaneously comparing multiple offers allows you to spot the most cost-effective rate more easily. As a bonus, Kanetix is totally free for users (Kanetix makes their money from the insurers instead).

3.

Access: Kanetix works with a large network of insurers, including 90% of Canada's auto insurance providers. Partners include Allianz Global Assistance, Allstate Insurance Company of Canada, CAA Pet Health Insurance, Desjardins Insurance Programs and Equitable Life Insurance Company, to name a few. Matching your needs to a large pool of insurers increases the likelihood that you'll avail of any potential discounts applicable to you.
The Kanetix platform also has helpful features like a renewal reminder, which automatically messages you when it's time to renew your insurance policy. This gives you room to make comparisons and get better rates before renewing. You can also utilize Kanetix as an educational tool to help you save money, because it offers interesting blog articles about reducing your driving and insurance costs; an insightful knowledge base to guide you in finding the best car insurance; and helpful insurance tips scattered throughout the website.
What we don't like about Kanetix
Not a direct insurance provider
No live chat
Search functionality could be more expansive
The disadvantage of using a search platform to find insurance rather than going straight to the insurer is that you aren't dealing with the insurer directly during your evaluation process. As a result, some of your more specific questions about the insurance policy might go unanswered, unless you contact the insurer directly. And although Kanetix has strong customer service, it won't help you if you have any complaints after connecting with the insurance provider and signing up for the policy. Furthermore, you are limited to the insurance providers that Kanetix partners with. Any providers not within the network will not show up in the search results.
Kanetix also doesn't have a live chat, although there is telephone support. This may not make a difference to some customers, especially considering the massive amount of information made available on the website, but if you like using live chat to get quick, direct answers to your questions, you might notice its absence . Kanetix could also enhance the user experience by adding advanced search functionality based on policy limits, deductibles, and additional coverage options.
Eligibility criteria
Kanetix itself has no specific eligibility restrictions, and its providers work with Canadian citizens of all stripes: visitors to Canada, seniors, teens, etc. That said, not all types of insurance are offered for all of Canada's provinces and territories, and individual insurance partners might have their own specific eligibility requirements from one to the next.
Types of insurance offered
Kanetix's partners offer the gamut of insurance policy options, from comprehensive auto and travel insurance to homeowner and pet insurance. Here's a more detailed look at what is available via this network:
Auto insurance
Standard car insurance
Classic car insurance
RV and travel trailer insurance
Motorcycle insurance
Liability coverage is available for $1 million or $2 million, with deductibles ranging between $500-$1000. Coverage can include liability, accident benefits, and direct compensation property damage, as well as optional items like collision, comprehensive coverage, rental car, loss of use, and depreciation waiver.
You can learn more about different types of auto insurance coverage by reading our complete guide to auto insurance in Canada.
Home insurance
Regular home insurance for homeowners
Tenant insurance for renters
Condo insurance
Title insurance
Homeowner's insurance from Kanetix partners can cover your home, the contents within it, additional living expenses, and liability for your family or someone who is injured on your property. Rates for this type of insurance can start as low as $15 a month.
Tenant insurance is coverage for those who rent their living space. It can cover damage to the policyholder's possessions, liability costs, and living expenses in the event that the rental becomes uninhabitable. Condo insurance provides similar coverage for condo dwellers. Finally, Kanetix stands out for offering title insurance, a relatively obscure type of insurance that protects your ownership of your home.
Travel insurance
Insurance for Canadians travelling to different provinces, to the US, or elsewhere internationally
Insurance for visitors to Canada
Insurance for international students studying in Canada
Snowbird travel insurance
Super Visa Visitors to Canada insurance
Travel insurance can include single or multi-trip emergency medical, cancellation or trip interruption, baggage loss, and delay coverage. To find out more coverage details like rates, maximum and minimum trip duration, and eligibility factors, you'll need to complete the short Kanetix questionnaire to request a quote.
Life insurance
Standard life insurance
Critical illness insurance
Standard life insurance policies pay out in the event of your death within the term of the policy, while critical illness coverage pays out if you contract one of the critical illnesses listed in the policy fine print. Rates and eligibility requirements vary depending on the specific insurer.
Health insurance
Insurers in the Kanetix network offer dental and vision coverage, coverage for prescription drugs, and extra private health insurance to give you additional medical care that goes beyond Medicare.
Pet insurance
Accidents
Illnesses
Dental
Alternative treatments
Pet insurance from Kanetix partners is available to protect your furry friends from all eventualities, including regular accidents, health issues and diseases, dental work and alternative treatments such as behavioral therapy and medical devices.
Business insurance
Commercial auto insurance to cover vehicles you use for work
Commercial property insurance for damage to your office, warehouses, and work premises
Commercial general liability insurance that covers you in case of accidents, injuries, or property damage during the course of your work
Errors and omissions insurance to cover the cost of accusations of professional negligence or malpractice
Oil and gas industry insurance
Recommended read: Do you need small business insurance?
How to get a quote
Follow the below steps to obtain a quote from a Kanetix insurer:
1. Go to the Kanetix home page and select the type of insurance you're interested in from the drop down menu. You'll also need to enter where you live, and the relevant details about the type of item you are insuring. To get car insurance, for example, you'll need to select your type of vehicle, tell Kanetix how you use your car, or how often you drive, and whether you have additional features like snow tires.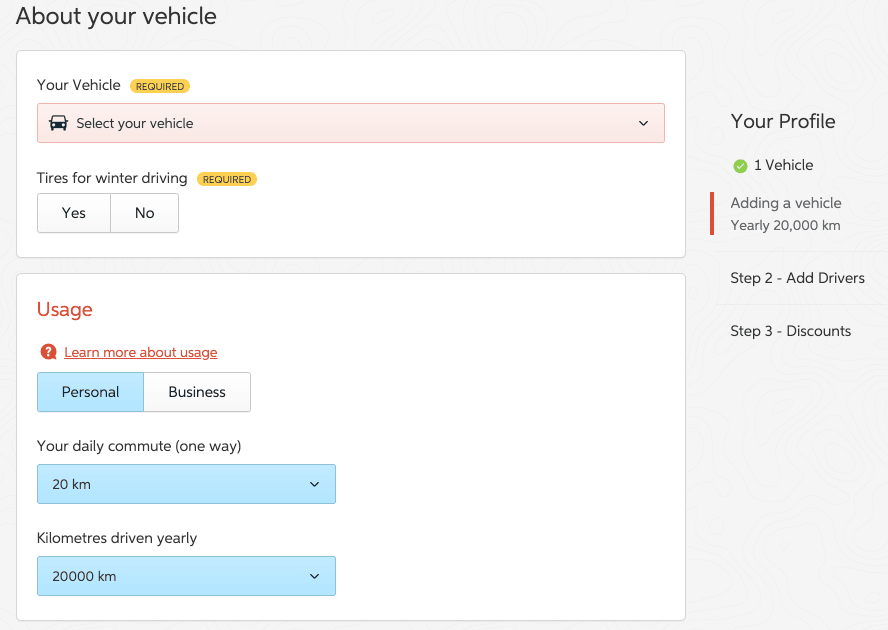 2. Next, pick the level of coverage you want. For example, for auto insurance, you can choose between minimum, standard, enhanced, or a customized policy.
3. If you choose to customize your coverage, you'll select how much of a deductible you want for collision, the amount of liability coverage you need, and which additional coverage options you want to include in your policy.
4. Enter personal details like your name, gender, and date of birth. You'll also need to provide information about your previous or existing insurance coverage, and for some types of insurance (e.g. auto) you may need to provide contact details like an email address and phone number.
Kanetix will then cross reference your information with the insurance providers in its network. This takes just a few seconds, and you are given a list of top results that are suitable for you.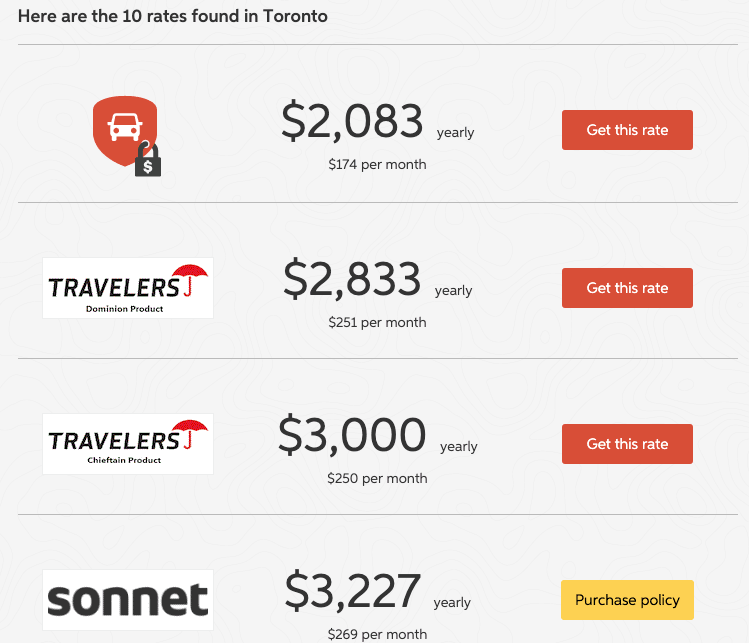 Comparing insurers with Kanetix
The list of policies generated for you includes the insurers' names, and breakdowns of both the monthly and annual premiums you'll pay. You can run down the list of search results to see what your general quote average is, but there's a much easier method of comparison: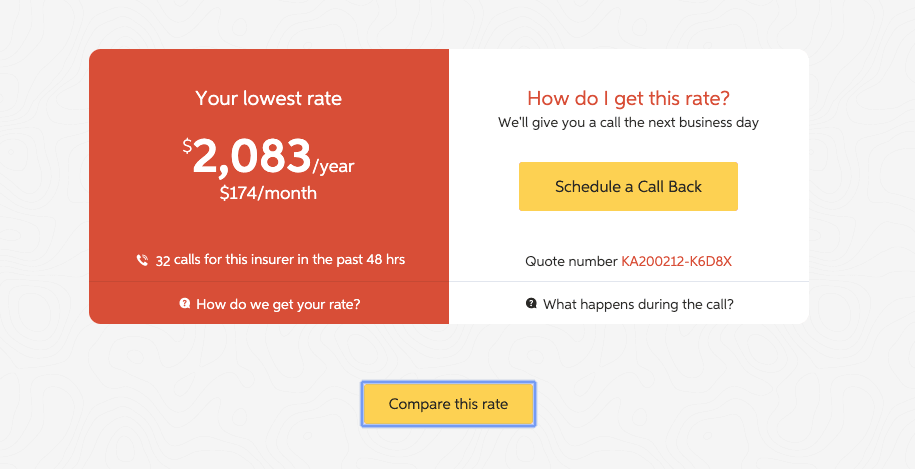 1.

Click on the yellow 'Compare this rate' button at the top of your results page.

2.

Select two additional companies that you want to compare your lowest rate to and click the 'See comparisons' button below them.

3.

Kanetix will put each of those choices in a chart side by side with the lowest rate it found (whose provider name is withheld), so you can see some background info about the different insurers and additional features that might be available for each policy.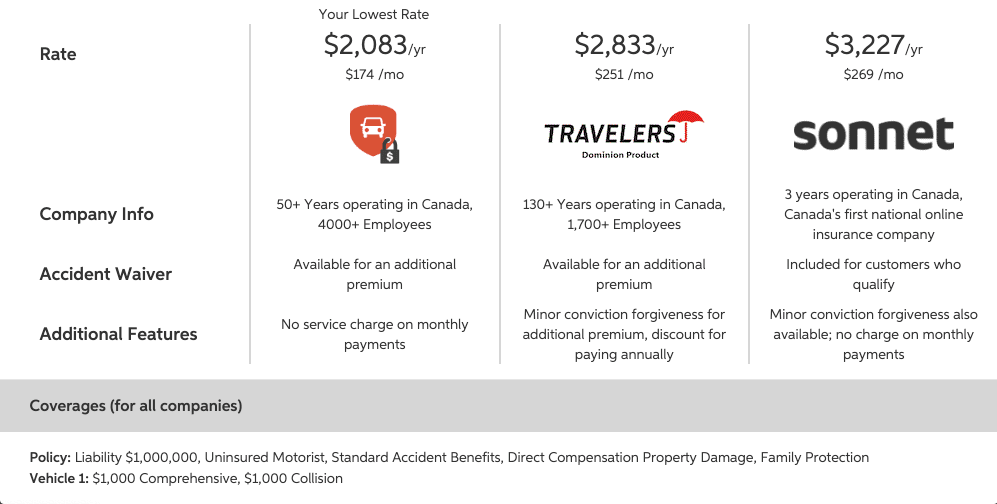 You can select the policy of your choice by either calling Kanetix or scheduling a time for them to call you. During the call a Kanetix ambassador will confirm that you are the primary driver/registered owner of the vehicle you wish to insure, and will double check the quote details with you before connecting you to whichever insurance provider that you find most appealing. This conversation helps to ensure the accuracy of your quotes and your eligibility for the policies in question.
Filing claims with Kanetix
Because Kanetix is an insurance search platform, not a direct insurer, the claim process varies from one insurer in the Kanetix network to the next, and can also vary depending on the type of insurance policy in question. That said, below is the general claims procedure you can expect to follow:
Get in touch with your insurance provider as soon as possible when you realize you need to file a claim. They will guide you through the process and tell you exactly what you need to do.
Provide all of the documentation necessary for the claim to be processed. This may include a police report, appraisal, bills or receipts, and witness statements.
Always keep a copy of your documentation for yourself.
Once the claim is submitted, you will be assigned an agent or adjuster to work with through the length of your case. This agent will help you get any additional information needed, make any adjustments, and represent you to third parties involved.
Ways to save extra money with Kanetix
There are several factors that affect the premiums you'll pay for insurance. With auto insurance, for example, rates vary depending on where you live, how often and far you drive, and what type of car you drive. But there are a few strategies you can adopt to reduce your rates, and some Kanetix insurers also offers specific incentives that you can take advantage of as well. All of these discount opportunities are built in to the quote-finding process, so you'll enter all your potential money-saving qualifications into the Kanetix quote-finding questionnaire, and the system will automatically search for providers that offer relevant discounts.
Increase your deductible
When you increase your deductible, your premium automatically goes down. That's because you're taking more of the financial responsibility upon yourself in the event that you file a claim and your insurance is required to pay. If you rarely or never submit claims, are a good driver, and/or are generally in good health, then increasing your deductible can be a good way to save on monthly premiums.
Roadside assistance
If you are signed up for roadside assistance, for example with CAA or through your credit card, you could qualify for a 15% discount on your insurance.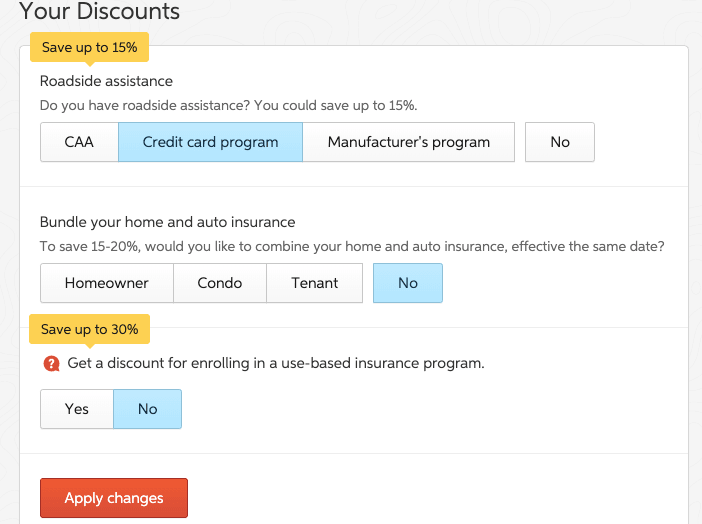 Policy bundling
You can save as much as 15-20% on your policy if you select home and auto insurance with the same provider.
Use-based program
A usage-based insurance program could land you a hefty 30% discount on your policy. Auto insurance providers that utilize this methodology for determining your insurance premium may measure the distance you drive, amount of time spent behind the wheel, average driving speed, etc.
Membership discounts
Kanetix partners also offer discounts for various organizational memberships. For example, if you are part of a student association, attend a certain university, work for specific employers, or are part of a professional organization or union, you might be eligible for a 30% discount.
Add safety features
Having certain safety features in place for the property you're insuring can save you considerably. For example, putting winter tires on your vehicle can save 5% on auto insurance. Installing a home security alarm system can reduce your home insurance rates substantially.
Good driving record discount
Those without a history of at-fault road accidents and traffic violations can expect to pay lower premiums on auto insurance.
Vehicle type
Different vehicles come with varying levels of coverage and insurance premiums. For example, the most expensive cars to insure in Canada include the 2019 Ferrari 488 Spider, the 2014 Jeep Wrangler Unlimited Sport, and the 2005 Chevrolet Cobalt. If you're in the market for a car and haven't decided on a brand yet, opt for one of the low insurance premium cars like the 2010 Mazda B2300, 2013 Toyota Prius, or the 2018 GMC Sierra 1500.
Pay annually
Those who pay their premiums annually can expect a lower rate than those who opt to pay on a month-by-month basis.
Multi-trip discount
If you're in the market for some travel insurance, consider purchasing plans that cover multiple journeys, which can ultimately help you pay less than you would if you were to pay for a separate policy for each trip.
Special Kanetix Gift Card
It's not a policy discount, but if you sign up for the Kanetix email newsletter, you'll be entered into a drawing for a $500 Amazon.ca e-gift card. The newsletter shares articles, news, and tips related to all types of insurance in Canada.
Customer service
Email: [email protected]
Phone: 1-888-854-2503
Mailing address: 360 Adelaide Street West, Suite 100 Toronto, Ontario M5V 1R7 Canada
Office Hours (Eastern time):
Monday to Friday: 8:00 AM to 8:00 PM
Saturday: 8:30 AM to 4:00 PM
Emails are typically answered within one business day (sooner if it's during business hours). Kanetix has overwhelmingly positive customer feedback. It holds an A+ from the BBB, is TRUSTe certified, and has 4 out of 5 stars from Trustpilot.
Other Kanetix products
Though it's best known as a platform for finding affordable insurance, Kanetix also offers a free mortgage search and comparison tool to help prospective homeowners find the best mortgage rates possible. You enter the value of the home you're considering, the amortization period and mortgage amount you're interested in, and the platform generates a list of potential lenders, interest rates, monthly payments, and other key terms of the mortgage. You can then enter your contact information to start the application process for the lender/rate you find most appealing.
Alternatives to Kanetix Insurance
Kanetix
InsuranceHotline.com
LowestRates.ca
Types of insurance available
Car, home, motorcycle, RV, trailer, life, travel, business, pet
Auto, home, motorcycle, life, commercial, travel
Discounts for school, work, or other organizational affiliation
InsuranceHotline.com is owned by Kanetix, but its partner network is smaller, and it refers users exclusively to insurance brokers, not direct insurers. Accordingly, side-by-side testing of Kanetix and InsuranceHotline.com yielded different suggested policy results for identical search queries.
InsuranceHotline.com's user experience is also a bit different than Kanetix. On InsuranceHotline.com the user typically submits their contact information and is then matched to an insurance broker. The user can opt to either contact the broker themselves directly, or have the broker contact them, with no further interaction with the InsuranceHotline.com platform or its reps. On Kanetix, after a user executes a search they will receive a phone call from Kanetix personnel before they are connected to an insurance rate provider (click here to learn more about InsuranceHotline.com).
LowestRates.ca offers less types of insurance than Kanetix or InsuranceHotline.com, and although its platform operates in a similar manner, it seems to offer less options for finding potential policy discounts. For example, those seeking auto insurance are prompted to indicate if they are members of CAA, but are not given the option of indicating whether or not they have an alternative form of roadside assistance service (e.g. through a credit card). Tests of the auto insurance search platform yielded similar policy suggestions and prices to Kanetix and InsuranceHotline.com.
Why try Kanetix?
The fact that Kanetix works with such a large number of insurers is a major benefit to prospective policyholders; the wider the network of insurers, the more competitive a rate and tailored a policy an insurance aggregator can offer. This, combined with the platform's very thorough checklist for getting policy discounts, make it worthwhile to at least try out the platform to see if it can save you some money.
Related articles